The Chicken Enthusiast Is Back On 'BiP'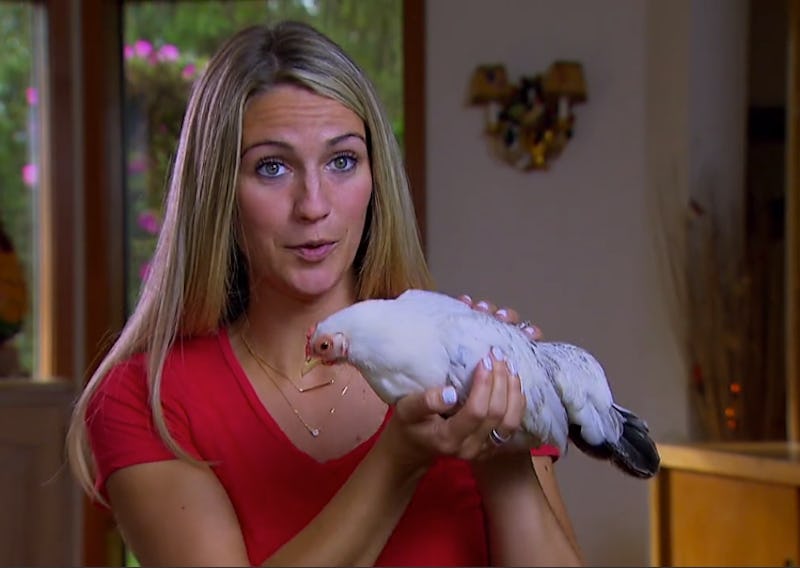 There were many odd careers on Ben Higgins' season of the Bachelor. Two contestants had "Twin" listed as their career. One woman was super honest and just put "Unemployed." The best of all these strange career listings was Tiara Soleim, who was the "Chicken Enthusiast." But what happened to Tiara on The Bachelor? Unfortunately, Tiara was eliminated night one of the show but that doesn't mean she wasn't entertaining for the brief time she was on TV.
In her intro video, she was shown looking at framed pictures of chickens. Yes, framed pictures of chickens. One more time for good measure: Pictures of chickens, displayed in picture frames. She also had Ben's ABC bio photo framed, too. In the video, Tiara lamented about having to leave her chickens at home to join the show.
"It's a big step for me to do this. I'm ready to find love, and Ben seems like an amazing guy. But it's going to be extremely hard for me to leave my chickens. I haven't been away from them for more than 10 days ever. I've had to think long and hard about this. What comes first, the chicken or the Ben?"
What a phenomenal show. What an awesome contestant.
Tiara spent her one night on the Bachelor being silly, dancing, and not getting much time with the Bachelor himself, which is a shame. The thing I liked most about Tiara was her sense of humor about the show and herself. There are many contestants who take everything too seriously from night one. Tiara was joking around from the beginning. Her post-Bach social media showed that she loved the goofy label she got as a "chicken enthusiast."
She was another contestant who made stronger connections with the ladies than with the leading man. She seems to have left the show with lots of friends and fun memories. Her night one departure meant that she barely got to know Bachelor Ben at all. But who cares when you make lovely friendships?
Tiara is about to hit the beaches of Mexico when she appears on Bachelor in Paradise. Hopefully she stays more than one night. Either way, I hope she brings her chickens. It'll be egg-cellent.
Image: ABC