Relive The Greatest Scenes Of Gene Wilder's Career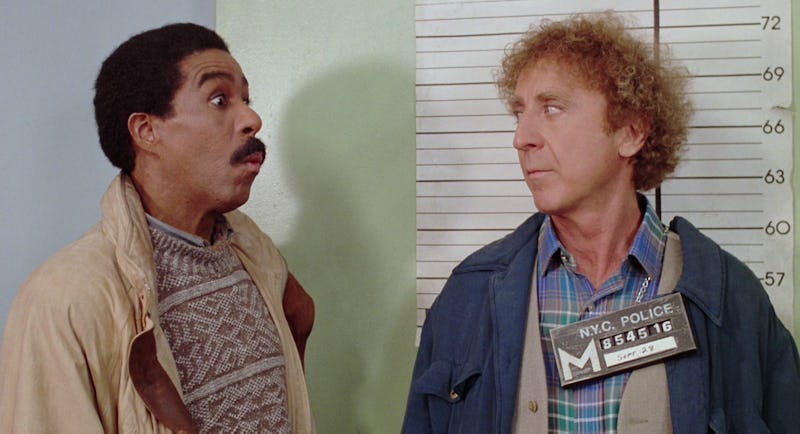 Actors are lucky if they get one iconic role in their film career. Christopher Reeve will always be Superman; Daniel Radcliffe will always be Harry Potter; Marlon Brando as Vito Corleone, Elizabeth Taylor as Cleopatra, Charlton Heston as Moses, Audrey Hepburn as Holly Golightly. But if you were one of the people who grew up watching Gene Wilder comedies, then you know that the legendary comedian was an exception to that rule — he had several iconic roles. Willy Wonka, Leo Bloom, Dr. Frederick Frankenstein, The Waco Kid, Sigerson Holmes… Ever since the news that Gene Wilder passed away this Monday at the age of 83, people around the world have undoubtedly been reminiscing about their favorite of the actor's many and varied roles.
Wilder made his feature film debut in 1967 with a small part in the Best Picture-nominated gangster film Bonnie And Clyde. From there, his career skyrocketed thanks to the smashing success of The Producers, which earned him his first — and only — Oscar nomination for acting. (He would be nominated again six years later for writing Young Frankenstein.) Although Wilder perhaps never got the awards recognition he deserved, his legacy lives on in the hearts of fans everywhere thanks to indelible scenes like these 12 quintessential moments:
1. How Old Are You? (Bonnie And Clyde, 1967)
Wilder got his career off to a relatively late start; he was already 34 by the time this movie debuted in theaters. Although he was then a complete unknown, you can see hints of his future comedic genius in his reaction to his girlfriend's admission of her true age.
2. Blue Blanket (The Producers, 1967)
The actor more than made up for his late start when, later that same year, his role as anxious accountant Leo Bloom skyrocketed him to fame. In this scene, it's easy to see why Academy voters latched onto the new star's manic energy and magnetic screen presence.
3. I'll Show You Excitement (Start The Revolution Without Me, 1970)
Everything about this scene is delightful, from Wilder playing identical foppish twins to the stuffed falcon named Thor perched on his arm to his over-the-top reaction.
4. Wonka's Entrance (Willy Wonka And The Chocolate Factory, 1971)
A rare apocryphal story that actually turns out to be true: Wilder himself came up with this iconic scene, where Willy Wonka enters his eponymous film for the first time by surprising the audience with a somersault.
5. I Shoot With This Hand (Blazing Saddles, 1974)
This brief exchange highlights two of the actor's strongest assets: his physical comedy and his tendency to subvert expectations.
6. Taming The Fox (The Little Prince, 1974)
But Wilder didn't just do comedy, either. The actor got to play a rare poignant scene in this adaptation of Antoine de Saint-Exupéry's classic novella, where he starred as the mischievous fox.
7. Puttin' On The Riz (Young Frankenstein, 1974)
Of course, Wilder wasn't a one-man show; part of his talent was his ability to play expertly off his scene partners, as shown in this irreverent song and dance routine.
8. Kangaroo Hop (The Adventure Of Sherlock Holmes' Smarter Brother, 1975)
No list of Wilder scenes would be complete without an appearance by his three-time collaborator and comedic equal, Madeline Kahn. Just try watching the two of them manically hop around the room and not crying tears of laughter.
9. Sentencing (Stir Crazy, 1980)
Wilder didn't even need words or dance moves to elicit chuckles; sometimes all he needed was his highly expressive face and some outraged noises.
10. Phone Call (The Woman In Red, 1984)
Wilder was exceptionally good at playing characters on the verge of panic — such as this poor sap who has to suddenly reverse his plan after a tense conversation with his wife.
11. Face The Camera (See No Evil Hear No Evil, 1989)
The late great comedian Richard Pryor appeared in five films alongside Wilder, including this one, in which Pryor played a blind man and Wilder played a deaf man who together witness a murder. This scene is slapstick of the highest order, right up there with Abbott and Costello's classic "Who's On First?" bit.
12. Pounding (Will & Grace, 2002)
In his last onscreen appearance, Wilder guest starred in two episodes of Will & Grace as Will's eccentric boss Mr. Stein. This clip shows why the venerated actor took home the Emmy for Best Guest Actor in a Comedy that year.
BONUS: Pure Imagination (Willy Wonka And The Chocolate Factory)
I know I already included one scene from Willy Wonka here, but no list of classic Gene Wilder moments would be complete without the song that taught us all that, "Anything you want to, do it. Want to change the world? There's nothing to it."
Rest in peace, Gene Wilder. And thanks for the memories.
Image: TriStar Pictures