11 Of The Most Iconic Drag Looks In Film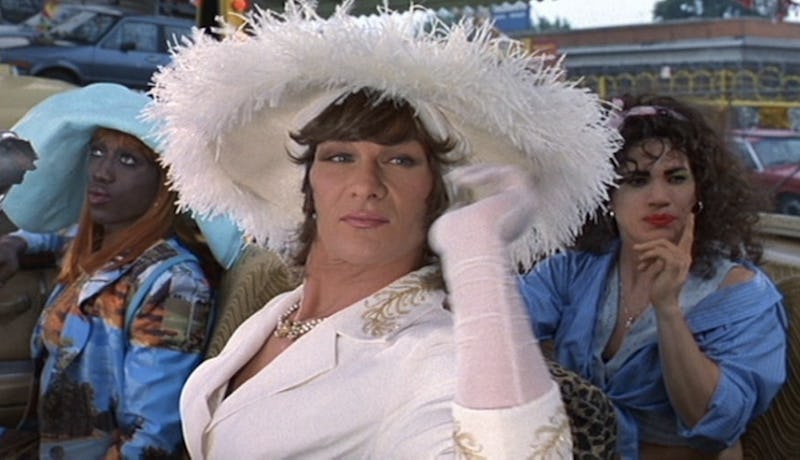 Whether a film is entirely about drag culture or simply features one fantastically lavish drag queen, odds are, I've seen and loved it. In my opinion as a drag-obsessed fan, drag queen movies have the best characters, the best storylines, and the best style — simply put, they've got it all. And even if you're not a glamour toad like myself, the sequins, fur, glitter, and over-the-top style of drag queens can still be appreciated.
Admittedly, I've got a history with drag. When I was a kid — and probably too young by some parents' attitude — my mom instilled in me a love of musicals and drag queens. The two tended to go side-by-side: Musicals like Chicago, Hairspray, Rent, and Hedwig and the Angry Inch all celebrated drag characters — and incidentally, all of those movies eventually made it to the big screen.
Movies about drag queens and featuring drag queens are automatically full of fun and fabulousness, but which manage to be the best of the best in terms of style? Which queens in particular left a legacy as strong as the scent of bedazzling glue in our noses? I'm sure there's many strong contenders, but these are a few of my favorites.
1. RuPaul's Dress In To Wong Foo, Thanks For Everything, Julie Newmar
In To Wong Foo, Thanks For Everything, Julie Newmar there are more drag queens than you can count — including queens that were and still are big on the scene IRL. Although the main three characters throw down look after look after look, nothing will top when RuPaul herself descends from the ceiling in all her glory rocking a confederate flag gown. Normally, I'd be horrified by this particular attire — but executed as camp by a black drag queen, it works. It's a beautiful moment that laughs in the face of exactly the type of people who will hate this movie.
2. Lola's Boots In Kinky Boots
This iconic moment in Kinky Boots sees Lola return following a nasty argument to walk the runway in boots she helped to design and make: Shoes specifically designed to hold a drag queen's weight and hopefully, save the future of this family run shoe making business in England.
Seeing Lola in said red, snakeskin, stiletto boots is a triumph in and of itself but this entire look is what makes it so special. Gesturing with a riding crop while storming a runway in red sequins and matching boots was just totally killer.
3. Divine's Everything In Pink Flamingos
If you don't know who Divine is then please stop reading this list and immediately watch Pink Flamingos — arguably one of the most famous John Waters films, other than Hairspray. (In which Divine plays Edna Turnblad).
If you're a fan like I am, you know that this look is iconic as it gets and it's certainly the first image that comes to mind when thinking of John Waters or Divine.
4. Felicia's Cape In The Adventures Of Priscilla, Queen Of The Desert
As well as being one of the most well known drag queen films, The Adventures of Priscilla, Queen Of The Desert is full of jawdroppingly beautiful scenes that combine the Australian outback and some outrageous drag queen looks. I think the one above sums up the aesthetic of the movie perfectly.
5. Hedwig's Cape In Hedwig And The Angry Inch
OK technically Hedwig Robinson of Hedwig and the Angry Inch is described as a "slip of a girly boy from communist East Berlin" but with her wild outfits, drag makeup, and special place in my heart, I had to include her.
As Hedwig recounts through the film how she was forced into a botched sex change (hence the angry inch) in order to escape to America, your heart breaks. It's a rare drag story that's about more than just comedy and camp. However, what keeps the story fun are the numerous and brilliant looks that Hedwig wears throughout the film.
6. Dawn Davenport's Mesh In Female Trouble
Dawn Davenport in Female Trouble, directed by John Waters, is all of my aesthetic goals at once, both when she rocks a leopard print dress and the sheer number you see above. Paired with blue eyeshadow, this look proves that it's possible to be both fat and fabulous.
7. Pepper LaBeija's All Gold Everything In Paris Is Burning
Paris Is Burning is a documentary that explores the infamous New York City drag balls of the '80s. As real as a drag film can get and a must watch film for anybody interested in drag culture, the gritty realities of life as a queen are juxtaposed against the glitz and glamour. The best part? The costumes in the film, like the one you see above, are mostly handmade.
8. Bernadette, Mitzi And Felicia's Headdresses In The Adventures Of Priscilla, Queen Of The Desert
All three of these looks from The Adventures Of Priscilla, Queen Of The Desert deserve their own heading, but they're also profoundly effective as a group. These three basically invented the phrase "squad goals" without even realizing they were doing it.
9. Lola's Blonde Wig In Kinky Boots
One of my favorite fashion moments in Kinky Boots is during one of character Lola's first numbers. If you can take a moment to ignore the upside down splits in the background, it's not hard to fall in love with all the '40s glam that Lola is serving.
10. Vida's Statement Hat In To Wong Foo, Thanks For Everything, Julie Newmar
In most of To Wong Foo, Thanks For Everything, Julie Newmar, Vida (played by Patrick Swayze) is seen in the more demure outfits out of the group —except for this particular look, which was fabulous beyond expectation.
11. Edna Turnblad's Mother/Daughter Outfit In Hairspray
Including the remake of Hairspray as opposed to the original is akin to a mortal sin — but I'll be honest, they're so different that I'm personally comfortable loving them equally. John Travolta's Edna Turnblad is amazing and no mother/daughter pair has ever looked as good as Edna and Tracy Turnblad do in these pink ensembles.
When it comes to passionate fans like myself, favorite drag characters and sequined gowns are, of course, totally subjective. Simply put, one queen's trash is another queen's gemstone-encrusted treasure. However, when it comes to the icons, I know that at least a few drag fans would agree that these are some of the greats. Now go forth and bedazzle.
Images: Courtesy Universal Pictures, Miramax Films, New Line Cinema, Gramercy Pictures, Fine Line Features