Emperor Palpatine May Not Be In 'Rogue One'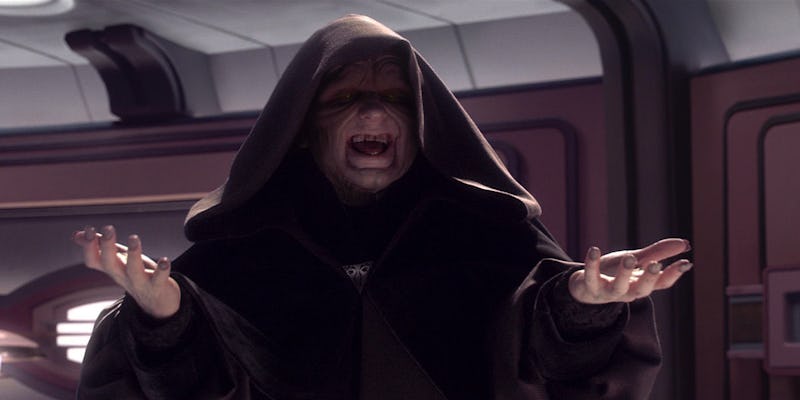 Disney and Lucasfilm's decision to expand the Star Wars canon in the form of the upcoming film, Rogue One: A Star Wars Story, has not only increased the number of potential films that fans may receive, but it has also helped to increase the number of original characters that could also return to the big-screen for future sequels. In fact, with Rogue One taking place sometime between the sequence of events during Episode III and Episode IV, we're already in for one familiar face: Darth Vader is already confirmed to be making an appearance and other characters could be next in line. However, we now know one character who won't be involved in any of this: Emperor Palpatine. In an interview with the XGN, actor Ian McDiarmid revealed his involvement with Rogue One: A Star Wars Story, which is, essentially, no involvement.
Yeah, sorry. To the dismay of Emperor Palpatine fans, McDiarmid shut down any rumors that he would be reprising his role for Rogue One. Yep, as far as he's concerned, Emperor Palpatine isn't making a comeback. Or, at least not in any form that involves McDiarmid, that is.
"Rogue One's on its way, when I was in charge of things — I mean the Emperor, not me," McDiarmid reflected of his character in his interview with XGN (h/t Screenrant) at Amsterdam Comic-Con. But, when shifting the conversation to what fans can expect, that's when the actor suddenly declined. As McDiarmid assured fans that, "I am not featured in [the movie] myself, but I understand that Darth Vader may be making an appearance." And, just like that, all hopes of the cloaked figure in the trailer being Emperor Palpatine were crushed to smithereens.
But, of course, McDiarmid's lack of association with the upcoming film also doesn't mean that Emperor Palpatine is cut from Rogue One completely. If anything, this news could mean that Emperor Palpatine has been recast, no matter how unnecessary a casting switch-up may seem.
However, I guess there's really no way for us to know until Rogue One: A Star Wars Story hits theaters on December 16, 2016. So brace yourselves for anything, Star Wars fans. And may the Force be with us.
Images: Lucasfilm; Wifflegif