The Future Of 'The Night Shift' Is Up In The Air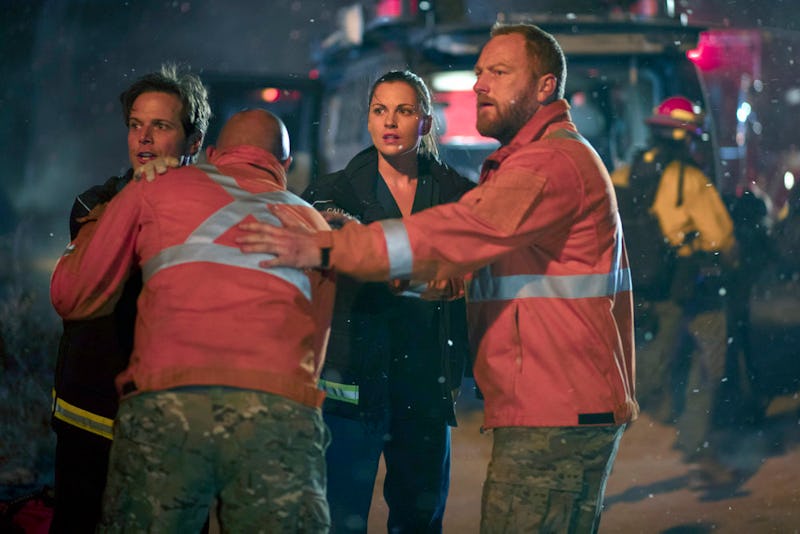 The summer months are all about escapism: escaping from school, escaping your daily routine, literally escaping the confines of the office and frolicking in the outside world. Part of that tradition of escapism has always been the phenomenon of summer TV; while most of the films are on hiatus during the hot months, viewers take refuge in over-the-top cable dramas (like Lifetime's UnREAL), sudsy broadcast soaps (like ABC's Mistresses), or comforting procedurals… like NBC's The Night Shift. That medical drama has brought audiences escapist pleasure for the last three summers running — but will it return for another? Will The Night Shift be renewed for Season 4?
Although the last episode of Season 3 airs this Wednesday night, NBC has yet to make an announcement about the future of the show, putting its fans on edge, since they don't know whether they'll be tuning into the season finale or a series finale. (They better hope the episode doesn't end with a huge cliffhanger, just in case.) But is there reason to be worried about the future of the show? Or is a renewal just a formality at this point, something fans can rest easy knowing is coming at some point in the near future?
Unfortunately, I can't give false hope and say that a renewal is a sure thing. The show's Season 2 renewal was a no-brainer after its inaugural season was the highest-rated new scripted series of Summer 2014, attracting higher ratings for NBC during its time slot than the three other big networks (ABC, CBS, FOX) combined. But The Night Shift's Season 3 renewal was far less of a certainty; its audience declined year-to-year by over one million viewers, from 6.6 million in Season 1 to 5.3 million in Season 2. But the show managed to squeak into a third year, and now the question is: can it eke out a fourth?
Things might look dire, given that Season 3's ratings are down yet again, now averaging only 4.97 million viewers per week in its first 12 episodes. But in fact, there are several indications that should give fans hope that The Night Shift will clock in for another season in the after-hours Emergency Room. First of all, there's the fact that viewership is down much less sharply from Season 2 to 3 than it was during the previous gap: less than a third of a million viewers rather than the 1.3 million audience members the show shed between its first two years. In the world of modern television, a fluctuation of 0.32 million viewers is practically considered steady.
Then there's the fact that, contrary to most ratings trends, The Night Shift Season 3 has actually been trending upward, gaining viewers as the season has gone on rather than losing them. Although the season started soft with only 4.8 million viewers and bottomed out the next week at 4.2 million, matters have been improving significantly since; the show actually hit a season high of 6.3 million viewers last month. There's also the fact that 2016 was an Olympic year, and the highly-anticipated sporting event likely drew audience members away from just about every show on TV — perhaps even accounting for that entire 0.32 million viewer deficit The Night Shift experienced this year.
Finally, there's the fact that The Night Shift is an excellent performer for NBC when it comes to delayed viewing. When the number of people who watch an episode on DVR or On Demand within one week are taken into a count (referred to as L+7 ratings), the procedural pulls in impressive gains. In the most recent week for which L+7 ratings have been tallied, The Night Shift ranked the second-highest gain in viewers out of every scripted series on television, behind only FOX's Bones and ahead of such splashy shows as CBS's Zoo and FOX's Wayward Pines.
Between the medical drama's relatively small decline in Season 3, its upward trend throughout the season, its steady performance in the face of the Olympics, and its enviable L+7 gains, there are plenty of reasons to have faith that The Night Shift will return for Season 4. But it can't hurt to do a little praying to the TV gods ahead of this Wednesday's finale — just in case.
Images: Cathy Kanavy (2), Ursula Coyote (2)/NBC