Zooey's Kid Really Has A Thing For Cheese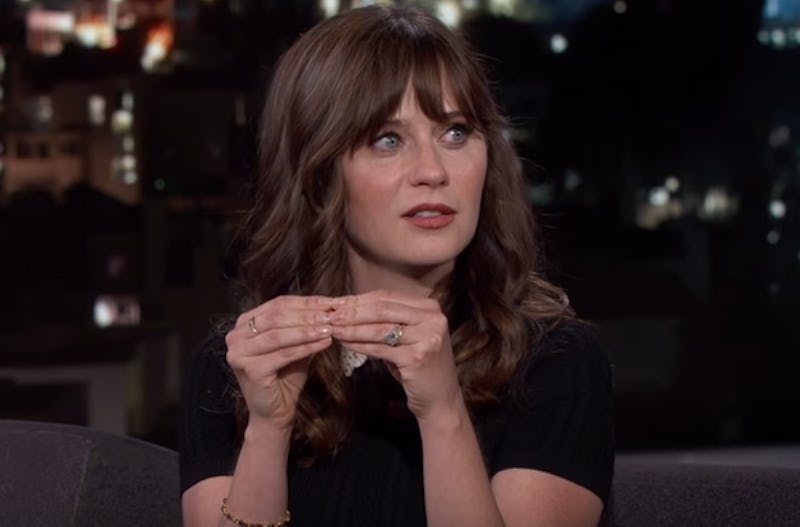 On Tuesday's episode of Jimmy Kimmel Live, Zooey Deschanel opened up about all things motherhood. Focussing on baby Elsie Otter's first words, the actor discussed the major changes that have taken place in her life of late. While fans are all ecstatic that Deschanel has returned to her show New Girl , it sounds as though it was understandably difficult to get used to leaving Elsie at home — especially because one of her first words is so cute.
2016 has already been an important year for Deschanel work-wise. She returned from maternity leave to the 100th episode of New Girl, and the sixth season of the show premieres on Sept. 20. The star is directing the first episode of Season 6, as well as resuming her lead role, and is currently promoting new movie Trolls. Alongside all of her other ventures such as website Hello Giggles, and her music career, Deschanel is busier than most people. But family is clearly important to the actor, and she shared some super cute stories about her daughter on Jimmy Kimmel Live, including what her first words were. "My husband taught her how to say cheese just 'cause she likes cheese so much," she said. Obviously, this will serve Elsie well in the future!
In addition to "cheese" — which Deschanel said she now asks for "more" of, even if she hasn't had any recently — the actor said her daughter knows how to say "bubble," "mama," and "dada."
Based upon her anecdotes about Elsie Otter, it sounds as though Deschanel has adjusted well to motherhood, and really relishes family life. With Season 6 of New Girl right around the corner, it's exciting to see the Elf actress succeed in so many different arenas.
Image: Jimmy Kimmel Live/YouTube