"Dogs Who Brunch" Insta Combines Your Two Loves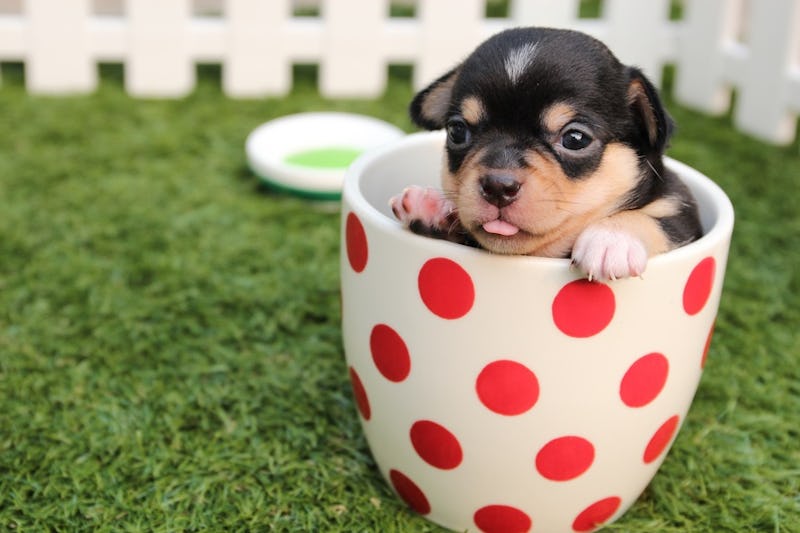 There is a new 'gram on the scene, and if you like your eggs benedict with a side of freakin' adorable then the Dogs Who Brunch Instagram isn't just the account you need, it's the one you deserve. From its very first post in July of 2015, the 'gram has been serving up squee-worthy pictures of pooches next to tasty brunch treats. Did I involuntarily start drooling while perusing Dogs Who Brunch? Yes, yes I did. Where else can you see a smiling Shiba Inu gaze lovingly at a plate of breakfast sushi while a Brussel Griffin in some sweet aviators and muscle tee takes a lick of a fresh-squeezed juice? If you like dogs wearing tiny clothes, lusting after an everything bagel, and experiencing a perpetual hangover then this was pretty much made for you.
With over 7,000 followers and steadily growing, this account is sure to be the next big thing for aspiring gourmands and pet-lovers alike. Flipping through the hundreds of pics, you may recognize some of the cutie foodies featured, as many of these dogs have popular 'grams of their own. Popeye the food blogging dog makes several appearances, as do Cubby and Ginger of the pup diary. Dogs Who Brunch puts all these pics in one convenient location curated to satisfy all of your brunchy/poochy cravings. While the human behind the tasty account remains a mystery, I would like to thank them for this wonderful gift of 'gram. The Dogs Who Brunch 'gram proves once and for all that brunch isn't just for humans anymore and I. Can't. Even.
So let's raise our mimosas high in a toast to all the intrepid doggies working for the weekend! Now I highly recommend that you take a moment from your busy day to bask in their cuteness. Go on. You deserve it.
This chill dog is so cool he'll give you brain freeze.
Anything is a brunch food if you put an egg on it, right?
I may not be a morning person, but I'm definitely a coffee person!
There is nothing as luxurious as breakfast in bed. Except, maybe, a nice head scratch to go along with it?
Donuts make the best pillows... and breakfast!
J'adore le brunch!
So hungover. Please bring fast food and belly rubs stat.
This is what I think of my juice cleanse when the weekend arrives.
I keep only the necessities in my fridge: wine, wine, and wine.
Think your bacon-loving dog has what it takes to be a brunch-scenester? Be sure to tag Dogs Who Brunch in your pup's next 'gram and your precocious pooch could be featured!
Images: pexels , dogswhobrunch/Instagram