Another 'Civil War' Deleted Scene Has Surfaced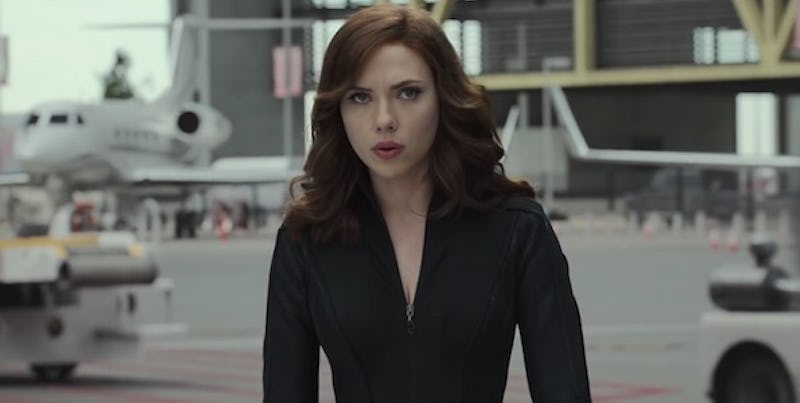 Over the years, comic book fans have been blessed with the backstories of their favorite Marvel characters. There have been solo films for everyone from Thor to Iron Man to Captain America, so it's easy to see how each individual hero's past has led them to be a part of the MCU's ever-growing Avengers team. But, with so many films already under her belt, is a non-origin story Black Widow movie still a possibility? I think it would absolutely still be possible. And, in a deleted scene from Captain America: Civil War , Natasha is providing the perfect segue into her own story. Spoilers for Captain America: Civil War are ahead, so keep reading at your own risk.
Not all heroes have been lucky enough to get their time in the spotlight in the form of a solo film. The most prominent woman fighting for S.H.I.E.L.D., Natasha Romanoff, was only introduced to the big screen as a smaller part of Tony Stark's story in 2010's Iron Man 2. Multiple Avengers films later, we still have yet to see the Black Widow (played by Scarlett Johansson) kicking butt in her own solo superhero movie.
But in the newly released clip, the conversation between Steve Rogers and Natasha following Peggy Carter's funeral even more personal. In an attempt to help Cap cope with his own loss (and connect to him on a more personal level), Natasha shares that she went back to Russia to try and find her parents during her brief hiatus from S.H.I.E.L.D.. However, in a heart-breaking twist, she ended up finding her parents' gravestones behind what she described as "a chain-like fence." She then concludes her story with the words, "We have what we have when we have it." It's hard to keep a dry eye when watching her tell the tale.
It's clear in the clip that one of Natasha's many walls has come down. She's opening up to her team, providing us with a little more on her life back in Russia before she was a spy, and giving us a look in to her personal desires when she's off the clock. That sets us up with the perfect opportunity to find out more. It's Marvel's chance to finally give us that Black Widow movie we've been waiting for.
Yes, this scene was deleted from Civil War's final cut. However, that's not necessarily a bad thing for Black Widow. If anything, it's very possible that Marvel just wanted to cut that scene down for Civil War itself since the film already had to juggle so many heroes and this is the kind of detail that could and should readily come back up again. Hopefully in the form of a storyline in Natasha's very own solo endeavor. I certainly want to hear more about her time spent in Russia.
All I'm saying is to keep your fingers crossed. The hope for a Black Widow film is not over yet. This mention of her parents could mean that her storyline is just getting started.
Image: Marvel Studios; Walt Disney Pictures