More Proof A Black Widow Solo Movie Should Happen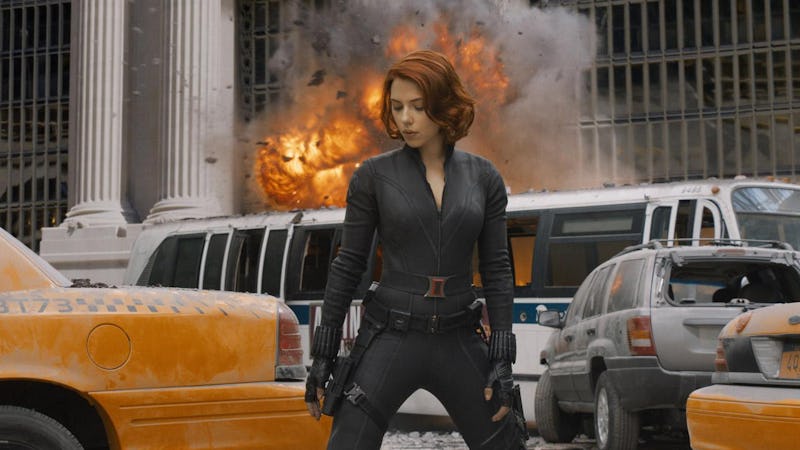 Though Marvel is sadly in no rush to give Black Widow a solo movie, but it is increasingly looking like they are the only ones who aren't clamoring for Scarlett Johansson's super agent to take center stage. During an ABC press tour in London, Clark Gregg (Phil Coulson) shared his frustration that there is so little Black Widow merchandise on the market for young girls (and boys). His solution to the problem? Give the awesome Black Widow her own movie. Amen, Coulson — amen.
During the panel, MCM Buzz reports Gregg said: "I'll tell you about my daughter, who's 13 now. I tried to get her to watch the first Agents of S.H.I.E.L.D., she looked at me like, "Ugh, Dad — it's a boys' show!" And then she got a look at Elizabeth Henstridge playing a biotech genius, and Chloe Bennet playing a computer genius, and Adrianne Palicki being a warrior, and now she's right beside me with it. I think it's got to be two steps together — as more and more of these issues are put forward things will change. And maybe when Agent Romanoff gets the film that she deserves, some of the merchandise will start to follow."
BOOM. Now that Coulson has endorsed a Black Widow movie, I can't help but wonder what the rest of the Avengers would say if they realized their only major female team member keeps getting passed over for a solo film so that can have more sequels. I have a feeling they would all have an opinion on the subject (although they might not be quite as eloquent about it as Coulson)...
Captain America
"Natasha stood by me even when I gave her every reason not to. I am ashamed to say I didn't trust her, but we've been to hell and back together. She's a soldier, my sister in arms — I haven't even seen Star Wars yet (I hear that's good. Is it good?), but I would go to the cinema to see Natasha's story. Trust me, I've heard enough of it to know it's picture material."
Iron Man
"Should Natasha have her own movie? That's a stupid question — yes. She's a scary, badass Russian spy-turned-secret agent. Do you want me to produce it? Because I have a lot of money. Hang on — Pepper, can I be a producer?"
Thor
"The Son of Coul is right. Natasha is an Earth goddess and a powerful warrior. The humans should honor her as they honor all their mightiest heroes with a moving story on their giant flickering screens."
Bruce Banner
"Yes... yes, Natasha is... remarkable. She is an amazing, fascinating, strong person. I think hearing her story could help people; I know it helped me."
The Hulk
"HULK LIKE BLACK WIDOW."
Hawkeye
"Hell yeah, and it should definitely be set in Budapest."
Black Widow
"Normally, the last thing that I would ever want would be for my life to be on display for entertainment, but if it could help people, women, girls — then sure, I'll take one for the team. I've been cleaning up after the boys for long enough, maybe they should clean up after me for once."
There you have it — the entire team is on board. Now... who at Marvel do I have to call to make this happen?
Images: Marvel; Giphy (7)