Mode's 100 Years Of Shoes Proves Vintage Is In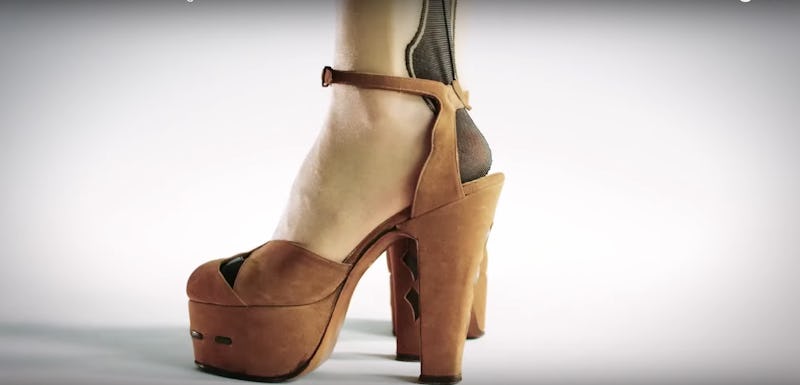 If you've been on YouTube, you've likely seen at least one of Mode's 100 Years videos. From 100 Years of a specific culture's beauty to the history of women's activewear, they've covered their bases. Now, with Mode's 100 Years of High Heels, the creative minds have branched into accessories, and it's so cool to see how much vintage footwear informs our current choices and exactly how much things have changed in the last century.
Personally, 100 Years of High Heels is my new favorite Mode video. While they've all been incredible, there's something about shoes that allow people to express their personalities even when their required attire may call for something more demure or plain. Plus, one glance online, and it's clear that shoes are a big deal for people. Whether it's trying to figure out what your favorite shoes says about you or how to deal with a serious shoe addiction, the love is real for high heel addictions, but who could blame them?
In Mode's video, they begin with the very tradition lace up boot of 1910 and move along until they hit the famous Valentino Rockstud T-Strap pump — which, trust me, you've seen on every celebrity out there. The major take away from the Mode video, though? Vintage is still totally in because I'd wear at least half of these shoes.
Even from the beginning of the video, you can see the way modern footwear is influenced by styles from 100 years ago. The lace-up boots of 1910? With a few modifications, totally wearable today.
The wearability doesn't stop there, though. Of course, the incredible platform pumps of the 1940s are giving me serious modern vibes, but considering our modern platforms are completely inspired by vintage fashions, it makes total sense.
Curious about what else has happened in 100 year of high heels and how our modern footwear is influence by the past? Head over to Mode's YouTube to catch the full video.
Images: Mode/YouTube