2017 Planners That Are Seriously Stunning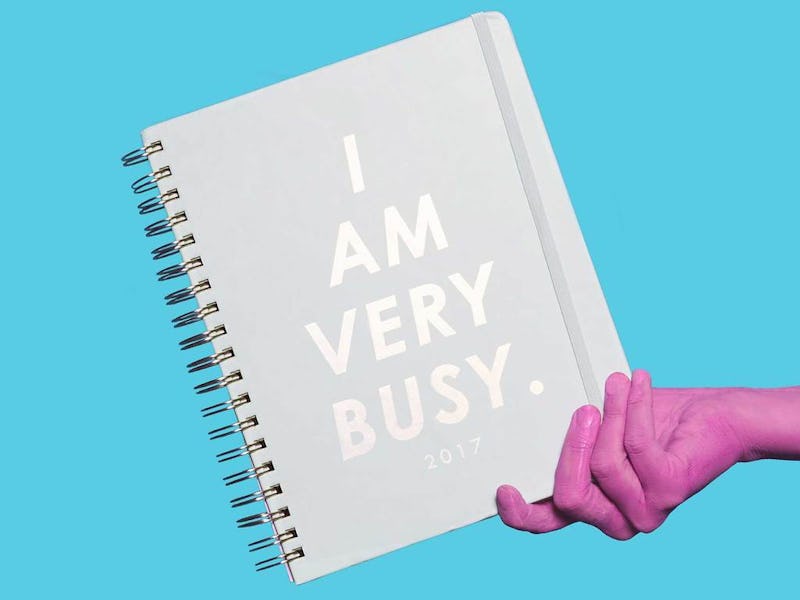 There are a few things in life I can say I truly love, without hesitation or doubt. Among these things are bread, Law & Order SVU, and cute stationery. So when it comes to shopping for adorable planners for the new year, I am kind of an expert. I mean, I'm not so much of an expert that I can stop myself from buying more than one, despite the fact that that makes no sense whatsoever... but I am passionate about planners. I love staying organized and using different colored pens. I love buying whimsical stickers even though I am 23 and cannot afford said stickers. But, most of all, I love feeling like my social calendar is full and booming, even though I have penciled in things like "Drink wine and watch Netflix!" more often than I have, say, "Meet with a financial planner." What can I say? That's just not the kind of planner I'm interested in.
If you're like me, and are looking to jump into 2017 with clear eyes, full hearts, and a precisely organized planner that also happens to be really cute, then don't worry, I'm here to help. Whether your style is more "plan every second of your year" or "simply like to appear organized even though you haven't actually scheduled anything in your planner in months," there are adorable options out there. Here are eight 2017 planners that are simply gorgeous.
1. Millennial Pink
2017 Blush Everyday Agenda, $24, riflepaperco.com
This is the perfect mix of trendy and classic.
2. Abstract
17 Month Large Agenda In Memphis, $32, bando.com
The great thing about black and white is that it goes with pretty much anything. Not to mention the fact that this one comes with pretty awesome stickers.
3. Marble
Marble Platinum Metallic Life Planner, $60, erincondren.com
This Erin Condren LifePlanner has a place for pretty much everything. The best part, though? You can customize it any way you'd like.
4. Gold Details
17 Month Large Agenda In Marble Blonde, $32, bando.com
Sometimes (also, always) there's nothing chicer than black and white with a hint of gold.
5. Ombre
17 Month Medium Agenda In Magic Hour, $28, bando.com
Having a planner that features colors that look like a sunrise is a good alternative for actually going out for a run while the sun is rising, if you ask me.
6. Garden Party
2017 Scarlett Birch Everyday Planner, $27.20, riflepaperco.com
For all your whimsical, girl-who-shops-at-Anthropologie needs.
7. Cool Girl
17 Classic Agenda In Girl Crush, $20, bando.com
Your planner should be a reflection of who you are on your best day, IMO. This ban.do option is perfect for channeling your inner cool girl.
8. I Am Very Busy
17 Month Agenda In I Am Very Busy Ice Blue, 32, bando.com
I mean, aren't we all?
A full planner means a full life (or at least the false appearance of one), so go forth and schedule, my friends.
Images: Hannah Burton, Bry Crasch/Bustle