14 Cute School Planners To Organize Your Life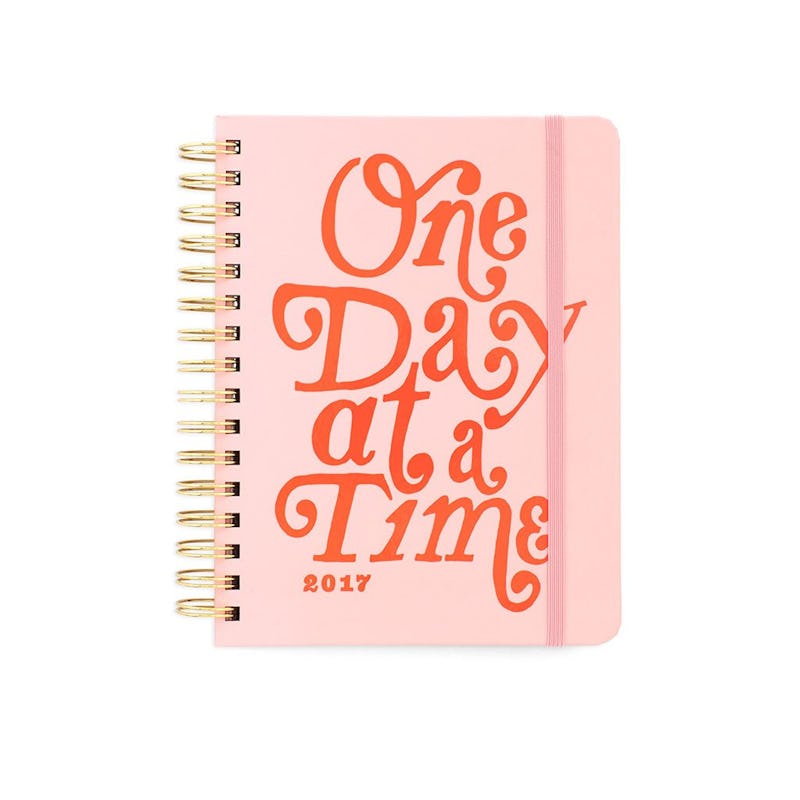 I know — you just put away your flag bikini from the Fourth of July, so perhaps reminding you that the next episode of your academic career is just around the corner is mildly spartan. But diligent back-to-school shopping requires time and effort, and you don't want to just pick up any old thing from the seasonal section of the store. You'll be super busy, as you always are during the school year, so you'll need a place to write down all of your due dates, study meet-ups, and notable parties. So, without further ado, here are 14 cute school planners that will have your schedule looking great.
When I was in school back when dinosaurs roamed the Earth, a lot of public schools would hand out objectively hideous agendas with funny, now hilariously dated study and life tips. Now, Millennials with our passion for '90s nostalgia and growing buying power have made super cute planners a regular thing to buy— understanding that we could, technically speaking, just use our smartphones to keep track of our schedules.
But my smartphone isn't cute, and I can't put stickers on my calendar app. So here is a boatload of awesome planners for your back-to-school shopping needs.
1. If your future's so bright
Girl Crush 17-Month Planner, $20, Bando
This 17-month planner starts in August 2016 and goes through December 2017. And the sassy lady with the periwinkle hair is totally trendy.
2. If you wish summer would last all year
Pineapple Pattern Planner, $23-$26, Minted
This planner from Minted has these cute pineapples on the cover, and it comes with stickers! You can also decide whether you prefer a monthly or weekly breakdown for your planner.
3. If you want to remember to try new things
Say Yes To New Adventures Daily Planner, $18, Etsy
This motivational planner starts in July 2016 and will remind you to be bold and adventurous through December of 2017.
4. If you want some help with time management
Productivity Planner, $25, Anthropology
Anthropologie's productivity planner lets you prioritize tasks, set aside specific amounts of time, and write down details about how each day should unfold.
5. If you want a good chuckle before you check your calendar
WTF Planner, $21, Etsy
Bet you didn't know that WTF stood for Wednesday Thursday Friday, but now you can get a reminder every time you pull out your planner.
6. If you like to keep things classic
18-Month Moleskine Planners, $24, Moleskine
Moleskine is the classic planner brand, and will perfectly complement your prepster back-to-school look.
7. If your schedule stresses you out a little
17-Month One day at a Time Agenda, $32, Bando
Remember to keep things in perspective with this adorable pink planner that jumps right into August 2016.
8. If you prefer to decide when your planning begins
Year-Less Planner, $28, Anthropologie
This planner lets you fill in the days, months, and year so you are in the driver's seat as far as when you start organizing your appointments.
9. If you like to visualize things week by week
Tulip Fields Agenda Pad, $14, Our Heiday
This weekly agenda is great for when you're totally living for the weekend.
10. If you want to bring the strong indie vibes
17-Month Memphis Agenda, $32, Bando
Bando's agendas are almost like a source of entertainment that doesn't even require a screen or a charger. Complete with doodles, jokes, stickers, and multiple ways to visualize your calendar, this design will keep you organized and creatively inspired.
11. If you also kind of want a diary
2016-17 Triangles Agenda, $25, Etsy
This adorable graphic print agenda has loads of lined pages for writing in notes, diary entries, recipes, reminders, or just doodles that you mindlessly drew during a particularly dull lecture. You can even choose from July, August, and September for your opening month.
12. If you want a little personal touch
Striped Lines Planner, $23, Minted
Get your name printed on the cover of this cute little number. As with all of Minted's planners, you can choose between weekly pages or monthly ones.
13. If you want to prioritize your emotional health too
The Happiness 100-Day Planner, $30, Anthropologie
Well this is just nifty as can be. It's sort of like the productivity planner but helps you prioritize your mental health. Schedule workouts, meals, goals, and inspirations ahead of time, then add some positive thoughts about each day afterward.
14. If you are constantly doing things
17-Month I Am Very Busy Agenda, $12, Bando
Let it be known that you are always in-demand with this cute and funny agenda.
Images: Bando (4); Minted (2); NudeAndLoiteringTees/Etsy; Anthropologie (3); HadronEpochDesign/Etsy; Moleskine; Our Heiday; ArteeLunar/Etsy