Kim Dickens Sees Strength & Struggle In 'FTWD'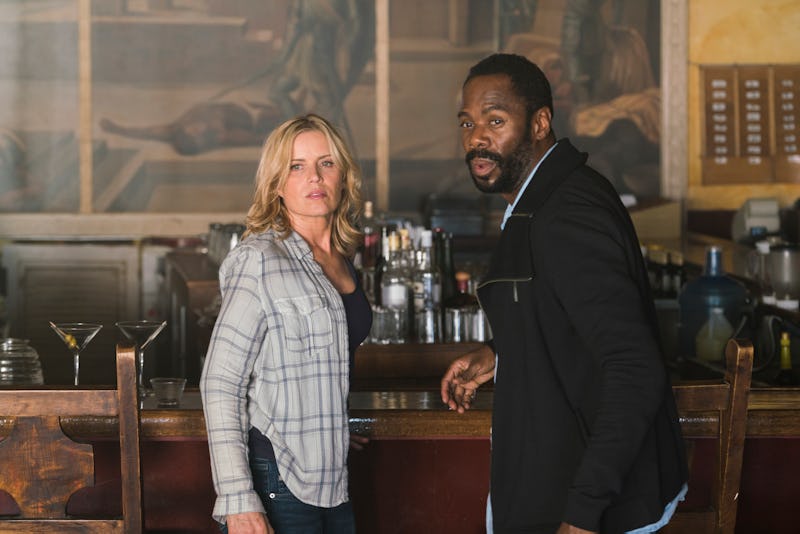 It took several seasons for the female characters on The Walking Dead to start making the tough decisions and calling the shots. However, Madison on Fear The Walking Dead has always been in charge. In an interview with Bustle, actress Kim Dickens discussed the many layers to Madison Clark.
"I didn't think I'd necessarily be right for it or the genre or anything," Dickens remembers, back when she first heard about the role. "Then I read the script and I just thought it was a page turner and I thought all the characters were amazing — especially Madison. It just seemed like this really cool, strong, complicated woman, who was struggling and yet not a victim, and had a real badass streak in her. It seemed like a lot of fun to play. So I marched right in there and auditioned for it."
It's rare for any show to have a female protagonist, much less a post-apocalyptic one. That's one of many things that sets Fear The Walking Dead apart. From the very first episode, it was clear to me that Madison was going to be a leader, especially considering her relationship with Travis, her job, and the dynamics in her new family. "It's not really a surprise that she's a strong woman and makes a quick decision and is not afraid to boss anyone around," says Dickens. "She was a High School counselor. She had to wrangle teenagers."
It's one of the things that, in my opinion, makes Madison and Strand's friendship inevitable. Strand is a self-described "seducer of people" and a con man, which makes him a keen observer of character. As a counselor, Madison has a similar skill set. While Madison understandably doesn't trust Strand at the beginning, Dickens says that "they start to peel away layers and I think they start to recognize something similar in each other."
That relationship started to turn even more into a partnership in last Sunday's episode "Los Muertos" in the scene at the hotel bar, which Dickens described as "delicious" to play, even though it ends in a terrifying cliffhanger. "Strand and Madison are both grieving in a way," she says. "[They] both have their defenses down and take a moment for a catharsis — which doesn't really happen in the apocalypse. There's never really that opportunity. That's a very luxurious moment. A stupid moment, really..."
While Madison is strong in many ways, she is in no way perfect. Her children are growing away from her at the worst possible moment. "Parenting never gets easy for Madison," says Dickens, even with the golden child." Season 2B begins with Madison in sort of a standstill, emotionally and physically. "She's holding out hope that Travis and Nick will find their way back. Alicia has to say to her a few different times, 'look, he's not coming back and I'm here — so do something about it.' Madison can't comprehend letting go of one." What she hopes and believes will happen as a result of this tension is that not only will Madison's relationship with Alicia (and Nick, and Travis) be challenged and redefined, but that Alicia will grow into her Madison side as well.
"I think we show a very primitive mother," she adds. "I think you see a lot of the primitive aspects of motherhood. Full of mistakes. It's not pretty sometimes." Which is awesome. With something as complicated as parenthood, it would be incredibly dangerous to put binary labels on what makes a good and bad mother — especially when you've got zombies knocking at your door.
These flaws and moments of stupidity also make these characters, who live in an impossible world, more relatable. "Zombies are our daily fears and anxieties too," Dickens says. "We're slaying zombies every day, right? Our own personal zombies."
Images: Richard Foreman Jr./AMC