These 'Stranger Things' Actors Have Thoughts On S2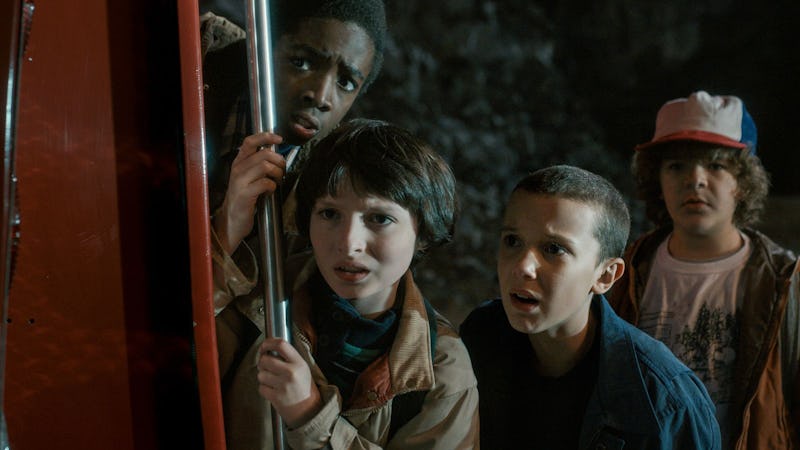 By now, you've heard that Stranger Things has been renewed for a second season, right? If not, sorry for the spoiler, but come on — this is hardly a surprise. The Netflix sleeper hit read like a love letter to '80s pop culture from the moment it dropped on the streaming site, and even though it initially flew under the radar, it was clear from Episode 1 that the show was destined from greatness — aka, destined to be picked up for round two. As for what Season 2 will entail? Nobody has any clue. Considering everything that happened during Stranger Things Season 1, though, anything's possible. Of course, with stars being just like us, three main Stranger Things cast members do have some plot ideas about the coming season. (Spoiler alert: one of them even involves a bulldog named Chewbacca.)
First off, let's review what we do know about Season 2: A video announcing Stranger Things renewal on Aug. 31 revealed that the series will take place in the fall of 1984, at which time "the adventure continues." Ominous. Then, a list of episode titles were released: "Madmax," "The Boy Who Came Back to Life," "The Pumpkin Patch," "The Palace," "The Storm," "The Pollywog," "The Secret Cabin," "The Brain," and "The Lost Brother." Though these all sound brilliant, I'm personally at a loss for what "The Pumpkin Patch" or "The Pollywog" mean at this point. The only thing we can do at this point is speculate... and also maybe turn to series stars Gaten Matarazzo (Dustin), Caleb McLaughlin (Lucas), and Noah Schnapp (Will) for ideas. Luckily for us, the three actors talked to Entertainment Weekly about Season 2's direction — and honestly, their plot theories make a lot of sense.
When asked about what they'd like to see their characters up to in Season 2, Matarazzo answered first. "So if I want anything for my character for next season, I want two things... I want him to have a stunt. He didn't have one in Season 1, and I just think it would be really cool," Matarazzo said. Then, the second thing? "I want him to have a big, fat slobbery English bulldog, and I would name him Chewbacca."
McLaughlin also had a few ideas for his character, Lucas. "What I want is a new bike, and for Lucas to be more bad-butt." (Sidebar: A dog? A new bike? These sound a lot like Christmas wish lists, right?)
Then, it was Schnapp's turn to pitch ideas for his character, Will: "For Will, I'd like to see him become evil in a way. ... I think it would be pretty cool to play that," Schnapp said. "He might be become evil. ... We don't know. We'll see in Season 2." Yes, thank you for the reminder that we most assuredly do not know, and won't for some time. But, let's break these ideas down for a second — they're actually within the realm of possibility.
Matarazzo's wish for Dustin to adopt a slobbery English Bulldog named Chewbacca serves two purposes. One, the dog would be a perfect sidekick to this gang of nerds, and two, a giant, hairy dog named Chewbacca would be just another perfect homage to '70s and '80s cinema. This is something that Stranger Things obviously takes super seriously. As for McLaughlin's request, I do agree that Lucas deserves a new bike, and I would also like to see his character be more "bad-butt." When it comes to Schnapp's request, an evil Will would be sad considering his mother, Joyce, would be subjected to even more pain, but it would also make for great TV.
When you think about it, all three of these actors share one common desire through their requests: Each want their characters to be more fleshed out in a way, and not necessarily for the better. For Matarazzo, it's stunts, for McLaughlin, it's "bad-butt" behavior, and for Schnapp, it's showing a darker side.
So far, the kids' story arc in Season 1 isn't that dissimilar from to the one Elliott from E.T., The Extra-Terrestrial goes through. Something odd happens to a group of friends, and they find a way to deal. Other than that, though, and the fact that they're likable and loyal, we don't know that much about these boys. For a series that's heavily imbued with nostalgia, it's important that things stay as fresh as they do retro. And, for Matarazzo, McLaughlin, and Schnapp, that new thing might just be a bike-riding nerd gang with a little more edge.
Images: Netflix; Giphy