New Kimoji Dad Hats Are Here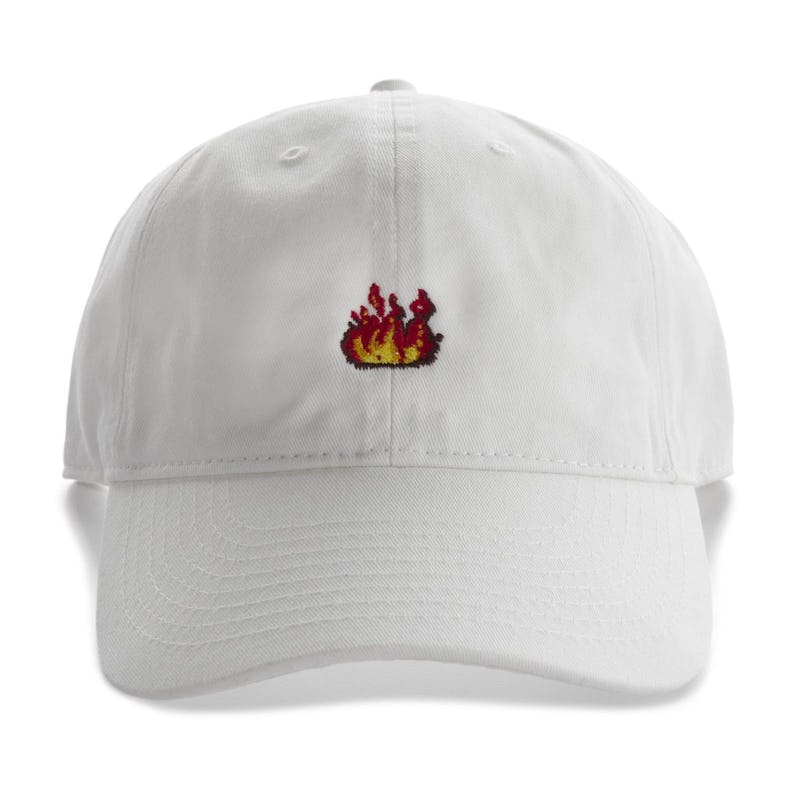 Of course, it just wouldn't be an appropriate Labor Day shopping spree without scooping up gear from the Kardashian/Jenner clan. Not only does Kylie Cosmetics still have items in stock (a rare occurrence, folks) but Kim Kardashian also just added new gear to the Kimoji Merch store. Find out how to shop new Kimoji Dad Hats and more to make your long weekend that much better.
The new baseball caps have the flame Kimoji and the "Lit" Kimoji printed on them. There's no better way to end the summer than with totally cool and super trendy items, which is why these new hats are so must-have. Plus, this headwear will easily become a staple in your fall wardrobe. I mean, these hats, some leggings and a flannel. You're set for life with those pieces, am I right?
Not only did she add new pieces, she also restocked some items which were previously limited edition. So, now you've got another chance to get your hands on a Kimoji-covered bodysuits, biker shorts, and sweatshirts. Yas. Head on over to the Kimoji Merch Store to cop the latest and greatest additions. Your Labor Day weekend just wouldn't be complete without a purchase like this. Might as well get a Lip Kit while you're at it, too. Come on, the start of every season deserves some new buys. And these products are essential, no matter what time of the year it is!
New items and a restock? Yep, it's time to get shopping!
1. Kimoji Flame Dad Hat
Kimoji Flame Dad Hat, $35, store.kimkardashianwest.com
OK, this is literally fire right now. You'll be too hot to handle with this cap on your head.
Kimoji Lit Dad Hat
Kimoji Lit Dad Hat, $35, store.kimkardashianwest.com
It just doesn't get cooler than this, you know?
Kimoji Cry Face Crew Sweatshirt
Kimoji Cry Face Crew Sweatshirt, $60, store.kimkardashianwest.com
Yep, this epic sweatshirt has officially been restocked!
Let the long weekend celebration begin!
Images: Courtesy store.kimkardashianwest.com (6)