Lisa Frank Hair Is The Newest Rainbow Trend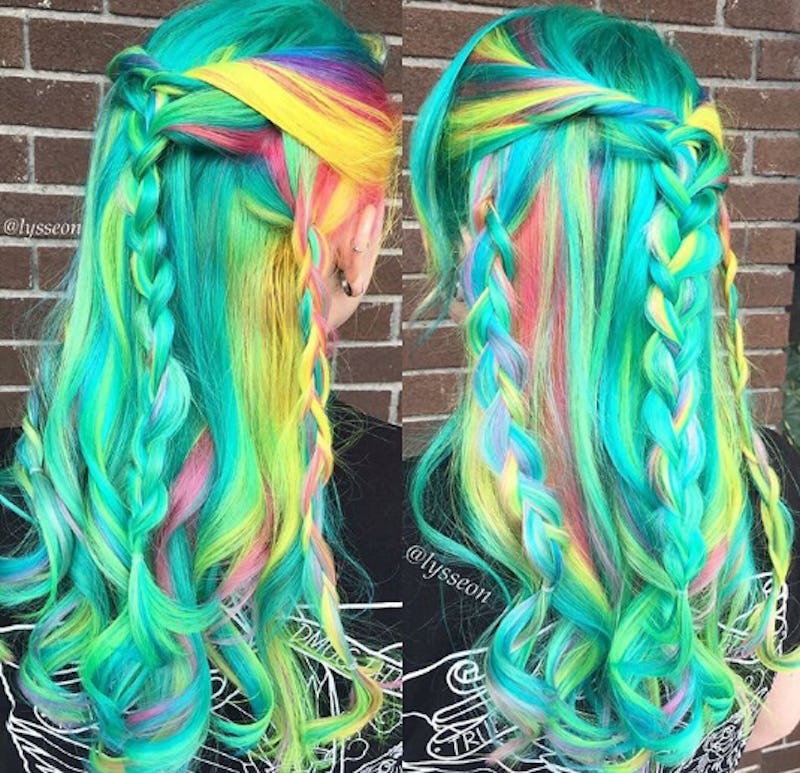 If you grew up decorating your furniture with unicorn stickers and rolling up to school with a jazzed up, hyper-color backpack from the House of Lisa Frank, then chances are you still feel nostalgic for the print. If you do, you're in some major luck: Lisa Frank hair is the newest rainbow hair trend this season!
Whereas in the '90s, the psychedelic cheetahs and dreamy Labradors were displayed in a medley of neon colors and wild animal prints, in 2016 the hair trend is a little more subdued — but just barely. According to PopSugar, "The style is characterized by the vivid colors seen in those legendary designs and is typically seen against dark strands, creating a gorgeous contrast." Backing those electric brights with darker roots helps them pop a little more, giving you that iconic Lisa Frank feel.
What also sets this look apart from the past rainbow hair trends is that you're aiming for more of a tie-dye style when it comes to your highlights. Self Magazine reported, "While some bright hair lovers like to stick to one color, Lisa Frank hair is all about combing bright shades for a tie-dye effect. Think, streaks of hot pink, yellow, blue, green, and purple all in one hairstyle."
And for those that feel a little more adventurous when it comes to playing with their hair, the bar can be raised even further. "The wearer gets bonus points if she rocks animal prints on top of her colorful coif," PopSugar shared.
If you feel like the rainbow hair trend looks like the same look reinvented every couple of weeks, then the animal print element definitely changes things up. It's hard to see a neon cheetah print and not think "Lisa Frank pencil case."
If you're swooning over this favorite childhood revival, then you might need to sit down because it doesn't end with your hair tresses. According to Self, this is just another notch in a long list of Lisa Frank revival throwbacks. "First, it was leggings and tees emblazoned with rainbows and unicorns. Then, the news broke that a Lisa Frank adult coloring book is on the horizon. And now, colorists everywhere are using her neon color scheme and animal prints as dye inspiration," Self reported.
Whether you're brave enough to request acid green and bright pink at the salon or not, you can definitely appreciate the nostalgic amazing-ness that is this new rainbow look.
Images: @lysseon/ Instagram