Here Are KathleenLights' Favorite YouTuber Collabs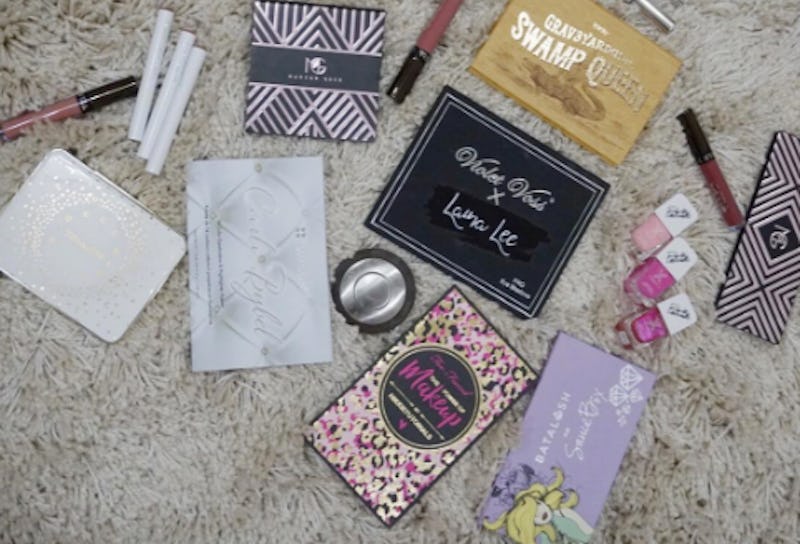 This has been a big year for collabs, and this vloggers knows it. Not only has she had tons of new products come out, but her friends have too. KathleenLights (aka Kathleen Fuentes) post a picture of her favorite YouTuber beauty products of the year, and they're probably the same as yours.
The YouTuber makeup collabs have been on-point this year. There was everything from Jaclyn Hill's Champagne Glow Collection with Becca to Laura Lee's Violet Voss Palette, and even more makeup fun on the way. Fuentes showed off all of her favorite vlogger-created products in one Instagram group shot to celebrate everyone's hard work. She included everything from nail polishes to palettes. Basically, it's your entire beauty wish list on one fabulous photo.
Fuentes knows a thing of two about collabs too. She's had two herself with MakeupGeek and ColourPop Cosmetics just this summer alone. Plus she's been behind some amazing lip products in the past few years as well. Of course, she included some of her own products in the round-up of great collabs as well. After all, she does wear them all year 'round on her makeup channel and IRL, so you know they must be good.
The only problem with her favorites is that some of them are sold out. There are plenty of them that are still up for grabs though. Here's the list of her favorites that are still available, so you can shop accordingly.
Kathleen Lights' Highlighter Palette, $39, Makeup Geek
This is Fuentes' latest collabs. It won't be around for much longer, so you'll want to grab it while you can.
The Power Of Makeup By Nikkie Tutorials, $56, T oo Faced
This five piece set is sold on on Ulta.com and Sephora.com, but you cans till shop it on the Too Faced site.
Carli Bybel 14 Color Eyeshadow & Highlighter Palette, $15, U lta
You can't beat the price of this Bybel x Bh Cosmetics palette.
Lumière & Lumière 2, $5-6, Colour Pop
She made sure include some of the first lip products that she created with ColourPop as well. All of which are still available.
Champagne Pop Shimmering Skin Perfector, $38, Sephora
You might not be able to get Jaclyn Hill's Champagne Glow Palette, but you can still shop her Champagne Pop highlighter, which is also in the shot.
Aquarius Lippie Stix & Pencil, $5, Colour Pop
This was one of Fuentes' first products with ColourPop. You can still get his gorgeous nude lippie on the site too.
Ultra Satin Lips in Alyssa, November, and Point Zero, $6, C olour Pop
If you're looking for a satin lip finish, there's something for you too. Her latest ColourPop collab was this trio of gorgeous products.
These standout products won't be around for long, so you'll want to shop them now before they're gone!
Images: kathleenlights/Instagram (1), courtesy brands (7)