KathleenLights Could Be Creating This Next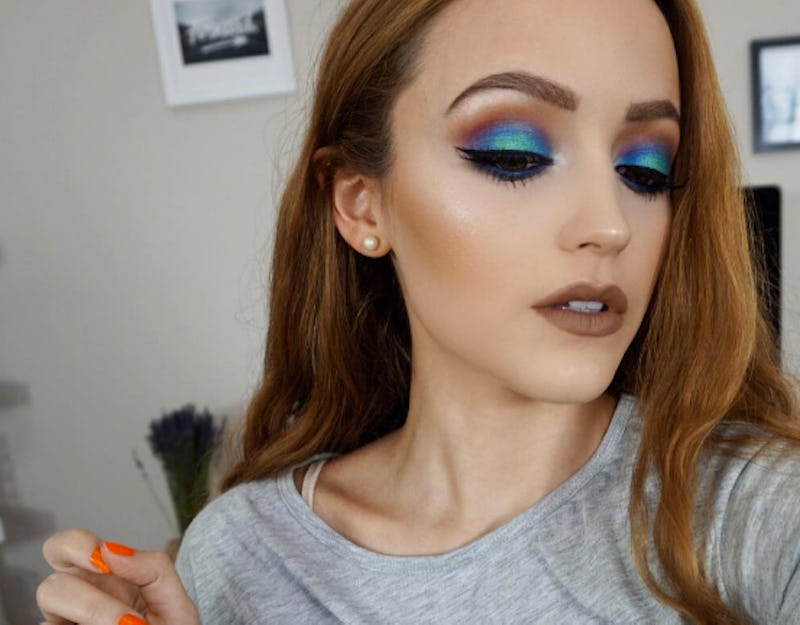 Stop what you're doing, because Kathleen Fuentes, better known as KathleenLights, could be hinting at a nail polish collection based on some interesting Tweets. This is not a drill, people! After posting a poll on social media, the rumors are flying that the YouTuber might be in the process of creating something big. People are pretty darn excited about the idea too.
As if her ColourPop and MakeupGeek collabs weren't already enough, a line of her own would be even more exciting. After Fuentes posted a Twitter poll asking her fans whether they like a thick or thin nail polish wand, people got pretty suspicious. Her fans started tweeting her questions, asking if she had plans for an upcoming collab, and her responses got people pretty pumped, although she didn't confirm much of anything. Bustle has reached out to Fuentes for comment on the situation.
Fuentes said that it was definitely not a collab, and then tweeted to suggest she might be asking for herself. That sounds like it could be a clue about her launching her own line to me, although we can't be certain. It might not be official news, but it's definitely exciting. The YouTuber has hinted about collabs on her Twitter before, so the possibility that this is a clue definitely shouldn't be ruled out. Any Fuentes fan knows that the woman loves her nail polishes, so this wouldn't be that crazy of an idea. Her having her own line would be something pretty darn exciting.
The vlogger has been posting a lot more photos of her nail polish on Instagram as well. Is that a sign? I wouldn't rule anything out until she confirms what's going on.
Nothing is official yet, but her fans are freaking out already. Here is her original tweet.
Then again, she also tweeted this:
And this:
Who knows, maybe she's just stockpiling information about her fans' preferences. Either way, people are paying attention. Fuentes is known for loving affordable products and has nailed every other project she's done so far. Here are some tweets that sum up the excitement.
Your help is needed, Fuentes.
All caps is necessary.
Actual footage of her fans.
Living her dreams, like a true YouTube star.
This pretty much sums up the excitement.
The hints are real.
When Fuentes creates, fans buy it no matter what.
Needless to say, people are dying for more information. Here's hoping she gives us a further hint soon.
Image: kathleenlights/Instagram (1)