Nicole Byers Gets Sort Of Real In Her New Show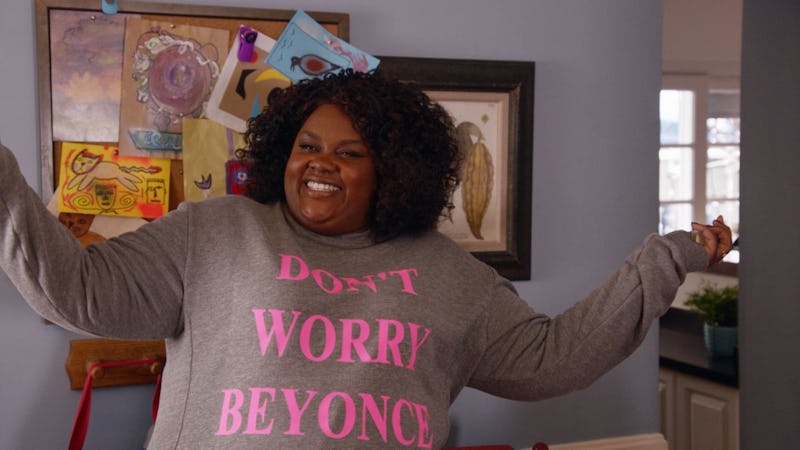 Sitcoms loosely based on people's lives are nothing new. From Louis to Ellen, it's been done before. But the 2016 fall TV lineup seems to be jam-packed with comedians looking to tell their stories. Well, kind of. These sitcoms proudly declare that they're all loosely based on the stars who created them, and this is an important caveat. Since there are so many new shows that have turned people's real lives into entertainment, it does make you wonder, how real are these based-on-real-life comedies?
These sitcoms from comedians like Donald Glover, Tig Notaro, and Pamela Adlon take tidbits here and there from reality, and have fun mining them for television laughs. They're not looking to get everything right; they just want to make you LOL. This list break down how real six new shows premiering this fall actually are. The list includes more than a few Louis C.K. assisted comedies, and two female firsts: Adlon's Better Things is the first FX comedy with a female lead, while Issa Rae's Insecure is the first woman of color to anchor her own show on a premiere cable network. Sad, but true.
Now it's time to see how true the story's these comedians are telling really are.
1. Donald Glover's Atlanta
This surreal FX comedy, which Glover said is " Twin Peaks with rappers," focuses on two cousins trying to navigate the Atlanta rap scene for the better of themselves and their families.
Real: The Community star did grow up in Stone Mountain, Georgia and wanted Atlanta to turn an eye on the real community there, not some TV version. Glover told Vulture, "I needed people to understand I see Atlanta as a beautiful metaphor for black people." He really has navigated the rap world since 2011 as Childish Gambino and knows how easy it is for people in your life to jump on your fame bandwagon to get what they want.
Not Real: Glover doesn't actually play himself on this show. Instead of playing the actor/rapper that he is in real life, he took on the role of manager Earnest "Earn" Marks, trying to take charge of his cousin's up-and-coming rap career. It gives a different side of Glover's fame story, but that doesn't mean it's any less real. This is a story of a man trying to do good for his young daughter, despite the fact that the world is doing all it can to keep black men down. Glover's character starts out by living in low income housing before trying to take advantage of his cousin's good fortune. So, while this may not be Glover's true story, it's definitely true for many others out there.
Atlanta premieres Sept. 6 on FX.
2. Nicole Byer's Loosely Exactly Nicole
The Girl Code's star first scripted series is a situation comedy that finds the humor in Byer's everyday life as an up and coming actress just trying to make it in Hollywood.
Real: Byer is poking fun at things that really happened in her life. Yes, she's been asked in auditions to act blacker, not to mention did really try out for a character named "Big Butt Bertha." "That is a spot-on parody of the name of a character that I had to go out and audition for," Byer said in an interview with USA Today. "And the way they wrote this black woman was like, 'Where the [expletive] is my money at?' And it's like, I can't. And that's not to discredit [other black women]. There are black women who sound like that, but I'm not one of them."
Not Real: The title says it all; this is loosely based on Byer's life, which means she's kicking those real life experiences up a notch for something that will have you rolling on the floor laughing. "The writers would interview me and ask me questions about my life, and I would tell them stories, and then we would take a nugget from a story and then put some fiction in it," Byer told Splitsider. "Or we would take a full story and turn it into an episode." While she's been asked to be blacker in auditions, the scene in this TV show has the casting director getting very specific about what kind of black they'd rather her be: church lady, Oprah. Like Louis C.K. before her, she knows that real life can be funny with just a few adjustments.
Loosely Exactly Nicole airs Mondays on MTV.
3. Pamela Adlon's Better Things
Adlon, a familiar face to Louis fans out there (this show is co-created by Louis C.K.), plays a divorced actress who is trying to raise three daughters on her own without any help.
Real: All the ideas for this show come from her own life: she is an actress raising her daughters as a single mom. This includes a scene about going for a plastic surgery consultation with her friend. Her daughters even get to help with the stories. Adlon told The A.V. Club, "It really is a place for [my daughters'] voices to be heard and to talk about this kind of life that they really don't see represented."
Not Real: While the moments are real, a lot them are written in hindsight, focusing on how she felt about those moments. Case in point, that plastic surgery moment. Adlon told The A.V. Club that "being able to explore that feeling, and say 'What if this actually happened?' And making myself sick, like, 'I wish I would have done that, I wish I had done that,' and then being able to write that way" was pretty cathartic. That's why Adlon's show takes the attitude that this is real life the way you wish it happened. "I want to find something that I can relate to," she said, "and then maybe do a little bit more and embellish."
Better Things premieres Sept. 8 on FX.
4. Tig Notaro's One Mississippi
This dark comedy starring Notaro and surprise, executive produced by Louis C.K., deals with a woman returning to her hometown in Mississippi after her mother's sudden death forcing her to deal with her own issues.
Real: Notaro really did lose her mom unexpectedly in 2012. She is from Pass Christian, Mississippi originally, living there until early childhood. It's also where her mother is buried, and where her extended family has lived for generations. For this Amazon "traumedy," already earning comparisons to Transparent, Notaro also delved into the other traumatic elements of that same year, which ironically helped make her a star — including a stand-up set which led with the line "Hello, I have cancer." "My mother died, I had cancer, I had an intestinal disease and couldn't eat, I went through a breakup, I had pneumonia. The list goes on," Notaro said at a Television Critics Association panel for the show. The Tig on the show, like Tig in real life, survived breast cancer.
Not Real: Notaro said the show, co-written by Diablo Cody, is "85 percent real" at TCA, which means there's a lot of room for fiction — including the fact that she went to Mississippi to be with her mother. In actuality, her mom was living in Texas. Notaro told The New York Post that she "just let loose," adding comedy to these moments that were definitely not funny at the time. "It's going to be interesting for people to figure out [what's real and what's not]," Notaro told The Post. "A lot of the cast and crew, when we were making the show, would say things like, 'Oh that's crazy that you experienced this.' I was like, 'Oh no, that's not real.'" Basically, this show is as real as you'd like to think it is.
One Mississippi premieres Nov. 5 on Amazon.
5. Issa Rae's Insecure
This HBO series, produced by The Nightly Show's Larry Wilmore, focuses on Rae's character Issa Dee's life in South Los Angeles as she tries to balance work, friends, and romance. Being that Rae created the web series, The Misadventures Of Awkward Black Girl, there will be some awkwardness.
Real: Rae is telling her own story of what it feels like to not fit in. The show even opens with Rae in front of a classroom of African-American kids who are picking on her for not being black enough. It's something she told the Television Critics Association that she gets all the time after moving to L.A. from Potomac, Maryland in sixth grade. The show is also set in South L.A., an area that is portrayed as violent, that Rae wanted to show in a real light. She wants to do the same for female friendship between black women. "I've never thrown a chair at a friend in my life, and I wanted to represent that," she said to USA Today. "We speak to each other in a specific way, but we love each other and we're there for each other."
Not Real: This show is not trying to just tell a personal story, but a larger one. At the TCA panel for the show, Rae said this series focuses on what it means to be black when you don't fit in to society's definition of what that means. "It's just about black people living life."
Insecure airs Oct. 9 on HBO.
6. Colleen Ballinger's Haters Back Off
Ballinger stars as her YouTube character, Miranda Sings, a very confident, but deeply untalented and heavily lipsticked, actress who is looking to make it big. This show promises to give the backstory behind the viral sensation, who has nearly 7 million followers.
Real: This bizarre family comedy shows Miranda Sings' journey to the stardom that she believes she deserves. It includes her mom, her uncle, and the other YouTube stars she's met along the way. The show is also named for Miranda's very real catchphrase and will feature Ballinger's very real clothes and props from her house.
Not Real: Well, Miranda Sings isn't a real person, but a character Ballinger created in 2008. So, right off the bat, this autobiographical show is a little different than the rest. So, this show is really based on the real life of someone fake, who is trying to get at something real. Ballinger obviously deals with the self-absorption that can come along with fame. As showrunner Perry Rein told Variety, Haters Back Off is more like a mockumentary about "characters that take themselves very seriously in their very small worlds." It's a commentary, and a very real one at that even though it's based on someone not real. "[It has] characters that take themselves very seriously in their very small worlds."
Haters Back Off premieres Oct. 14 on Netflix.
With each of these "based on real life" shows, there's more than a little that comes from the creator's imagination. What's real though about all of these, is they're giving different kinds of people a voice on television and that's always a very important thing.
Image: MTV