Rainbow Burger Pays Homage To Gene Wilder
by Lara Rutherford-Morrison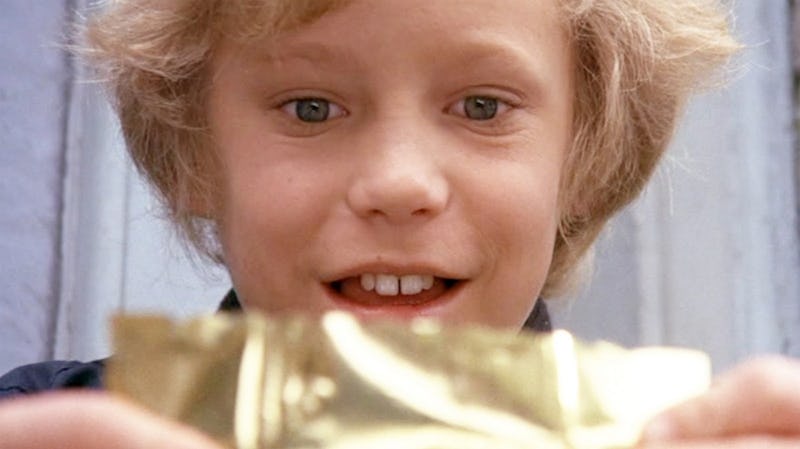 From Everlasting Gobstoppers to Fizzy Lifting Drinks, Willy Wonka and the Chocolate Factory is a movie obsessed with food. It's only natural that fans of the beloved, late Gene Wilder are honoring the star in the kitchen. One Australian restaurant is paying homage to Wilder with a Willy Wonka- themed burger, complete with a psychedelic rainbow bun and something called "popping cheese," which honestly sounds like it was cooked up in Wonka's factory.
The "Beauregard Burger," named in honor of the gum-smacking Violet Beauregard, is the brainchild of Bar Luca, based in Sydney. The most striking aspect of the special burger is its vibrant rainbow milk bun, which appears to be from St. Malo Bakery. Topping the burger's beef patty are fried potatoes, tomato soup jelly, blueberry onion jam, popping cheese, and "Wonka sauce."
A Willy Wonka tribute could never be complete without a Golden Ticket, of course, and Bar Luca doesn't disappoint. Every day of the burger's run, one lucky customer will receive their very own Bar Luca Golden Ticket. This ticket may not grant entry into "a world of pure imagination," but the prize is pretty sweet (and savory!) nonetheless: It gives each winner a free meal from Bar Luca. One of the 16 ticket holders will also win the grand prize — a Bar Luca keychain that grants the winner free burgers for a whole year.
If you're in Sydney, you can get the Beauregard Burger starting tomorrow (September 7), through Sunday. Those of us across the pond will simply have to satisfy our Gene Wilder-love by watching Willy Wonka and Blazing Saddles on repeat. (And also Young Frankenstein and The Producers… OK, you might as well just queue up the entire Gene Wilder filmography.)
Images: Paramount Pictures; Bar Luca/Instagram (3)