Zoella Lifestyle Will Be Available Soon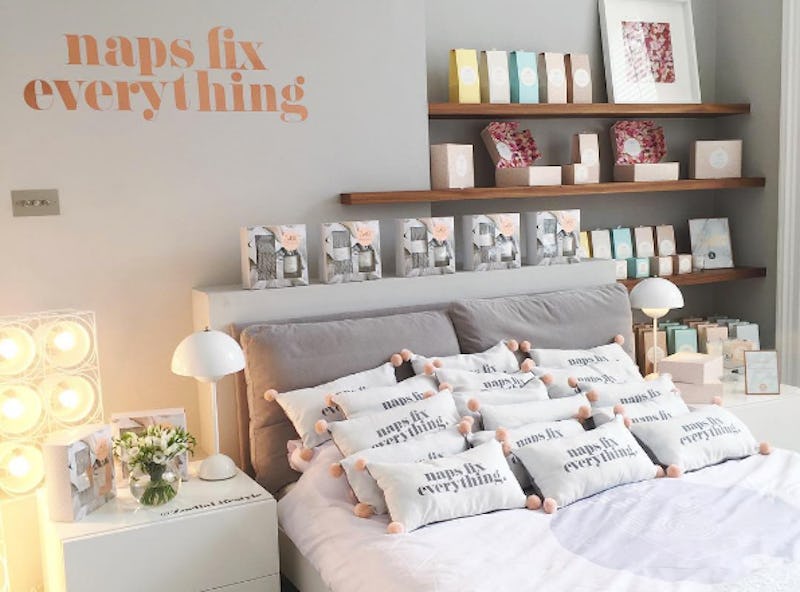 The day you've been waiting for is officially here. You can now decorate your entire house with Zoella-designed goodies. That's right! The YouTuber is launching a lifestyle line now in addition to her beauty brand. When does the Zoella Lifestyle line come out? You don't have to wait much longer to get your hands on the homeware. UPDATE: The Zoella Lifestyle line will be available on Sept. 19 at Boots.
She's given you beauty recommendations on YouTube, bath and body products, three novels, and now she wants to decorate your home. That's perfectly okay with me! Zoe Sugg, AKA Zoella, is launching her first ever lifestyle line. There's everything from candles and diffusers to planners and pencils included. She's got an adorable, simplistic style and she stays true to that with her products. There are cute little quotes on planters and pillow and notebooks designed for you to write your own story.
If you're as excited as I am about the line, you'll be happy to know that it will be available soon. Although the exact date isn't official yet, there are some clues to when to expect the home decor. The Instagram photos all have the caption "coming soon," but according to the Zoella Lifestyle Twitter post, you'll be able to shop the collection this month.
Sugg showed the line off in a behind-the-scenes Snapchat story as well as on the new Instagram page for the range. Everything looks absolutely adorable, if you ask me. It's all about the details and there's no one better at that than the YouTuber.
It doesn't surprise me one bit that this is the next step for the star. Sugg is always showing off stationary and room accessories on her YouTube account. Now she's getting the opportunity to create her own.
There's no word yet on how much the line will cost. If it's anything like her Zoella Beauty line, then the price will be pretty darn affordable. All of her bath and beauty products are well-under $20.
How adorable are the pompom pillows! The same cute details are in her coffee mugs, planners, and planters as well. I can't wait to get my hands on all of these adorable room accessories!
Images: zoellalifestyle/Instagram