Josh & Amanda's First Family Photo Is Adorable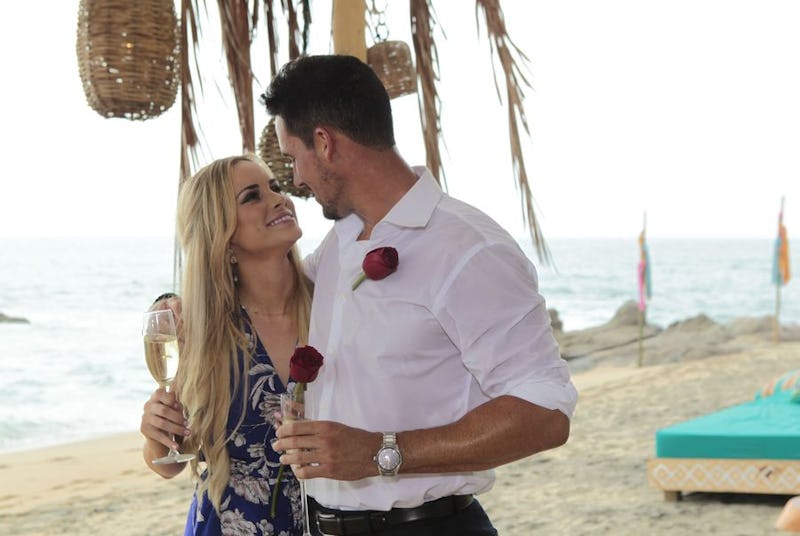 Bachelor in Paradise might be over for the season, but the finale marked a lot of new beginnings for several of the show's cast members, especially the ones who are now freshly engaged and able to take their relationships public. And, for Bachelor in Paradise stars Amanda and Josh, that new beginning comes with a lot of responsibilities — and two of them are extra important. Josh isn't just getting Amanda — he's also living with her adorable daughters. The good news? It looks like everybody's happy about their new arrangement. Josh shared a family photo with Amanda and her daughters, and I can't handle the cute.
In the pic — which was shown as part of the BIP epilogue — Josh and Amanda are kissing as Amanda's daughters sit on their shoulders. Judging by this photo alone, it seems like they're definitely OK with Josh being a part of their lives. I've definitely had my doubts about Josh and Amanda as a couple, but if they're this happy together (and her kids are this happy, too) it seems like they're off to a good start. And, no matter how you feel about their relationship and impending marriage, you can't deny the incredibly high cute factor of this photo.
No matter how this thing pans out, I'm looking forward to seeing more adorable photos like this on Instagram. It's not like they've been trying to hide it all this time, but, now, they get to be as open about their relationship as they want to be.
Image: Rick Rowell/ABC