I Tried Pat McGrath's Lust 004 LiP Kits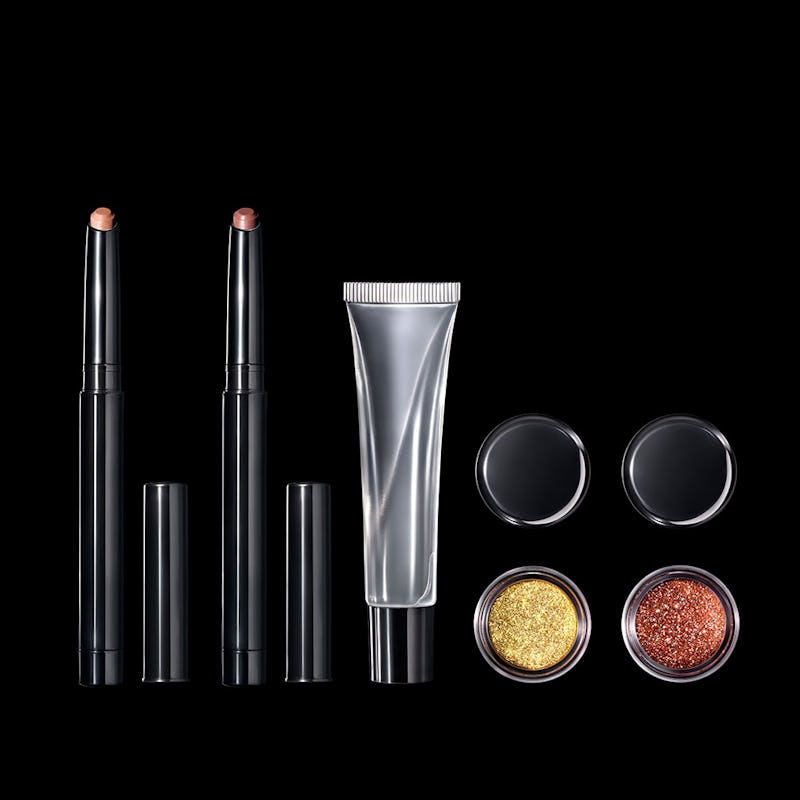 I'm not Naomi Campbell nor am I an Instagram makeup artist, so I knew going into this experiment that playing with one of Pat McGrath's Lust 004 Lip Kits would be somewhat challenging, albeit a very fun challenge, since the five-piece set contains both a loose Microfine Glitter and a Metallic Gold Pigment. You need major deftness, dexterity, and maybe an MUA to achieve the glittery, ruby slipper look that Campbell rocked at the VMAs. Still, I tried the Pat McGrath Lust 004 Lip Kit in Flesh... because it's Pat McGrath. The set is a ton of fun to play with, even if I wasn't transformed into Campbell during the process.
McGrath is a luminary in the beauty realm and I knew her Lust 004 lippies would be awesome on multiple levels. There were plenty of things I loved about the elements that comprised the kit, although the glitter aspect was harder for me to master.
The Flesh Lust 004 Kit comes with two matte lipsticks in thin, black tubes, as well as the Clear Vinyl Gloss, which is akin to MAC's iconic Lipglass. It also comes with the aforementioned Microfine Glitter and Metallic Gold Pigment. You can wear the lippies alone or layered for velvety color. You can add gloss for maj shine. You can pile on the glitter before or after the gloss for depth and texture. Or you can dose your pout with the MGP before or after gloss... or without gloss at all.
So, there are many customizable options with the Pat McGrath Lust 004s. The packaging feels lab-like yet cool.
Because #Sequins!
I traced my lips with a Stila lip liner and then layered the two matte lipsticks. Loved it!
The lippie texture is creamy and mega matte. The average makeupista can rock this look day in and day out.
I added the clear vinyl gloss for some shine. Again, it was a patent leather slickness and quite sexy.
It was a nice contrast to my smoky eye look for the day. The gloss wore off quickly, but that's to be expected.
Now for the tricky part. I dabbed the Metallic Gold Pigment in the center of my top and bottom lips for just some added oomph. Since I already had gloss on my lips, it got a little messy, so I'd say it's better to apply the MGP over the matte lipstick and then add gloss!
I went for subtle with the Gold Metallic Pigment, since it's loose and I didn't want to make a mess. If you want to rock that full on, metallic lip look, however, you definitely have that option with this kit.
The next day, I skipped the MGP in favor of using the microfine glitter, applying it after the matte lipstick and before the gloss. I suggest putting a washcloth down and then tapping the product onto your finger or a lip brush to apply. I dabbed the glitter all over my lips and it was bit of a challenge, since I felt like I couldn't see it super well while I was applying, but I liked the resulting look:
The glitter is too fine to see in this photo but it does add that extra sparkle.
The glitter didn't seem to last super long while I was going about my day since I didn't use a lot, but I imagine you could pile a bit more on to build up the intensity.
I went back and dabbed the Metallic Gold Pigment over the look, which is thicker and has an eyeshadow-like consistency. I liked the molten metal look. If you're wondering, "Where am I going to wear this look?" well, you have options. Maybe at a rock show? For a late night out? Sure! It has a fun, party vibe that's more accessible than buying a brand new dress.
I wish I had a little more success with the glittery lip look! It's so '70s and I dig disco ball-like shine. I need to practice a little more. OK, a lot more. But if I keep playing with it and master the '70s lip look, it'll be so worth the $60 spend.
The Pat McGrath Lust 004 Lip Kits, which also come in Bloodwine and Vermillion Venom, will certainly add drama to your makeup, and they are also super customizable and enable you to get a variety of different lip looks. Whether you like plain lipstick, gloss, glitter, or a metallic sheen, this kit has it.
Images: Amy Sciarretto (12); Courtesy of Pat McGrath (1)