Why Don't I Have iOS 10 Yet?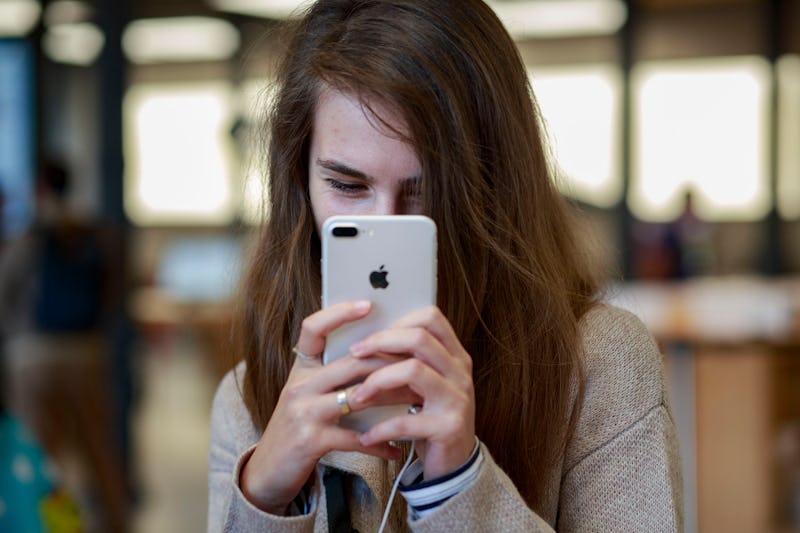 Gonzalo Arroyo Moreno/Getty Images News/Getty Images
The new operating system for the iPhone, iPad, and iPod Touch, iOS 10, offers a lot to get excited about: New effects for Messages, redesigned notifications, and Siri-integrated apps, for a start. Apple announced at a live press conference on Sept. 7 that it is officially launching for users on Sept. 13. But if you reach that #blessed date and you haven't gotten the new system, you may be asking, "Why don't I have iOS 10 yet?" and tearing out your hair in overwhelming frustration as you wail to the heavens (or, you know, whatever). Before you chuck your sad self into the sea, hold tight. I've got the scoop for you.
If you haven't gotten iOS 10 yet, it'll be pretty obvious: One of the first things you'll notice with the new operating system is that the lock screen has changed. Instead of swiping right to unlock, iOS 10 has you press the home button to bring up the passcode screen. So if you're still seeing the "Slide to Unlock" command, you're operating under the old system.
So why hasn't your phone upgraded to iOS 10? There are two possibilities: First, the iOS 10 rollout may simply not have reached you yet. Be patient; it'll get to you eventually. (Easier said than done, I know, especially as you watch everyone else playing with iOS 10's fancy — and more diverse! — new emoji.)
The second issue might be that you just haven't updated to the new OS. To update, go to Settings, tap on "General," and then touch "Software Update." If iOS 10 is available to you, there will be an update there waiting. Hit "Download and Install," follow the instructions (You'll probably have to enter your Apple ID info), and voila! A shiny new operating system! You may want to find a secluded place to settle in — it'll take a while to explore all of iOS 10's new features. (Might I suggest you start with Messages? From stickers, to animations, to integrated apps, there's a lot of new stuff happening there.)
Images: Gonzalo Arroyo Moreno/Getty Images; Courtesy of Apple