Is There a 'Full House' Announcement on the Horizon?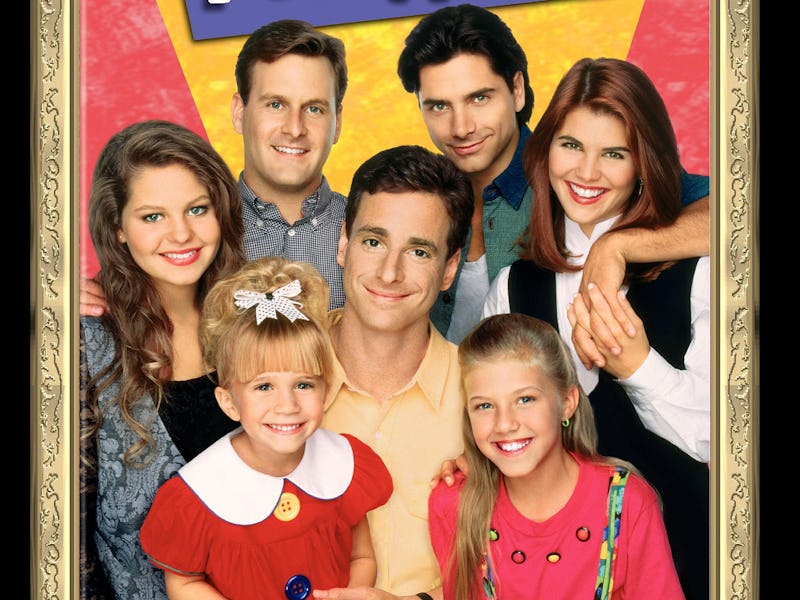 Is it just me, or have we been seeing a hell of a lot of the Full House crew recently? Perhaps it's a coincidence, or maybe the flurry of Full House-related press coverage circulating in recent weeks is a sign of something bigger. Of course, we can't expect the show will come back Boy Meets World-style... but if it's not, why are its stars inviting so much buzz?
First, there was coverage of DJ (Candice Cameron Bure) and Kimmy's (Andrea Barber) real-life friendship. Then Bob Saget went to the Full House house. And now comes the news that Jesse and the Rippers are going to make an appearance on Late Night with Jimmy Fallon. Could I be more excited? No. And if you aren't as excited, it's because you clearly don't remember how awesome Jesse and The Rippers really were. A 1980s John Stamos being '80s-ish on a bed. Do me.
Jesse-related daydreams aside, I can't help but feel like we're gearing up for something new involving the Full House crew. Sure, Bob Saget said a reunion is "low on the list of possibilities," but it seems like there's far too much Full House fodder to call this to a nostalgia trend. Jesse and the Rippers made the video for "Forever" the year I was born... two decades ago. In this marketing and media-savvy world we live in, to call their reappearance on their 20th anniversary a coincidence is ignoring the obvious. Perhaps we don't have a Full House reboot to look forward to, but maybe a remastered release of the seasons? A mini-series return à la Arrested Development?
But the cast doesn't really need it. This is not a Dustin Diamond situation — Full House's actors don't need to revive their washed-up careers with old familiar roles. John Stamos is firmly ensconced at his show Necessary Roughness, Jodie Sweetin and Cameron Bure have both written books in the last two years — in addition to raising their kids — and we all know the Olsen twins are busy looking like dolls and dating inappropriately older men. Saget is also very involved with charity and generally being Bob Saget.
But I'm still hoping for... I don't know. Something. Something big, awesome, and hopefully including the Olsen twins, despite their refusal to ever hop aboard the Full House reminiscence train the rest of us pretty much live on. C'mon girls, no one is too busy for Full House. Don't be, as Michelle would say, rude.