Redditors Are Helping Brides In Louisiana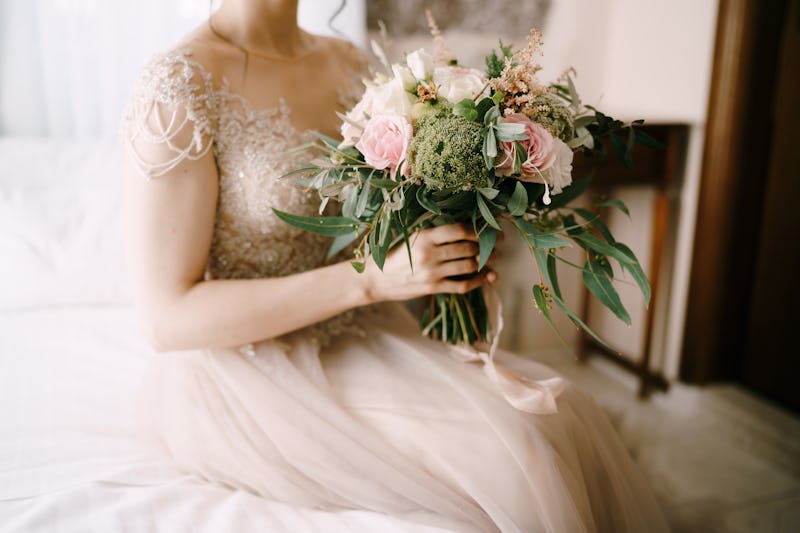 Volodymyr Nadtochii / EyeEm/EyeEm/Getty Images
Ah, doesn't the internet just make you feel all warm and fuzzy inside? No? Yeah, me neither, usually. But here's a tale to warm the proverbial cockles of your heart: Reddit users are donating their wedding dresses to some of the victims of the recent Louisiana flooding. They've even created an accompanying Facebook group to organize it all, too. "I had no idea it was going to start a thread of donations, so I began the Facebook page to try and make an easier outlet to connect donors and recipients," says Redditor HumerusDoggo (real name Macy), who began the original thread, in an interview with Bustle. And I don't know about you, but those cockles aren't just warm for me now; they're practically on fire.
It all started on Wednesday, when Macy began a thread in the r/WeddingPlanning sub. Referencing the recent devastation she'd witnessed after spending time helping with cleanup in the badly-damaged Baton Rouge area of Louisiana, she expressed a desire to help a bride in need: She offered to send a wedding dress she had to someone who may have lost theirs in the flood.
"I was lucky enough to be the recipient of a wedding dress given away by another Redditor. I want to pass this along," she wrote. "If you lost your dress in the flood, I would like to give you mine. I am fortunate enough that my grandmother randomly gave all of her grandkids $1,000 this weekend, so I can now afford my original dream dress and still have some leftover. The dress I have right now is still beautiful and deserves to be worn in a kickass wedding!"
And even better, kindness was catching in this corner of the internet, because several other Reddit users wanted to help, too. Some offered to cover the postage or packaging for users' dresses; some volunteered to sending over wedding extras; and others just wanted to send a virtual hug to those who might need one.
"A few months ago, I was the recipient of the original dress from another Redditor who gave hers away in the same subreddit," Macy tells Bustle. "I was recently gifted money for the dress I had originally wanted from a relative, and decided the dress needed to go to someone that needed it more than I did."
Macy lives in Utah now, but was born and raised in Baton Rouge, so over the holiday weekend, she had gone back to the city over Labor Day weekend to help out with the cleanup efforts. "Naturally, I wanted to give [the dress] back to someone affected by flooding, so I posted it the same way I originally received it," says Macy. When the thread began to gain steam, with more offers rolling in, she began the Facebook group as a way to facilitate the donations.
And good news if you've got your eye on Macy's dress (which many Redditors have lusted over in the original thread), because it's still up for grabs. "As of right now, no one has claimed the original dress and my parents are storing it until someone local claims it and can come and pick it up," Macy tells Bustle.
It isn't always the case, but today, the internet is the greatest.
Image; Volodymyr Nadtochii / EyeEm/EyeEm/Getty Images