How To Dress Like The Demogorgon For Halloween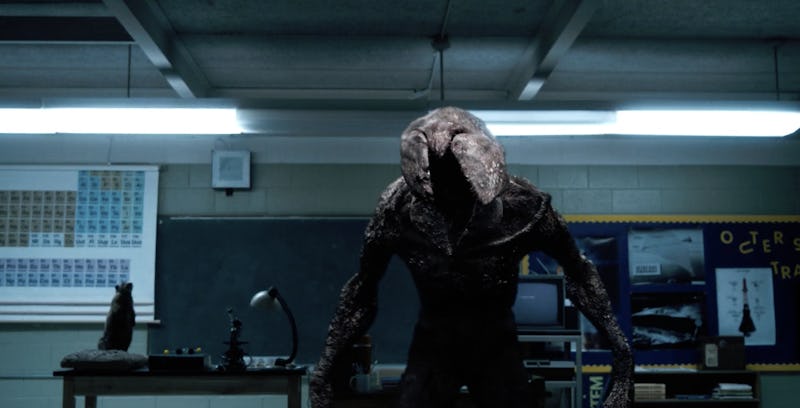 If you marathoned Netflix's addictive new sci-fi series Stranger Things, then you likely hid your face in your hands at the appearance of the streaming series' seriously gruesome monster. There's a lot to fear about Stranger Things' "Monster" — not-so-affectionately called "the Demogorgon" by Mike, Lucas and Dustin in reference to the fictional monster from Dungeons & Dragons — but you'd probably be able to guess that by simply looking at the Demogorgon's slimy, semi-transparent skin. The Demogorgon is responsible for Will's disappearance, for Barb's tragic and highly unjust demise, and, of course, for Eleven's selfless sacrifice. The Demogorgon is downright terrifying, and though you wouldn't want to run into it during a vacation to the Upside Down (also, if you are vacationing in the Upside Down, please learn to use Yelp! correctly and leave right now), one thing you might want is to channel it for Halloween. But, how can you turn the Demogorgon into a killer Halloween costume? It's possible, but you've gotta get creative.
If you and your friends are getting ready to roll out in your Stranger Things Halloween costumes, then the Demogorgon is just the thing to impress your squad while they're too busy fighting over who gets to go as Dustin. It's sure to be a hit costume, and come on, you deserve to live your best Halloween life by going as the scariest character from Stranger Things — which, by the way, looks like this:
Here's how to make your costume:
Adult White Party Suit, $35, Party City
You need a base to start with while creating your Demogorgon costume, and this white bodysuit from Party City is the ideal option.
Alien Hands, $50, Halloween Express
One of the creepiest Demogorgon features? The claws. These alien hands from Halloween Express do good job at replicating the arms that stole Will away.
Bag Of Moss, $7, Halloween Costumes
The Demogorgon lives in the Upside Down, which seems weirdly moist. So, throw some fake moss from Halloween Costumes on your bodysuit to capture the Demogorgon's other realm aesthetic.
Tulip Soft Fabric Paint, $14, Amazon
Do you consider yourself an artist? If so, you can use fabric paint to add some dimension and detail to your bodysuit so that it more closely resembles the veiny nature of the Demogorgon. Multiple colors will elevate the look, so grab a multi-pack and go to town.
Demogorgon Tshirt, $20, Lookhuman
Does being in a bodysuit all night sound like a claustrophobic nightmare? That's OK. If your squad is expecting you to show up in a Demogorgon costume, you don't have to let them down. Just buy this shirt from LookHuman, throw on your comfiest pair of jeans, and prepare for loads of questions about where you got this awesome tee.
No matter how you rock the Demogorgon costume, one thing is for sure: Your Stranger Things costume is gonna slay.
Images: Netflix (2); Party City; Halloween Express; Halloween Costumes; JoAnn; Look Human