How To Dress Like Togepi For Halloween This Year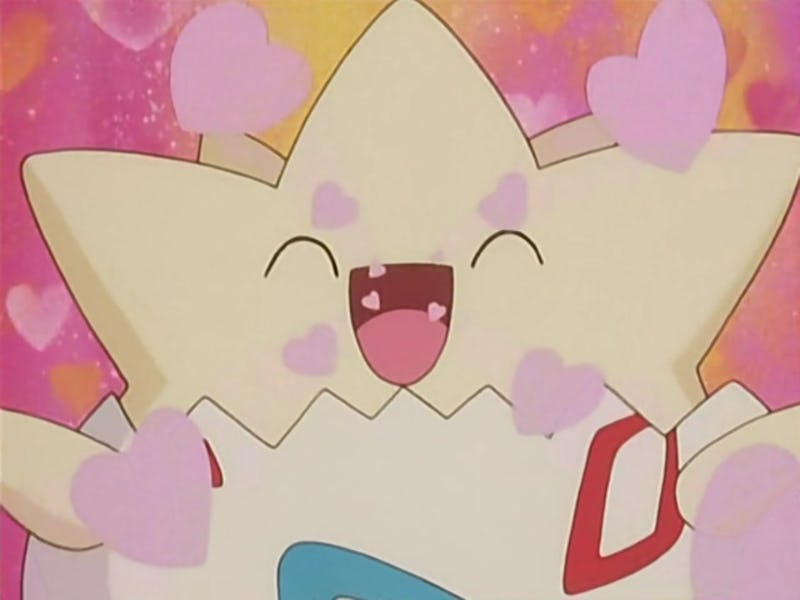 One of the more popular Halloween costumes this year will undoubtedly be something to do with Pokemon. With the release of "Pokemon Go," everyone is getting in on the fun. With these adorable Togepi Halloween costume ideas, it's your turn! You can become the Pokemon wearing angel that you've always wanted to be. And what better Pokemon to inspire us all than the cutest little egg-shapped creature around?
This little fairy-type Pokemon is forever encased in its shell and is much stronger than it looks. Just like in the anime show we grew up watching, Togepi has powers that are impressive beyond compare. It proves that you should never underestimate anything due to its size. In fact, Togepi is able to shoot poison out of its horns and use its powers to collect happy energy from those around it, giving it to those who need it. Maybe this is why people are trying so hard to catch one on "Pokemon Go," even though (womp) she won't be around until at least the next major update.
Luckily for us, we still grew up watching Misty take care of her Togepi and know all there is to know about the Pokemon, making it that much easier to play the part of Togepi this Halloween. Below are some options available to you — just remember to be as adorable as possible, and you'll be able to nail the look without a hitch!
1. DIY Togepi
This is the classic Togepi look.
Jumbo Cotton Balls, $1, Target | White Headband, $3, Yoins | Fabric Felt Sheets, $4, New Chic | White T-Shirt, $17, Amazon
What You'll Need: Create a horned crown like the one Togepi has by gluing cotton balls to a white headband. Then cut out red and blue triangle frames out of red felt and blue felt material. Glue them onto the bottom half of a white t-shirt and draw a wavy border. That will make you look like you are in an egg shell (and, of course, super precious).
Image: Polyvore
2. Toga-Pie
A play on words is always a popular choice for a Halloween costume.
Amazon Basic Micro Fiber Sheet Set, $20, Amazon | Apple Pie, $20, Victorian Trading Co
What You'll Need: The first think you'll need is to create a toga using bed sheets. They can be new or something you got from Goodwill. Then you can either bake or buy an apple pie ( Victorian Trading Co) to carry around with you. It will make a great snack AND a perfect costume.
Image: Polyvore
3. Misty Holding Togepi
The classic Pokemon callback is with the incredible character of Misty, who took care of our adorable friend Togepi.
Red Suspenders, $7, Amazon | Yellow Crop Top, $13, Yoins | Red Vans, $42, Amazon
What You Need: Most of us own a pair of high-waisted shorts. The next very crucial detail is the iconic red suspenders paired with the yellow crop-top. Add a plush Togepi doll and red sneakers, and you are ready to catch them all.
Images: Polyvore
4. Pokeball Catching Togepi
If you are looking for a more action-worthy costume, why not try being a Pokeball about to capture Togepi?
Pokeball Shirt, $25, Amazon | Togepi Plush, $13, Amazon
What You'll Need: You will need to become a Pokeball. That will require purchasing or making a Pokeball shirt. Then, have your friends throw your Togepi plush toy at you, or have them hide it from you throughout the night.
Image: Polyvore
5. Ash Ketchum and Togepi
Poor Ash, if you recall, was the one who actually found Togepi. Turns out Togepi wanted Misty as a trainer in the end, but their fights over Togepi were hilarious — and now you can recreate them!
Fingerless Gloves, $9, Amazon | Ash Ketchum Hat, $7, Amazon | Blue Converse, $50, Amazon
What You Need: You will need to get a pair of fingerless gloves, or just cut the tips off a pair you don't care about. Add a red trucker hat or the official Ash Ketchum hat, a letterman jacket, and a backpack to pull in the look. The shoes are just a nice pair of blue converse. Finish off with another Togepi plush toy, Shazam!
Image: Polyvore
6. Togepi Fan
Do you love Togepi so much you are willing to put your love on display? Well get ready to impress this Halloween.
Togepi Shirt, $40, Amazon | Togepi Plush, $13, Amazon
What You'll Need: You'll need to bust out your very fancy Togepi shirt and pair it with a Togepi plush toy. Then just sound off with Togepi facts, and you'll be the number one Togepi fan out there.
Image: Polyvore
Images: Giphy (8), WB