How Is Caroline Manzo's Health Now?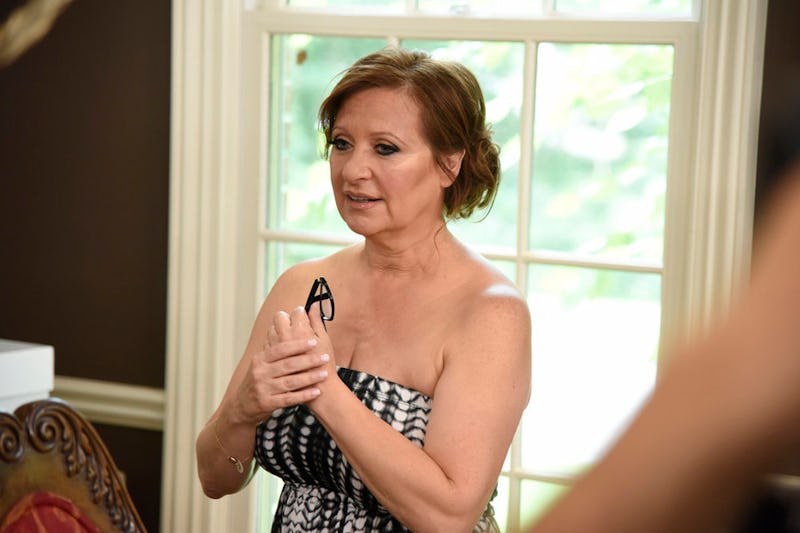 Per its trailer, in the upcoming season of Manzo'd with Children, family matriarch and former Real Housewives of New Jersey star Caroline Manzo is going to need the support of her tight knit family when she discovers a lump on her breast. The clip doesn't reveal much more than that, leading me to question: how is Caroline Manzo's health now? The reality star has always been willing to share almost everything that's going on in her life, and it looks like her possible cancer scare will be one of those things. While the emotional scene and conversation between her and her daughter over the possibility of breast cancer is only hinted at in the season trailer, it's concerning if you're a Caroline fan.
One thing about the clip of Caroline getting emotional really stuck out. In the trailer, she's heard saying, "I'm the strongest person you'll ever meet, when I'm battling for someone else, but when it's me, oh my God." That's been obvious to anyone who's seen her on either one of her Bravo reality series. She's always been more comfortable defending her family and friends than she has talking about her own issues. However, Caroline hasn't made any public statements about having a chronic illness or taken a break from documenting her life on social media, which seems like hopefully positive news.
But even though Caroline doesn't seem to be fighting cancer right now, there's really no way to tell, since each person can react to cancer — or simply having a growth that needs to be removed — in a totally different way. However, Caroline has mentioned some less serious things about her health lately. Recently, she posted a picture of what looks like a broken foot, jokingly calling the enormous boot she had to wear her "fashionable footwear."
A little earlier, Caroline also posted about being sick — but since she didn't specify what was going on, so it's possible she was just talking about being under the weather with a cold or flu.
She's been documenting her journey to getting in better shape through exercise and nutrition after recovering from the foot injury. Her husband, Al, who's certainly been pretty distant at certain times on RHONJ and Manzo'd, seems to be devoted to helping his wife and doing the challenge with her. In a sweet gesture, he even planted Caroline a garden after she started growing her own produce.
Caroline definitely looks great, and most of her recent posts have been about how going through a diet and exercise regimen has been making her feel great, too. Hopefully her health is also in great shape. But whatever she has to fight against this season on Manzo'd with Children and beyond, clearly her family will be right there supporting her.
Image: Dave Kotinsky/Bravo