KVD's Everlasting Mini Set Has Two New Shades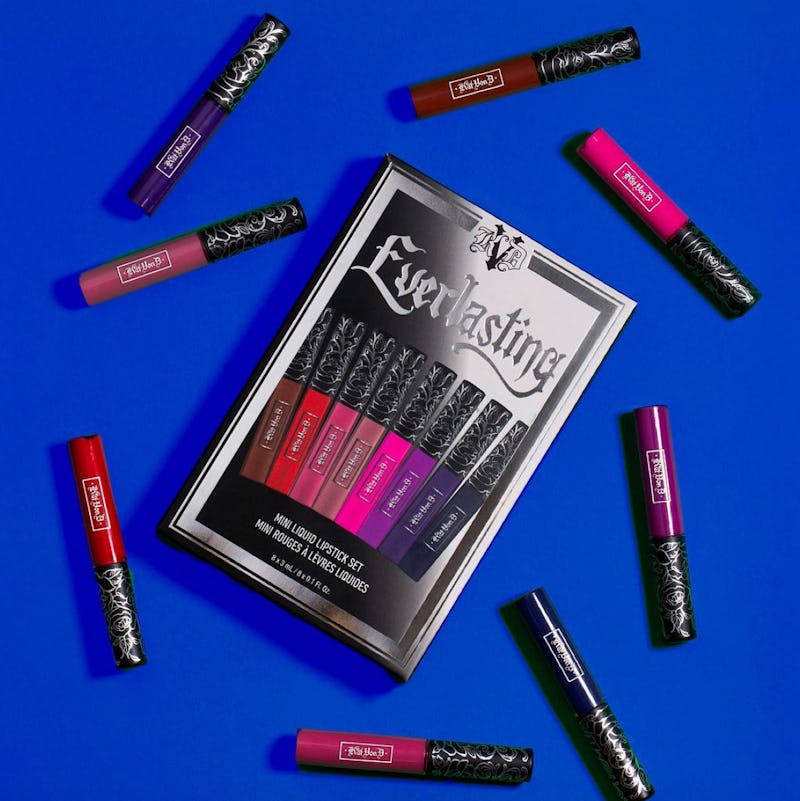 A certain beauty brand has reaffirmed its commitment to matte lips twice and in maj ways. Earlier in the week, Kat Von D Beauty teased its Everlasting Obsession Clutch, which features 15 full-sized liquid lippies, including two new shades, housed in a matte black, envelope-like case. But that's not all. Kat Von D is also offering a Everlasting Mini Liquid Lipstick collection. Lip junkies, are you eagerly exfoliating your puckers with a gentle sugar paste like Sara Happ's The Lip Scrub so your pout can be in tip-top shape when painting it with these long-wearing, comfy yet full coverage matte liquid lippies? You better be because lots of lipstick is in your future. What's in the Kat Von D Everlasting Mini Liquid Lippie set?
The Everlasting Mini set features eight tiny lippies in a primo formula, including two brand new colors. You get Santa Sangre, Mother, Lovesick, Backstage Bambi, L.U.V., Echo, Plath, and Roxy. The latter two shades are the newbies. The set is $49. Seal this #ByeMoney moment with a smooch!
The Everlasting Mini Liquid Lipstick set is coming at the end of the month, per the Instagram post. KVDB did not reveal the exact shopping date yet. Also, the mini set should be available at Sephora or the Kat Von D Beauty site, since those are the two places the brand is exclusively sold. Plus, they hashtagged Sephora in the caption.
The set offers deep red, hot pink, blue, and several neutral options. So you have many choices and can tote multiple tubes when on-the-go.
Kat Von D-evotees wanted minis so they are getting 'em. You get to sample several shades across the color spectrum. This mini set is amazing because you can play with different shades whenever it suits you. Change your mood, change your lipstick, and sacrifice minimal space in your makeup bag.
ICYMI: The Everlasting Obsession Clutch is a total "must get" for lipstick collectors. This limited edition set arrives on Sept. 20.
So you can grab the full-sized portfolio of lippies or you can sample the mini tubes because #choices. Either way, you'll get statement, standout lips. Kat Von D and your pout for the win.
Images: Kat Von D Beauty/Instagram (2)