Dress Like The 2016 'PLL' Girls For Halloween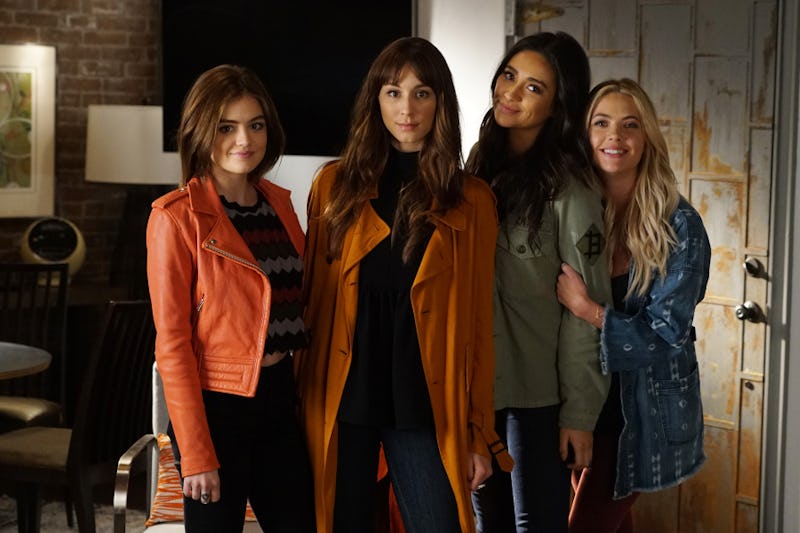 Do you consider yourself a member of the Pretty Little Liars Army? If finding out A.D.'s true identity keeps you up at night with theories and the wait for the final 10 episodes seems almost unbearable (April of 2017? Seriously, Pretty Little Liars?), then you definitely need a way to celebrate your fandom. Fortunately, with Halloween coming up, doing so is super easy — all it takes is a little creative ingenuity, a trip to the nearest mall (or your closet), and a squad to roll up to a Halloween party with. You've grown up with this show, so isn't it only appropriate to dress like the now-adult 2016 Pretty Little Liars characters for Halloween?
There are a few awesome things about going out on Halloween dressed as one of the Liars. The first is that you won't have to squeeze into any catsuits, don uncomfortable bunny ears, or wear a seriously hot latex mask in order to celebrate Halloween properly. All you need are some choice pieces of clothes that exemplify the Liars' personality. The second thing is that all of the Liars have their own individual style. You can pick your character based on the one most wildly different from you to keep to the true Halloween spirit.
Here are some tips for dressing up like the PLL squad:
Aria
Aria loves her bright jackets about as much as she loves Ezra, which is why investing in that piece will make your Aria costume totally recognizable. Here's what you should get to make your Aria costume stick out:
Leather Jacket
Brightly colored moto jackets are Aria's go-to piece for life in Rosewood, where it is perpetually fall and no one has ever needed a heavier coat. You can purchase this Faux Suede Moto Jacket for $44.90 at Forever 21's online store. Here's another, similarly priced option in red:
You can purchase the above Moto Jacket at Charlotte Russe's online store for $44.99.
Printed Top
As an adult, Aria has pumped the breaks on mixing and matching patterns, which was basically her high school fashion addiction. However, she can't resist throwing in a little flair — like a striped shirt crop top underneath her moto jacket. You can purchase this Striped Crop Top for $7.90 at Forever 21's online store.
And here's another good deal from Forever 21:
You can score this similar Stripe Dolman Top for $10.90.
Black Pants
A simple design (mixed with some fun elements) is perfect for Aria. These leggings have leather panels Aria would go crazy for. You can purchase these Faux Leather-Trim Leggings at Macy's for $44.50.
Here's another option that features more paneling:
These Faux Leather Panel Leggings are regularly $34.50 from Torrid's online store, but definitely check their daily deals. You may score an awesome discount for your Halloween costume.
Rings
What a steal. Aria may not be as into big earrings as she was in high school, but she's still all about stockpiling rings on her fingers. This Faux Stone Ring Set will run you $7.90 from Forever 21's online store.
Emily
Emily's got a sportier style than the other Liars, which means that you can totally get away with rocking your favorite pair of skinny jeans as a base for this costume. Here's what else you'll need:
An Army Jacket
Emily may have the real-deal army jacket from her dad, but you can score your own at Forever 21's online store. Pick up this Chevron Patch Utility Jacket for $29.90.
This other option is more "camp" than army — just in case Em heads back to Camp Mona?
You can buy the above Army Style Patch Camp Shirt at Torrid for the regular price of $48.90.
Booties
Emily ditched her sneakers after the time jump for a more mature (yet still comfy) shoe. Though you won't see Emily wearing stilettos to hit The Brew, she's all about the heeled bootie. These Faux Leather Chelsea Boots can be purchased at Forever 21's online store for $34.90.
Rosewood High School Tee Shirt
Emily still has a lot of love for the Rosewood Sharks, so why not don this shirt to honor Em's prospective job with the swim team? Buy this Property Of Rosewood High Pretty Little Liars shirt at CafePress for $19.95.
Prefer your Emily edgier? Here's another top Em would totally rock:
You can buy this V Neck Ripped Sleeve T-Shirt at Rosegal for the regular price of $19.04 — and even less if you hit the site on a sale day.
Spencer
Adult Spencer has a mature, classic style. Dressing up like Spencer for Halloween may make you feel a lot more together, so it's totally cool to re-wear this costume for a job interview. Here's what you'll need:
Classic Trench Coat
Spencer is all about the coats, and the longer the better. This camel-colored coat is so Spencer's style, though feel free to swap it out for any coat of the same style and length. You can purchase the Classic Duster Coat at Forever 21's online store (where else?!) for $62.90. Here's another option:
This Soft Shell Peacoat is available on Burlington Coat Factory's website for $59.99 and has a bit more of that amateur detective vibe — it even comes with a belt.
Striped Sweater
Some things never change — like Spencer's love of sweaters. Any classic shape and pattern will do, and this Forever 21 Striped Knit Sweater, at $16.99, is just the thing Spencer might wear around Rosewood. Here's a second option in blue and grey:
This Fine-Knit Sweater will run you $24.99 at H&M's online store.
Trousers
Spencer is a trousers girl, which is why these Fitted Cigarette Trousers from TopShop are a great steal. Score them on TopShop's website for $24. Here's another option:
This pair of Curvy-Fit Straight-Leg Pants are available at Macy's online store for $34.96. Very professional, just like Spencer.
Hanna
Hanna's fashion career in New York has definitely helped her develop a chic personal style. Here's how to emulate it for Halloween:
Black Skirt
A black leather skirt is the right mix of edgy and on-trend, just like Hanna. This Faux Leather Panel Pencil Skirt is available at Macy's online store for $59.50. Here's another, equally as fierce option:
This Faux Leather Zipped Skirt (check out that slit!) is available at Forever 21's online store for $24.90.
Floral Top
Hanna rocked a cute, but sadly, now-unavailable floral blouse in Season 7, Episode 8. You can purchase this Contemporary Ornate Floral Top for $17.90 at Forever 21's online store instead. Here's another option Hanna would rock:
The Marled Lace-Up Top, available at Forever 21's online store for $17.90, has details the fashionista would definitely appreciate.
Killer Shoes
Hanna wears a three-inch heel or she goes barefoot. Fortunately, these Faux Suede Lace-Up Stilettos boast four and a half inches. Purchase them at Forever 21 for $34.90.
Alison
Alison's style has been very Desperate Housewives as of late — more Bree than Gabi — which is appropriate given she's now a Rosewood High School teacher. Here's how to borrow the look:
Tied Blouse
A halter blouse that ties at the neck is formal without being frumpy. Alison wore a similar one to this Tie-Neck Halter Top from Forever 21's online shop in the Season 7 episode "Along Came Mary." You can purchase this one for $15.90.
Want something totally different? Here's another top that would be Ali-approved:
The romantic color and cute neckline are very 2016 Ali. Purchase the Keyhole Cutout Top for $14.90 at Forever 21's online store.
Cardigan
Hey, it gets cold in that classroom! Throw on a sweater, like this Heathered Open-Front Cardigan from Forever 21, $12.90, to stay warm. Want something slouchier? Try this one instead:
This comfy-cozy sweater will make you the envy of your friends who are rocking skimpier costumes. You can score this Sweater Shawl for $15.90 from Forever 21's online shop.
An "A" Necklace
Not only is it a wink at fans who suspect Alison of being the ultimate big bad, it's also the exact kind of delicate jewelry that Ms. DiLaurentis might rock on a regular basis. You can purchase this Gold Overlay Initial Pendant Necklace at Overstock for $14.39.
With this guide, dressing like the PLL girls has never been easier. Happy Halloween, PLL Army.
Images: Eric McCandless/Freeform (4); Freeform (screenshot); Forever 21 (17); TopShop; Torrid (2); Charlotte Russe; CafePress; Burlington Coat Factory; Macy's (3); Overstock