Why I Hope 'PLL' Doesn't Reveal Big A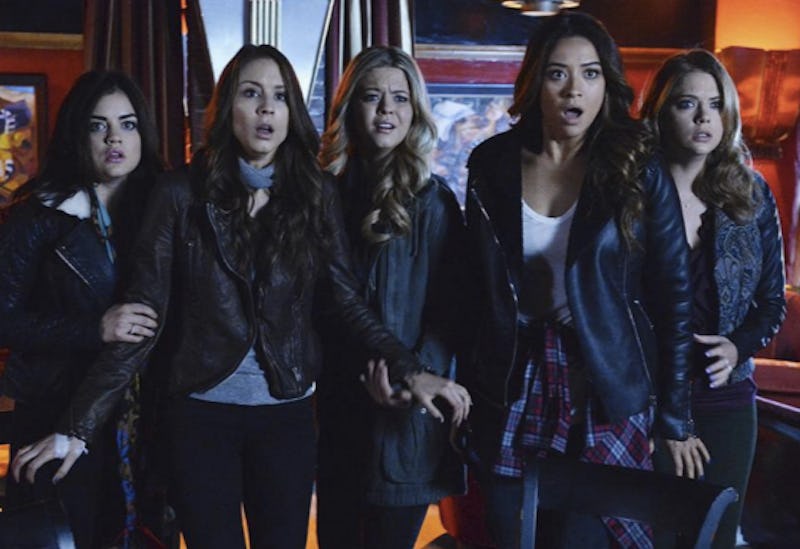 Season 7 of Pretty Little Liars is set to wrap up the story of A, or A.D., for good, but fans of the series still have so many questions. Show runner I. Marlene King told Entertainment Tonight in March 2016 that while the show is coming to an end of sorts, there could be a PLL movie on the horizon saying, "It's not in the works right now, but I definitely hope so." While the future of the show is uncertain, viewers have been bracing themselves for what's set to be one of the biggest TV moments of all time, but I hope that Pretty Little Liars never reveals who A is, and for some very good reasons.
Over its seven seasons, every character on Pretty Little Liars has been a suspect. The story has been so sprawling, covering almost a decade, and we have already had several revelations about who A is (it feels like a lifetime ago that it was Mona). A has never been just one person, and, although there is now the promise of an Uber A, who has been overseeing the entire operation, it feels as though this is a story that can't possibly end so soon. Like the movie series Saw , there is always the chance another murderer will come out of the woodwork, inspired by previous events, to carry on Rosewood's legacy. Even if A is revealed, will anyone really be satisfied that the terrifying events of Pretty Little Liars are over for good?
A revelation at this point might help to wrap up some of the mystery surrounding Charlotte DiLaurentis and Mary Drake, but surely it would be impossible to tie up every loose end? As all Pretty Little Liars fans should have learnt by now, nothing is ever over, especially when you think it is. And, perhaps most importantly, I can't stop thinking about the awful Gossip Girl finale. After six seasons of wanting to know who Gossip Girl might be, the series ended with me wishing I'd never found out, and I know I'm not alone. Wouldn't any revelation about who Uber A is be just as disappointing?
There have been a few times throughout Pretty Little Liars when I've been excited about the prospect of a character turning out to be A. For instance in Season 4, when Ezra walked into his lair wearing a baseball cap and looking equal parts brooding and creepy, I was on board and excited to find out if he'd been A all along. And there's still a real possibility that one of the main characters has been A. Spencer and Aria have long been prime suspects, and it would certainly be satisfying to find out that one of them had been in charge this whole time — but it would also reveal too many plot holes. I'd rather never find out, and be left in the dark like A intended.
Regardless of what I want to happen, it looks as though Uber A will be revealed at the end of Season 7 of Pretty Little Liars. I know I'll just have to accept that it's going to happen. But it's probably a good time to start hoping that we don't have another Dan Humphrey fiasco on our hands. We've all committed way to much time to Rosewood to be let down like that.
Images: Freeform; Giphy