13 Creepy Comics To Start Your Halloween Countdown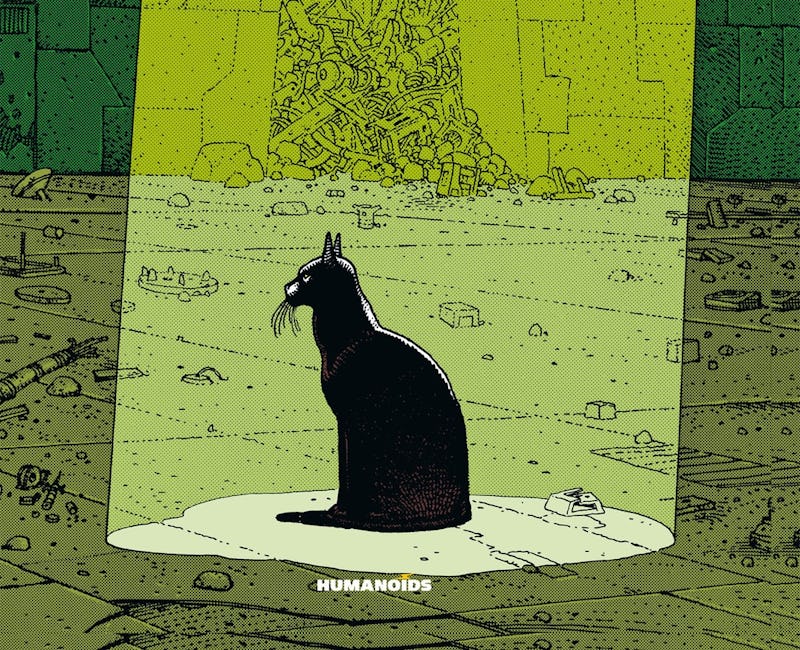 It's September! And you know what that means: time to start ramping up for October. You can pretend to be hyped about scarves or gourd-flavored coffee, but the true start of fall is the two-month countdown to Halloween. And if you've already burned through your Stephen King and Shirley Jackson collection, it's time to turn to the wonderful world of comics. Because there are some truly, deeply, creepy comic books out there.
I'm not talking about gooey monsters in superhero comics, either. I'm talking about the kind of comics that make it hard to sleep at night. Some of these comics take on classic monsters like vampires and zombies, with their own unique twist. Some of them distort fairy tales into living nightmares. And some come up with ideas so wholly original, you'll never want to encounter the authors in a darkened room.
Comics have a long history of freaking people out. In the early '50s, there were congressional subcommittee hearings on the effects of comic books on kids. Series like Tales from the Crypt were cancelled as a result. But luckily, these days, Congress has completely given up on the youth of America, and we are free to traumatize ourselves with horrifying comic books just as much as we like. So here are some creepy comics and graphic novels to start your fall off right:
Emily Carroll is the reigning queen of fairy-tale-inspired horror comics. There isn't much gore, just page after page of beautifully illustrated, deeply unnerving storytelling. Through the Woods collects five of her most chilling stories, and it's an absolute must-read for any fan of the strange and disturbing.
2. The Eyes of the Cat by Alejandro Jodorowsky, illustrated by Mœbius
If you're unfamiliar with the art of Mœbius, it's time to treat yourself. The Eyes of the Cat wanders through a desolate, post-apocalyptic dreamscape, as a cat, a bird, and a man encounter one another. The story is minimal, but the stark imagery will be burned into your eyes forever.
3. Afterlife with Archie by Roberto Aguirre-Sacasa, illustrated by Francesco Francavilla and Jack Morelli
Yes, Archie. Yes, that Archie. Like with Betty and Veronica and Jughead (or, in this case Jugdead). Afterlife with Archie takes us to a grim version of Riverdale, where a horrific accident has brought about a zombie apocalypse. The source material might be silly, but Afterlife with Archie is legitimately creepy on its own (and you get to see your favorite childhood comic book characters get eaten).
4. The Sandman: Preludes and Nocturnes by Neil Gaiman, illustrated by Sam Kieth, Mike Dringenberg, and Malcolm Jones III
All of The Sandman is creepy. Every single volume has its own horrific element. But volume 1, Preludes and Nocturnes, is probably the closest to straight-up horror. There's myth, magic, classic DC characters, and a lot of artistic renderings of pulsating masses of flesh. I wouldn't recommend reading the chapter 24 Hours alone at night.
5. Beasts of Burden: Neighborhood Watch by Evan Dorkin, illustrated by Jill Thompson
Look at all those cute doggies! I sure hope nothing horrible happens to them. Beasts of Burden is a mix of adventure, humor, and horror, all centered around the best team of furry occult-detectives in the biz. If you like your scares off-set by adorable watercolor animals, this is the comic to read.
6. Uzumaki by Junji Ito
Everyone in town is suddenly obsessed with spirals! That's pretty harmless, right? ...right? Well, not in the hands of horror-master Junji Ito. As the villagers succumb to this strange spiral-curse, a ridiculous premise is transformed into a truly terrifying, somewhat nausea-inducing masterpiece.
7. My Crowd by Charles Addams
OK, so Charles Addams (as in The Addams Family) isn't going to freak out the hardcore horror aficionado. He's more along the lines of macabre comedy. But his creepy gags and diabolical characters are so freaky and gleeful, you can't help but love him.
Is this a comic book? Only kind of. Is it a gorgeously illustrated, deliciously creepy work of fiction (at least I hope it's fiction)? Yes. Ghosts and Ruins isn't one narrative, but rather a collection of ghost stories, each set in a different haunted house. Great campfire fodder.
9. 30 Days of Night by Steve Niles, illustrated by Ben Templesmith
Far north, in an isolated Alaskan town, there are thirty straight days of darkness during the winter. And during that long night, an unspeakable evil will arrive to wreak destruction (the evil is a vampire, but it's a well-done vampire). 30 Days of Night is a classic horror comic, for fans of not so sexy vampires.
Edward Gorey is a morbid delight. His illustrations blur the line between cute and upsetting, and his fun limericks mostly tell of children dying gruesomely. Amphigorey is offbeat, oddly lighthearted, and wonderfully macabre.
11. The Walking Dead by Robert Kirkman, illustrated by Tony Moore and Charlie Adlard
The Walking Dead is the end-all and be-all of zombie comics. A ragtag group of survivors struggle to make a life for themselves in a world overrun by walking dead, but the inter-personal drama of the living is what makes the story truly great. If you've only ever seen the show, it's time to check out the comic.
12. Black Hole by Charles Burns
Tell me that cover doesn't make you want to run screaming in the opposite direction. Black Hole is set in the suburbs of Seattle in the 1970s, and something weird is going on with the neighborhood teens. It's a bizarre, mesmerizing horror story of plagues, murder, and going to high school.
13. Wytches by Scott Snyder, illustrated by Jock
Yikes. Just yikes. Wytches takes the witchy mythology that we all know, and transforms it into something even darker. The Rooks family has moved to a new town, fleeing some kind of traumatic past. But what they find in the woods on the outskirts of town is far worse than what they're running from. Maybe save this one for Halloween.