Easy Zombie Makeup Tutorials To Try This Halloween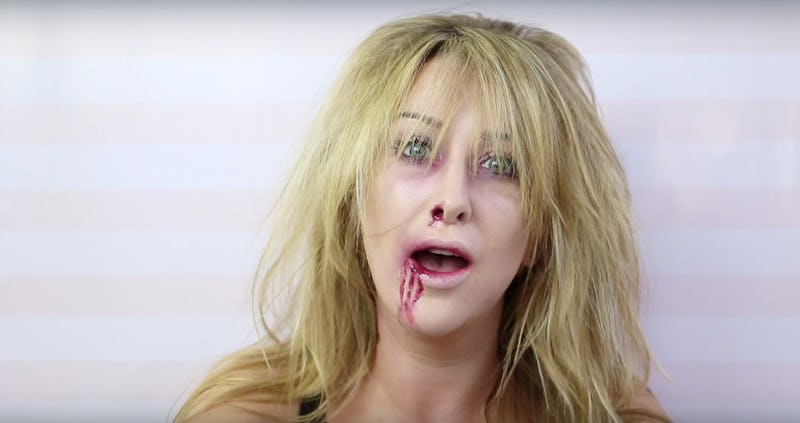 Now that it's officially acceptable to drink Pumpkin Spice Lattes again, you might as well get your Halloween costume in order. Because seriously, Oct. 31 is going to be here before you know it! If you're into doing your own makeup but would prefer not to practice in the mirror over and over again to get it just right, you'll want to check out these easy zombie makeup tutorials for Halloween.
Dressing up as a zombie will make your costume prep super low key and honestly, that's the way to go, if you ask me. Try out any of these Halloween makeup tutorials, throw on a tattered tee, splatter a little fake blood on yourself and you're all set for your night of terror (and, of course, candy).
These tutorials will teach you just how to apply some truly scary looking makeup to your face, all while maintaining your glam status. And that's a huge accomplishment, as far as I'm concerned. Because seriously, these zombie makeup looks manage to be spooky, but beautiful at the same time. I don't know about you, but that's definitely the kind of Halloween glam I'm going for. Now's the time to choose which of these 11 tutorials you're going to try out. That way, you'll be totally prepared to slay come Oct. 31. Bring on the tricks and treats because Halloween's got nothing on you.
1. Zombie Grunge
This look is all about the eyeshadow. Use it all around the eye area and to create darker areas along the face. You'll have that zombie grunge vibe down in no time!
2. Last Minute Zombie Makeup
Feel free to stop at any point of this video. If you just want to add dark areas to your face but nothing more, that's totally fine. You can call it a "daytime zombie look," as it says in the video. If you'd like to use marker eye liner to add cracked areas to your face, go ahead and do that step, too. If you really want to go all out, you can also use eyelash glue and eyeshadow to create wounds. The level to which you take the zombie effect is totally up to you.
3. Full-On Zombie
Find out how to get a full-on zombie ensemble in this video. You'll know how to give yourself realistic cuts and bruises as well as find out exactly what to wear for the ultimate post-apocalyptic-chic look.
4. Super Easy Zombie Makeup
This makeup is so easy to do, but looks so good when you're finished. No one will know that you spent little to no time pulling your Halloween costume together, and that's the best part of all.
5. Girl Scout Zombie
This girl scout-esque ensemble was an interesting take on the whole zombie costume idea. Even if you don't take that route, you can use the makeup tutorial portion of the video to nail your beauty for the evening. I love how the eye lashes and brows are made to look white. It only adds to the dead-like thing you're going for.
6. Simple Zombie Makeup
There's no liquid latex involved here. Only makeup was used to create the bruised and bloodied areas on the face, so it doesn't get easier than that!
7. Glam Zombie
Leave it to vlogger Jaclyn Hill to make a totally glammed-out zombie creation. This does involve liquid latex, but considering how graphic and gory it is, it's actually much more simple to achieve than you might think. Let Hill show you how it's done.
8. Bloody Zombie
If you're wanting to go extra gory with your zombie beauty, then this is the video for you. With all of this blood, people will be convinced that you've just taken a bite out of someone! And that's just the kind of vibe you're going for this Halloween, right?
9. Nerdy Zombie
For a different take on the traditional Halloween zombie, you can give this nerdtastic zombie look at try!
10. Fashionable Zombie
You'll look like you died searching for a sale when you give this fashion-girl zombie makeup a go. It's super easy to do, so this is great if you need to throw a costume together quick, fast and in a hurry.
11. Quick & Easy Zombie Makeup
Dark eyes, messy hair and a bloodied nose and mouth is all you'll need to be looking like a zombie come Halloween.
Images: screengrab/YouTube (1); YouTube (11)