Easy 'Suicide Squad' Costumes To Slay Halloween In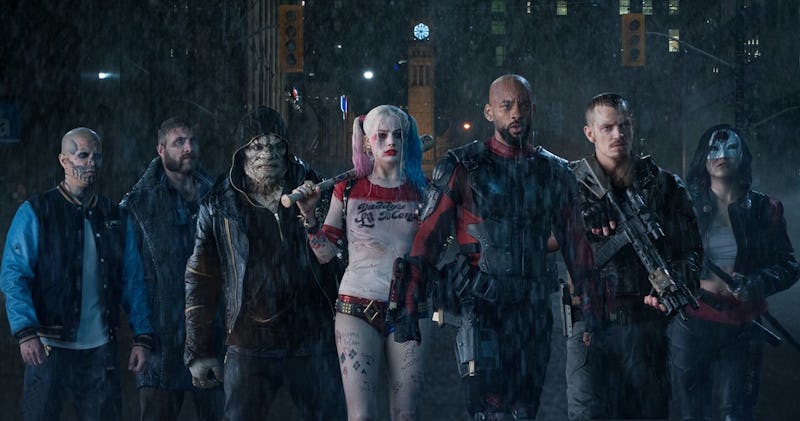 Every year, there's always one movie that seems to dominate Halloween, and there's no doubt about it that, for 2016, that movie is Suicide Squad. Though the film might have polarized critics and audiences alike, there's no denying that it had total fun at the heart of it as well as some insanely cool costumes. Obviously, that also means that there's already tons of official merchandise around that you can buy in order to wear Suicide Squad costumes for Halloween, but where's the fun in that? DIY Halloween costumes don't have to be hard work, and, as these easy Suicide Squad costume ideas prove, they can be pretty effortless (and for the most part, totally affordable) to put together yourself.
A lot of the major components (and the priciest parts) are items which you probably already own and can simply use for your costume without having to give your credit card a bashing. In fact, all of these costumes might even work best as a fun group effort — your actual squad as the Suicide Squad . That way, at least one of you will already have some of the items required for the costumes and you can all have a blast putting the pieces together. And what could be easier or more fun than that? Nothing, that's what. Check it out.
1. Harley Quinn
What You'll Need: A Daddy's Lil Monster top, red and black bottoms, studded belt and some bubble gum to pop, sugar.
How To Rock It: As you might expect, there are tons of Harley Quinn inspired threads available online at the moment, which makes this look beyond easy. For starters, treat yourself to one of the officially licensed Daddy's Lil Monster tops from Amazon (prices start at $26.50):
Daddy's Lil Monster T-Shirt, $32, Amazon
Now for the tricky part: those hot pants. If you're totally confident enough to rock a pair of teeny-tiny shorts for the costume, then more power to you, lady. There are loads of affordable options to be found right now on Etsy, including this pair from Coquetry Clothing that look a little easier and more comfortable to wear than most ($30):
Spandex Shorts, $30, Etsy
However, if the thought of wearing something that revealing makes you break out in a cold sweat, then you'd look just as great in a pair of red and blue leggings instead. This star-spangled pair from Fourever Funky (via Amazon, $27) will look amazing as part of the Harley Quinn ensemble:
Star-Spangled Pants, $27, Amazon
Draw a big old heart on your cheek, smear your lips in a fearless, smudgy red, tie some bunches into your hair, and top the whole look off with a cheap studded belt, such as this one from eBay for $5:
Studded Belt, $5, Ebay
Now, just pop that gum and go wild, puddin'.
2. The Joker
What You'll Need: Green hair, a purple jacket, sweat pants, dark red lips, eyeliner.
How To Rock It: The most important part of the Joker's look (besides maintaining that maniacal smile of his the whole time) is green hair. Obviously, you might not want to take the semi-permanent dye route, but a can of green hairspray will work just as well for the night itself. Simply slick your hair back, hold in place with some gel, and then add a spray of something like Colour Bombz Zoner Green ($12, Amazon) to it:
Colour Bombz Zoner Green, $12, Amazon
And, of course, there's the purple jacket. Though Jared Leto's Joker wore a snazzy purple snakeskin trench during Suicide Squad, you'll be hard pressed to find an affordable equivalent. But the look will still work with a purple, velvet suit jacket, like this one from eBay for $18:
New Fashion Men Slim Fit Blazer One Button Velvet Suit Jacket, $18, Ebay
This cute pair of Harley and Joker pajama pants from Amazon ($20) will also look completely cute and referential with it all:
The Joker & Harley Quinn Madly In Love Pajama Pants, $20, Amazon
Add a plain white shirt, tee, or tank top to wear with it and add the final finesse with some dark red lips (such as NYX's Liquid Suede Cream Lipstick in Cherry Skies , $8):
Liquid Suede Cream Lipstick in Cherry Skies, $8, Amazon
And don't forget to apply lashings of eyeliner. And not just to your eyes — scrawl all over yourself with the insane ramblings of Arkham Asylum's most notorious prisoner. Yes, it will smudge throughout the night, but you'll only look all more unhinged for it.
3. Enchantress
What You'll Need: A black dress, leaf headband, and a homemade crescent moon.
How To Rock It: This costume's a little trickier since Enchantress is basically raising hell in nothing but her underwear for the whole film, and, like, that's not an easy thing to party in by anyone's standards. But you can still evoke the mood by channelling Enchantress in this lace-up dress from Forever 21 ($20):
Lace-Up Bodycon Dress, $20, Forever21
Be sure to back-comb your hair into a wild, feral, and possessed mess, and then embellish with a leaf detail headband such as this one from Forever 21 ($6):
Leaf Headband, $6, Forever21
The crowning glory (literally) is Enchantress' crescent moon, which is easy enough to cut out and make yourself from a light piece of card. Glue it to the front of your hairline with some Ben Nye Spirit Gum ($4 for 7ml):
Ben Nye Spirit Gum, $4, Fx Suppy
And now all you need to do is frame your eyes with tons of eyeliner and perfect your very own possessed death stare.
4. Katana
What You'll Need: Face mask, sword, biker jacket, and black leggings
How To Rock It: Katana is probably one of the coolest and easiest looks to opt for from Suicide Squad . First, just pick up a simple, cheap face mask, such as this one from Amazon for $15:
Half Face Lightweight Plastic Mask Theater Halloween Costume, $15, Amazon
And add the red detail to the centre of it with some basic acrylic paint. If you don't already have a motorcycle jacket in your closet, then this Katana costume will also give you the perfect opportunity to buy one. Treat yourself to this faux leather one from Forever 21 for $40:
Faux Leather Jacket, $40, Forever21
Pair them with some comfortable and basic active leggings like this Capri pair, also from Forever 21 ($11):
Capri Leggings, $11, Forever21
And finally become Katana by wielding this Ninja Katana Sword from Spirit Halloween for $15:
Ninja Katana Sword, $15, Spirit Halloween
Wear with a plain, white t-shirt or vest, and go forth and slay, queen.
What You'll Need: A Panda pajama onesie, fabric pens, and an inflatable gun.
How To Rock It: I love any costume that provides me with an appropriate opportunity to wear a pajama onesie in public, and thankfully Panda Man provides just that. Go big (and snug) by buying a panda pajama one piece from Y&T (via Amazon, prices start at $10):
Panda Pajama One Piece, $27, Amazon
But don't just stop there — add that precious love heart that reads "friends forever" from the front of Panda Man's costume (note: you'll want to start with the lettering first and then color the heart around it) with some fabric pens such as these Tulip Fabric Markers Fine Writers ($10):
Tulip Fabric Markers Fine Writers, $10, Amazon
But, of course, the Joker's quirkiest henchman is just a big, cute, bear without his trusty gun, so really make your costume bang with this inflatable machine gun from eBay ($7):
Inflatable Machine Gun, $7, Ebay
With this look, you're sure to steal the party just like Panda Man totally stole the scene in Suicide Squad .
6. El Diablo
What You'll Need: A skull mask, a varsity jacket, and some fire effects.
How To Rock It: Though we'd all like to think that we could easily recreate El Diablo's skull tattoos for ourselves (and hey, maybe you can?), the truth is that the majority of us would struggle. So, with that in mind, here's a cheap, easy alternative: A skull face mask bandana (like this one from Amazon for $9):
Skull Face Mask Bandana (2 CT), $9, Amazon
It'll be easy enough to add the extra details of El Diablo's face on with eyeliner around the eye and brow area to give the costume a bit of a stronger look. Throw on a Varsity Jacket (such as this beyond adorable one from Forever 21 for $25) over a white tee, and you'll be almost complete:
Varsity Jacket, $25, Forever21
Though you won't be able to hold any fire in your hand to give the look any sort of authenticity, you can still accessorize the costume with fire referencing details. Give El Diablo a definitive gender swap by rocking the look with a skirt or some shorts and these fire inspired pantyhose from eBay ($4):
Fire Inspired Pantyhose, $4, Ebay
Burn baby, burn.
7. Killer Croc
What You'll Need: Killer Croc mask, brown hoodie, and a motorcycle jacket
How To Rock It: I know, everyone thinks it's a cheat to simply wear a mask on Halloween. But, honestly, how else do you ever expect to replicate Killer Croc's look? Exactly. So, if you're committed to being this dude then get yourself a mask like this one from Amazon ($37):
Killer Croc Mask, $37, Amazon
Pair with a brown hoodie like this one from Forever 21 ($13):
Brown Fleece Hoodie, $13, Forever21
And top with a motorcycle jacket (the one I recommended for Katana's costume earlier would also be perfect for this costume too). Now, just throw on a pair of comfy, blue jeans, and let your Croc flag, fly.
Now that's all laid out for you, all that's left is to decide who exactly it is you're going to go as. Whoever it is, go screeching out into that fair Halloween night, my queens, and cause some absolute wondrous carnage.
Images: Giphy; Warner Bros. Pictures (2); Hot Topic (2); Etsy.com/CoquetryClothing; Amazon.com/FoureverFunky; Ebay.com/Styleosity; Sally Beauty; Ebay.com/Warehouse-menshop; Nyxcosmetics.com; Forever 21 (6); Fxsupply; Ebay.com/Debk255; Spirit Halloween (2); Amazon.com/Y&T; Michaels.com; Ebay.com/Costumesworldwide; Ebay.com/Winlans2004; Ebay.com/Everydaysexy;