Here's What Trump & Clinton Had To Say About 9/11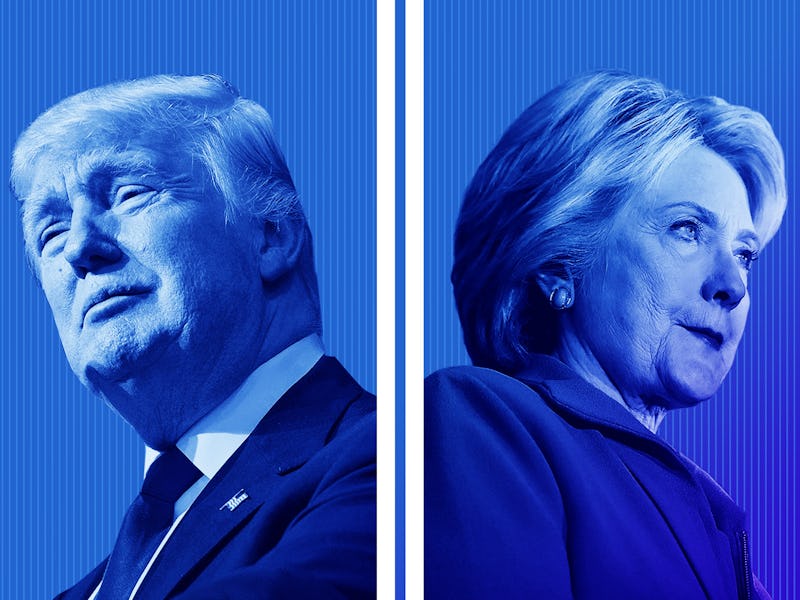 When you have two presidential candidates who have been in public eye for years, it's easy to not only place them at a specific place in time, but know any semi-public thoughts that they had on a specific matter. There's been a lot said about both candidates' shifting opinions on gay marriage, immigration, and foreign policy, for example. However, it seems pretty safe to say that the tragedy of Sept. 11, 2001 is not something that you would have had a firm change of heart, or at least the immediate aftermath. So as the candidates' prepare to put their campaigns on hold in honor of the day, it's revealing to look back at what both Hillary Clinton and Donald Trump said about the 9/11 attacks in the immediate aftermath 15 years ago, because it still says a lot about how they handled it going forward.
Both Clinton and Trump have particularly close ties to the tragedy: Clinton was representing New York as a U.S. Senator at the time, and Trump was a running his empire out of NYC. Clinton, along with Sen. Chuck Schumer, became a near-constant presence on television for commentary on the attacks. And though he wasn't known as a reality TV star yet, Trump was undoubtedly one of the most well-known New Yorkers in the city. Their reactions to the events, in other words, were not only personal, but very public.
On the day of the attacks, the future Republican candidate was in Trump Tower, 4 miles from the Twin Towers, according to Politico, and Trump later told Howard Stern that he saw the whole thing happen. Trump spoke to several media outlets that day, including The New York Times, but it was an interview with WWOR — which Politico requested from the station's archives — that proved to be the most revealing.
Though Trump spent much of the 10-minute interview talking about what a "very, very tough line" he would be taking if he was president (he had floated the idea of a presidential run in 2000), there was a hallmark moment of Trump's general lack of awareness for anyone but himself. As Politico recounted from WWOR, Trump said of his 71-story building:
40 Wall Street actually was the second-tallest building in downtown Manhattan, and it was actually, before the World Trade Center, was the tallest—and then, when they built the World Trade Center, it became known as the second-tallest. And now it's the tallest.
Yeah, Trump was actually concerned with the size of his building in the immediate aftermath of the attacks. And as Politico noted, Trump continued to talk mostly about the buildings and properties in the days following the attack, speaking to publications such as Real Estate Weekly. Hillary Clinton, meanwhile, sprung into action. Certainly, she was better positioned to take action as a U.S. Senator, but from all accounts of her that day, she seemed to be genuinely concerned with all those affected that day, and not about her personal real estate.
"We can't let these evil acts in any way deter us from making it clear that the United States is resolute, and we are going to support the president," she told CNN. The night of the attacks, Clinton was on the steps of the U.S. Capitol singing "God Bless America" with her Senate colleagues.
Images: Dawn Foster/Bustle (1)