7 Creepy Fairy Tale Retellings For Halloween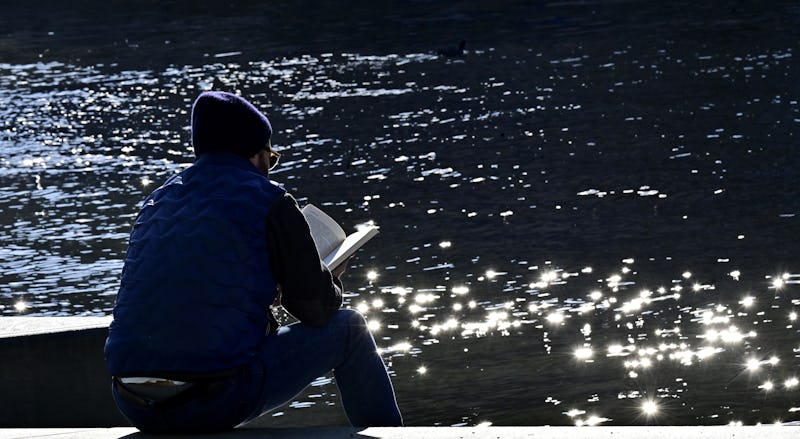 TOBIAS SCHWARZ/AFP/Getty Images
Once fall hits (and yes, despite this unseasonably warm East Coast weather, I'm still getting into full fall mode), I start craving the spookier things in life. Scary movies, haunted houses, and, of course, horror stories. While I could once again work my way through Stephen King's classics, I decided to try something new this year. After all, there's only so many times a girl can re-read It. Since my literary taste typically runs towards fantasy novels, I decided to combine the two and search for some scary fairy tale retellings.
As anyone who's ever read the original Grimm's fairy tales knows, it doesn't take much to make them terrifying. In fact, before Disney got its hands on them and made the rated-G versions we grew up with, fairy tales were dark, scary, and usually had a pretty gruesome ending. While we may be used to more sanitized tales, at their core fairy tales are not for the faint of heart. And although the children's movie industry may want to pretend otherwise, a number of authors have embraced the horror of these stories and put their darker elements front and center.
Whether you're looking for a blood-sucking Snow White, a murderous Cinderella, or a monster-hunting Little Red Riding Hood, these creepy fairy tales downplay the happily-ever-afters and turn up the terror. With Halloween just around the corner, they're the perfect way to balance your craving for fantasy and horror.
1. The Bloody Chamber and Other Stories by Angela Carter
Dark, erotic, feminist-charged fairy tales: can you ask for anything more? Covering everything from Bluebeard to Snow White to Puss in Boots, Angela Carter's grown-up versions of your favorite tales mix the sensual with the horrific (seriously, the super-short retelling of Snow White is all kinds of disturbing). While they may not be sleep-with-the-lights-on scary, they'll definitely give you chills and make it hard for you to look at your favorite characters the same way again.
2. "Snow, Glass, Apples" by Neil Gaiman
You've never seen Snow White like this before. Rather than the lovely young girl on the run from her cruel and evil stepmother, this Snow White is a vampiric being that kills her father and threatens her stepmother with her demonic ways. The "evil" queen now has to figure out how to kill the little monster before it's too late. Leave it to Neil Gaiman to create a version of Snow White that will keep children (and, let's be honest, adults) up at night.
Click here for more information.
3. Crimson Bound by Rosamund Hodge
A terrifying retelling of "Little Red Riding Hood" mixed with "The Girl Without Hands," Rachelle is lured off of the safe path by a stranger who turns her into a creature of darkness. Despite her attempts to hold on to her humanity, Rachelle finds herself constantly tempted to give in to her new monstrous nature. To top it all off, a terrible creature called the Devourer is only a few days away from eating the world, and Rachelle has to find a way to stop it.
4. Among the Thorns by Veronica Schanoes
Based on the relatively obscure tale "The Jew Among the Thorns," Itte's father was tortured and killed by a fiddler when she was only a child. Determined to avenge his death, years later she makes a deal with an ancient goddess that offers her revenge in exchange for her worship. Not only does Itte need to seek out the man who murdered her father, however, she also has to contend with the cruelty her neighbors show to her because she's Jewish.
5. Red as Blood and White as Bone by Theodora Glass
Klara is a poor serving girl living in a castle between World Wars who longs to live in a fairy tale. When a beautiful, naked young woman collapses on the doorstep, Klara smuggles her inside the castle. Klara is convinced the stranger is a princess in disguise, come to attend the prince's ball, but the mysterious woman has a more sinister purpose in mind. Whether she's a spy or a magical creature is left up to readers, but one thing's for sure: she's no Cinderella.
6. Tithe by Holly Black
Fans of fairy tales beyond Disney adaptions may be familiar with the fey of the Seelie and Unseelie Courts, roughly divided into light and dark fairies. When Kaye, a teenager from New Jersey, finds out that she's actually a Changeling, she accidentally becomes involved in a plot to free the solitary fey from the control of the Unseelie Court. This dark and gritty tale of magic on the Jersey Shore will stun anyone who thinks of fairies as Tinkerbell-like creatures.
7. Cautionary Tales: Voices from the Edges by Emmanuelle de Maupassant
Okay, admittedly, although these stories are presented as retellings of Slavic folklore, the tales are actually all original. However, they do such a great job of mimicking the dark tone of old-school fairy tales that I'm willing to overlook that. Funny, brutal, and irreverent, these stories look at the human propensity for vice and lust and punish its characters for those sins in dark and cheeky ways.
Images: TOBIAS SCHWARZ/AFP/Getty Images