12 Literary Quotes For Fall Lovers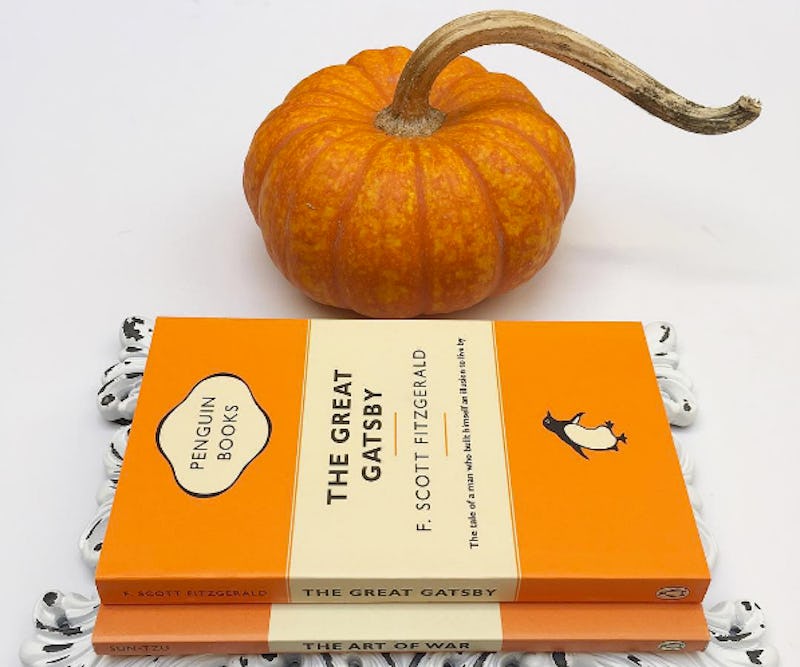 I love book quotes about fall. There's a kind of magic to be found when you discover a quote that puts a feeling into words. I love finding a quote that sums up some truth I've always known, but have never been able to express. And I love when a situation arises, and the quote fits perfectly. Forget posters: when I decorate, I cover spaces in book quotes, because there's nothing like drawing inspiration from the phrases of your favorite stories.
There's a quote for everything, and as a person who adores fall, each time the season rolls around I love seeing a well-placed, autumnal, book quote.
Many books are set in autumn. It's a season of change, which means it's perfect for the beginning of a story. If you're breaking out the pumpkin and scarecrow decorations, pause a minute and consider adding some book quotes to your décor. Or, you know, just keep them close to your heart. Here are a few of my favorite literary quotes that will make you fall in love with books and fall.
"Autumn seemed to arrive suddenly that year. The morning of the first September was crisp and golden as an apple."
― J.K. Rowling, Harry Potter and the Deathly Hallows
"October, baptize me with leaves! Swaddle me in corduroy and nurse me with split pea soup. October, tuck tiny candy bars in my pockets and carve my smile into a thousand pumpkins. O autumn! O teakettle! O grace!"
― Rainbow Rowell, Attachments
"Her pleasure in the walk must arise from the exercise and the day, from the view of the last smiles of the year upon the tawny leaves and withered hedges, and from repeating to herself some few of the thousand poetical descriptions extant of autumn — that season of peculiar and inexhaustible influence on the mind of taste and tenderness — that season which has drawn from every poet worthy of being read some attempt at description, or some lines of feeling."
― Jane Austen, Persuasion
"November — with uncanny witchery in its changed trees. With murky red sunsets flaming in smoky crimson behind the westering hills. With dear days when the austere woods were beautiful and gracious in a dignified serenity of folded hands and closed eyes — days full of a fine, pale sunshine that sifted through the late, leafless gold of the juniper-trees and glimmered among the grey beeches, lighting up evergreen banks of moss and washing the colonnades of the pines."
― L.M. Montgomery, The Blue Castle
"Aprils have never meant much to me, autumns seem that season of beginning, spring."
― Truman Capote, Breakfast at Tiffany's
"He found himself wondering at times, especially in the autumn, about the wild lands, and strange visions of mountains that he had never seen came into his dreams."
― J.R.R. Tolkien, The Fellowship of the Ring
"Even now I remember those pictures, like pictures in a storybook one loved as a child. Radiant meadows, mountains vaporous in the trembling distance; leaves ankle-deep on a gusty autumn road; bonfires and fog in the valleys; cellos, dark window-panes, snow."
― Donna Tartt, The Secret History
"Life starts all over again when it gets crisp in the fall."
— F. Scott Fitzgerald, The Great Gatsby
"It was a beautiful bright autumn day, with air like cider and a sky so blue you could drown in it."
― Diana Gabaldon, Outlander
"It was one of those perfect English autumnal days which occur more frequently in memory than in life."
― P.D. James, A Taste for Death
"Fall has always been my favorite season. The time when everything bursts with its last beauty, as if nature had been saving up all year for the grand finale."
― Lauren DeStefano, Wither
"I'm so glad I live in a world where there are Octobers."
― L.M. Montgomery, Anne of Green Gables
Images: Giphy (6), Instagram/mybookbath (1)