There's More Love To Be Found On 'Dating Naked'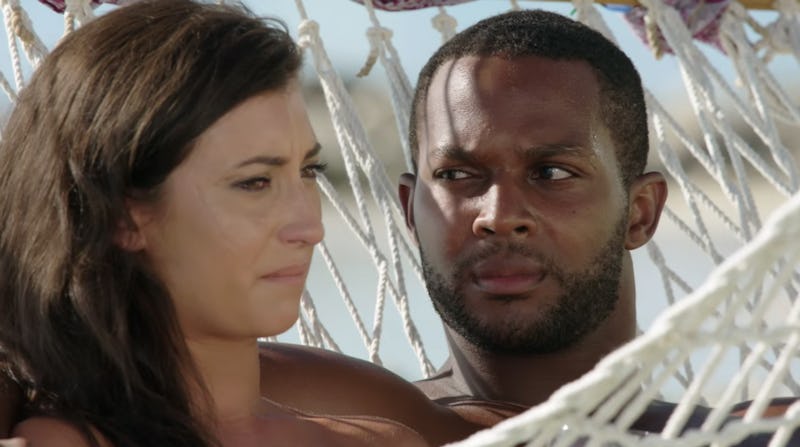 The Season 3 finale of Dating Naked is upon us this Wednesday night, and the VH1 reality dating competition was just as buzzy as ever during its run this year. Of course, it's kind of hard to not talk about a show that features complete strangers getting to know each other and trying to make a romantic connection while they're in the buff, even if it is the series' third time around. Still, a show's return is never guaranteed, so with Season 3 about to reveal if its daters found love, I'm wondering if Dating Naked will return for Season 4.
Unfortunately, the answer to this question right now is as clear as those pixelated bars used to censor the contestants' gentleman and lady parts on the show, i.e. not very clear at all. VH1 has yet to announce whether or not Dating Naked will return for Season 4. But you're probably going to be talking about the Season 3 finale of Dating Naked for quite some time anyway, so you've got a little bit of time before you're ready to hear about the official fate of this show.
Still, by this time of the season last year, you could breathe a sigh of relief knowing that VH1 had already renewed Dating Naked for Season 3 ahead of its Season 2 finale, as outlets like Entertainment Weekly reported at the time. But I wouldn't take the fact that VH1 hasn't announced the renewal of Dating Naked yet as cause for concern.
That's because it looks like Season 4 of Dating Naked is a go. Though VH1 has not yet officially announced that Dating Naked will be coming back for another season, the show's official Twitter account tweeted on Sept. 8 that casting for next season is currently under way.
The website for Lighthearted Entertainment, the production company behind the series, also says that the Dating Naked casting call is now open and features an application for the show that asks for basic information from applicants, such as their name, where they're from, and contact info, as well as for them to submit a brief bio and photos of themselves.
But since VH1 hasn't officially announced the return of Dating Naked, that obviously means Season 4 of the show doesn't have a premiere date yet, either. However, it seems likely that if the series does return, its next season will bow sometime in Summer 2017 since all three seasons of the show so far have premiered during that time of year, according to TV Guide.
Most people are probably only in the mood for watching love bloom for gorgeous, nude singles at a tropical locale during the carefree days of summer. Although, who am I kidding? Watching these beautiful people strut their stuff and make love connections in the process would actually probably warm anyone up during any time of year.
No matter when Season 4 of Dating Naked premieres, I'll probably still be thinking about Season 3's main daters, David Dees and Natalie Jansen, and wonder if they made any love connections on the show. But who am I kidding? I can't really wait for the future to answer that question, so I took the liberty of doing some research and seeing if David and Natalie are dating anyone right now.
If David is currently seeing someone, you definitely wouldn't know it from his social media profiles. The dude doesn't appear to have a special someone in his life, from Dating Naked or otherwise, although he has been spotted hanging out with Natalie and his past date Georgie Leahy outside of the show.
Plus, David does seem to have many admirers, even if they might not be of the romantic variety.
Natalie has also done a good job of keeping her off-screen romances, if there have been any, a secret since filming Season 3 of Dating Naked with no mention of a current significant other on social media. However, Natalie has sent a lot of virtual love to several of Season 3's contestants, especially as she mourns the recent loss of her brother, she revealed on Instagram earlier this month.
Well, nothing bonds people like baring it all on national TV together, now does it?
Image: VH1