'Better Late Than Never' May Take Another Trip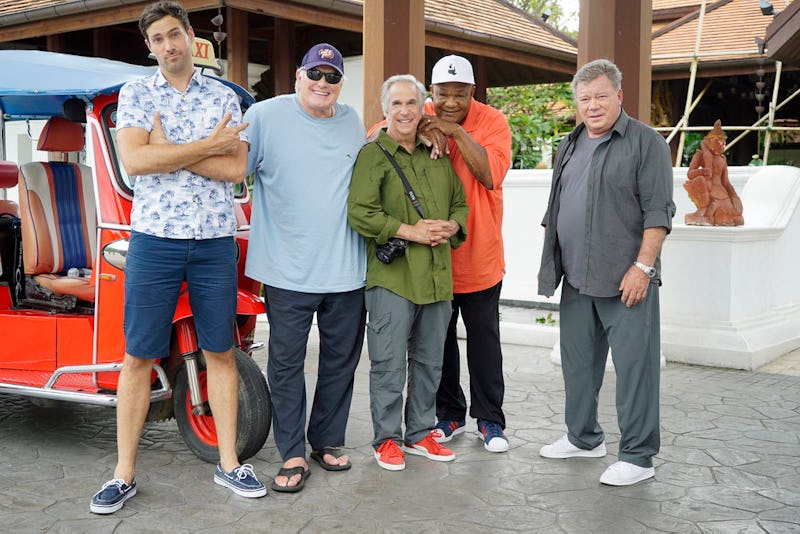 NBC's summer series are coming to an end, and that includes the upcoming finale of Better Late Than Never, which will complete its first season on Tuesday, Sept. 13. Whether Better Late Than Never will return for Season 2 or not is yet to be announced by NBC, but that might be because it's not a super simple series to produce. Based on the premise of a show from South Korea, the premise is a little odd to describe, but it makes sense once you watch an episode. Four older men, in this case Terry Bradshaw, George Foreman, Henry Winkler, and William Shatner, join with a younger guide, Jeff Dye, and go on a "bucket list" adventure in Asia. So in order for the series to return, either the same or a different group of older celebrities need to coordinate their schedules and make time for a trek across difficult and, to them, unfamiliar territory.
Even if NBC renews Better Late Than Never for Season 2 soon after the finale, it will still need at least a couple of months to produce a new season. There likely wouldn't be room for it on the packed regular season schedule, which means that a potential second season probably wouldn't premiere until next summer. So in the meantime, there are plenty of other TV series that feature globetrotting hosts, show different exciting adventures abroad, or otherwise resemble Better Late Than Never.
1. Parts Unknown
Anthony Bourdain's series fits into this bucket list genre, though the well-produced Parts Unknown also spends time developing a story about a piece of the location's history and how it ties into the daily life, culture, and food of the area. It's the perfect mix of a travel show and a news show.
2. The Amazing Race
CBS' reality series treats its travel locations as the canvas for heart-pounding adventure. If you've ever wished that the men of Better Late Than Never would sweatily race down the trails in competition with one another, this is the show for you.
3. Driven By Food
The good-hearted nature of Better Late Than Never is echoed in this series, where host Andrew Zimmern gets a tour of a city from a couple of taxi drivers who also happen to be locals with some kind of expertise. It's like traveling with your very own tour guide.
4. Wrecked
The rare scripted show on this list, Wrecked is a Lost-esque show about a group of people are forced to work together in order to survive a plane crash. I mean, the stars of BLTN agreed to participate in their travels, but the same social dynamics are at play.
5. Dangerous Grounds
Many travel shows have a food element, but this series is all about coffee — where to get it, how it's made, and the sometimes dangerous conditions in which it can be grown. Host Todd Carmichael of La Colombe goes to some far-flung locations in order to find the globe's best caffeinated beverage.
6. Grace & Frankie
Out of the many, many shows out there right now, not many are devoted to depicting the lives of senior citizens. Better Late Than Never is one, and another is Netflix's underrated Grace & Frankie. The women on the show, facing a late in life change in circumstances, are living out their bucket lists. It doesn't take them through the Asian wilderness, but their emotional trevails are just as dramatic as climbing a mountain.
While waiting for news on Better Late Than Never Season 2, there are plenty of other series that you can catch up on in the meantime. By the time you're finished watching these series, hopefully NBC will release some news about the reality show's future.
Images: Paul Drinkwater/NBC; Giphy