Check Out Jay Asher's 'What Light' Tour Dates!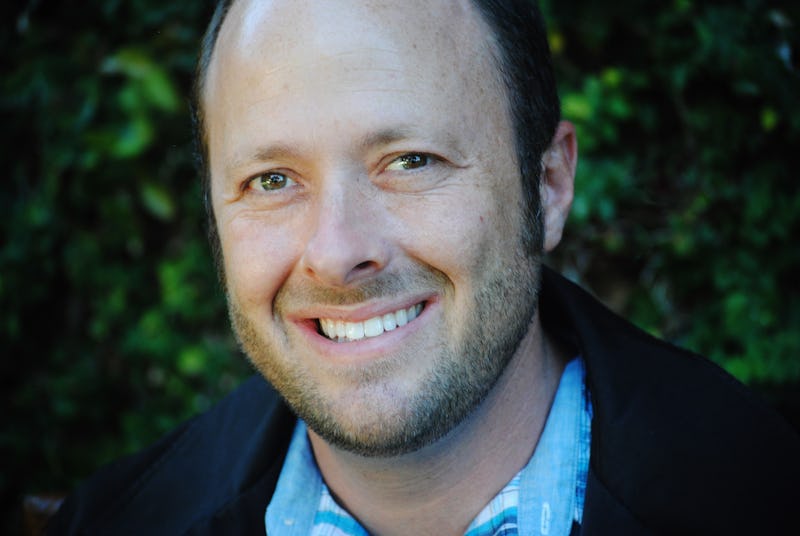 Jay Asher's debut young adult novel Thirteen Reasons Why was a New York Times bestseller and has been beloved since it came out in 2007. (It's even being adapted into a Netflix series!) Now, Jay Asher fans have something new to celebrate: the author is coming out with a new young adult book, What Light, and he's going on tour this fall! Bustle has all the details on the new book, plus an exclusive first look at Jay Asher's nationwide tour.
Asher hasn't published a book as a solo author since Thirteen Reasons Why, though he did co-write The Future of Us with Carolyn Mackler, which was released in 2011. But despite the fact that it's been a while since he published a book, he tells Bustle he's more excited than nervous about What Light.
"For years, I told my writer friends that I wouldn't feel satisfied as an author until I'd finished What Light and saw it on the shelves," he says. "It represents so much of what I'd love to share with the world, so I'm very excited for people to start reading it! And I don't think I'm nervous about anything because the book itself turned out exactly as I've always wanted it."
He explains that he actually began writing What Light before he ever came up with the idea for Thirteen Reasons Why, and he spent ten years working on it. The novel's protagonist lives in Oregon where her family runs a Christmas tree farm. But during the Christmas season, her family packs up their trees and heads to California to sell them. So where does someone come up with the idea to write a Christmas-themed young adult novel?
"There was an article in a local paper about a family that ran a Christmas tree lot near where I live," Asher says. "What stood out to me was the unique lives of their children. When they were younger, they attended a nearby elementary school during the few weeks before winter break. So they grew up with two sets of friends in two places, with one wrapped around the holidays."
He spent years taking notes and touring Christmas tree farms as he worked out how to tell the story, which focuses on the main character's relationship with a local boy in California. But some of his own family's Christmas traditions also made it into the novel. "[As] you're supposed to when you buy a tree, we cut off a piece from the base before putting it in water. When my wife and I got married, we kept that piece from our first tree. We also kept the piece from our son's first tree. The way I integrated that tradition into What Light is one of my favorite parts of the book," he says.
Overall, What Light is a very different novel than Thirteen Reasons Why, and the novel deals with a subject much less serious than Asher's first novel. But he says that the books deal with some similar themes, albeit in very different ways.
"They both express the importance of being there for others and of letting others be there for you. They both address the long-lasting effects of rumors. But instead of a cautionary tale, What Light is uplifting."
He says, "Stories don't have to be heavy to be honest. A story told with lightness and love can be as powerful and life-affirming as anything else."
Bustle is proud to exclusively reveal Jay Asher's tour dates! See them below, and find out how you can meet your favorite author:
What Light by Jay Asher, $9, Amazon
What Light will be released on October 18, 2016, and Jay Asher will begin touring in North Carolina on the release date. The novel is available now.
October 18, 2016 – Raleigh, NC
Author Talk and Signing at 7:00 pm
Quail Ridge Books
4209-100 Lassiter Mill Rd.
Raleigh, NC 27609
October 19, 2016 – Greater Atlanta
Author Talk and Signing at 6:30 pm
Avid Bookshop
493 Prince Ave.
Athens, GA 30601
October 20, 2016 – Greater Orlando
Author Talk and Signing at 6:00 pm
Writers Block Bookstore
124 E. Welbourne Ave.
Winter Park, FL 32789
October 24, 2016 – Greater Chicago
Jay Asher in conversation with author Christa Desir at 6:30 pm
Anderson's Bookshop
123 W. Jefferson Ave.
Naperville, IL 60540
October 25, 2016 – Twin Cities
Author Talk and Signing at 6:30 pm
Red Balloon Bookshop
891 Grand Ave.
St. Paul, MN 55105
October 26, 2016 – Greater St. Louis
Author Talk and Signing at 7:00 pm
Spencer Road Branch Library
427 Spencer Rd.
St. Peters, MO 63376
Books sold by Main Street Books
October 27, 2016 – Houston, TX
Author Talk and Signing at 7:00 pm
Blue Willow Bookshop
14532 Memorial Dr.
Houston, TX 77079
October 28, 2016 – Austin, TX
Author Talk and Signing at 7:00 pm
BookPeople
603 N. Lamar Blvd.
Austin, TX 78703
November 1, 2016 – Seattle, WA
Author Talk and Signing at 7:00 pm
Secret Garden Books
2214 NW Market St.
Seattle, WA 98107
November 2, 2016 – Greater San Francisco Bay Area
Author Talk and Signing at 7:00 pm
Rakestraw Books
3 Railroad Ave.
Danville, CA 94526
November 3, 2016 – Greater San Francisco Bay Area
Author Talk and Signing at 7:00 pm
Copperfield's Books
140 Kentucky St.
Petaluma, CA 94952
November 5, 2016 – Portland, OR
Wordstock Book Festival, details TBA
November 12, 2016 – Charleston, SC
YallFest, details TBA
Will you be joining Jay Asher on his nationwide tour? Let him know on Twitter!
What Light by Jay Asher, $9, Amazon
Images: Penguin Young Readers