Kelly Fremon Craig Knows What It's Like To Be 17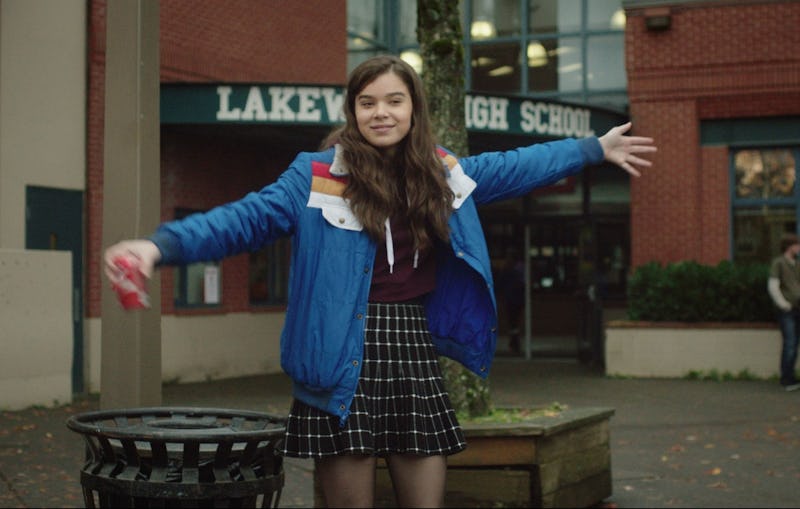 There is a new female coming-of-age movie set to be released that will not only have you shrieking "that was me!" but might have you cringing in your seat because it maybe still is you. The Edge of Seventeen , written and directed by Kelly Fremon Craig, depicts life as a 17-year-old knows it, but more than that, it makes you feel as if, maybe, you'll always be 17 inside — and that's not necessarily a bad thing.
"I think there's something really interesting about that time in your life when you're... shedding your child self and becoming an adult," Fremon Craig tells Bustle, with an earnestness that makes you want to put all of your trust in her hands. And rightly so, because if there's one thing Fremon Craig does right, it's portray 17 with pristine accuracy and heartbreak to the point where you're unsure if she's actually snuck into your own mind, stolen your memories, and put them on a screen. "I remember having [thoughts] at this age, and through my life, where everyone has life figured out except you," Fremon Craig says. "Sort of like that thing where you romanticize other people's lives and feel worse about your own. [That moment] when those evil voices in your head are particularly loud and it's really easy to believe that I'm the only one who is f*cked up and everyone else is doing great."
Fremon Craig understands that most coming-of-age movies focus on that one key question: "Does anyone else feel this way?" And, certainly, The Edge of Seventeen asks that question and more. Hailee Steinfeld stars as Nadine, a 17-year-old outsider who constantly struggles against the giant shadow cast by her seemingly perfect older brother, Darian (Blake Jenner). Steinfeld plays Nadine with such raw honesty that you're laughing one minute and find yourself crying the next. "[Hailee] is so phenomenal. She is such a talent that there were times when I would sit at the monitor and fall back in my chair with my mouth open because I couldn't believe how she could execute these moments... You kind of want to get out of the way and just let her do her thing."
Steinfeld herself is only 19, so it isn't all that surprising that Fremon Craig collaborated a bit with the actor on her character. "A lot of it was collaborating because I'm definitely not precious about the words on the page. I'm precious about 'is it real? Does it feel real. Is it authentic?'" the writer/director says. "A lot of times it was, 'Well, how would you say this?'" The Edge of Seventeen definitely feels authentic. So much so, in fact, that I, as a 24-year-old saw myself on the screen. Not me at 17 (well, yes, that too), but me as I am now. And I'm definitely not the only one who has said so. Fremon Craig recalls that "the cool part of this whole thing is people feeling like 'Hey man, I was her. I am her!'"
Not only did Fremon Craig write a brutally honest ode to finding yourself, but she also directed The Edge of Seventeen. In a world where Hollywood is primarily dominated by male directors, it's refreshing to see a powerful and talented female writer and director emerge. Fremon Craig says there were a lot of cool things about directing her first film. But the coolest? "You have this thing in your head that you love and care about and nurtured for so long and it's been this one thing in your head," she says. "And then you get on set and you're surrounded by people who, if you're lucky, you completely creatively admire and you're wild about their talent and all their talent and their ideas get thrown into the pot and all of a sudden it becomes a better thing than what it was in your head. That was the coolest part."
Whether or not you want to admit it, we're all still 17 at heart and it's clear that Fremon Craig knows that and perhaps she knows it better than most. While, sure, it's a movie about being a teenager it's also about trying to find yourself and your way in a world where everyone else seems to have it together more than you do. Not unlike life as an adult, right? Of course, it's natural that some people might not want to relive being a teenager. Being 17 is filled with many regrettable outfit choices and awkward crushes you just want to forget about. And Fremon Craig gets that. While this is one of the most exciting female coming-of-age movies in a while, she is hopeful that the tide is turning and more female driven coming-of-age movies are on the way.
"Maybe that's wishful thinking," Freemon Craig adds. "But it feels like it."
The Edge of Seventeen hits theaters Nov. 18.
Images: STX Entertainment