ColourPop Terracotta Edit Is Fall Perfection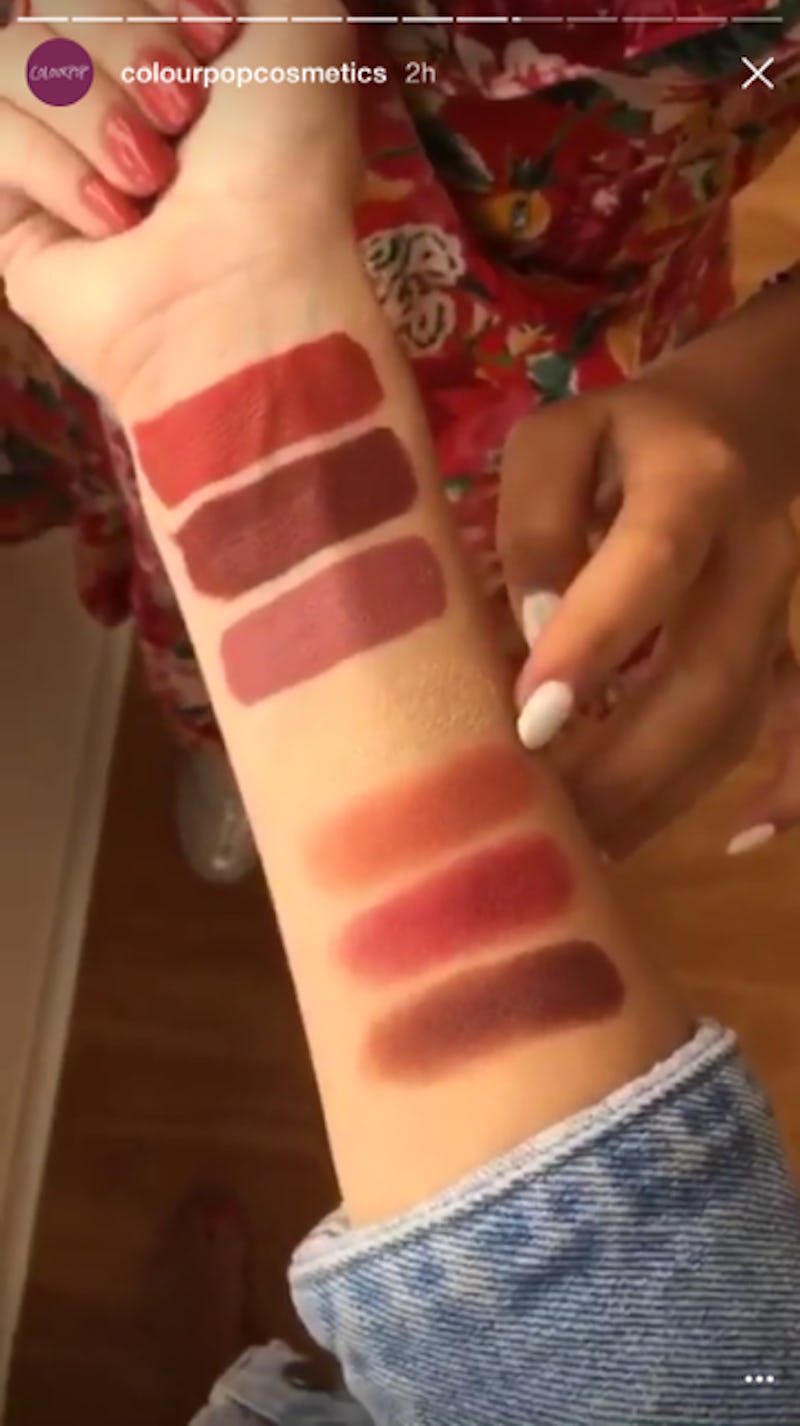 ColourPop Cosmetics does its homework. The L.A.-based indie makeup brand, which can always be relied upon to offer on-trend products and shades at crazy affordable prices, researched what colors were trending when creating its fall collections. The first Fall Edit collection is full of plums for eyes and lips and offers beautiful options for creating a deep, monochromatic, purple makeup look. The ColourPop Terracotta fall Edit Collection is autumn perfection and it's another entry into the brand's fall offerings. What's in the Terracotta Fall Edit Collection, which lands on Thursday, Sept. 15 at 1 p.m. ET/10 a.m. PT?
It's ripe with oranges, browns, reds, and neutrals. It's deeply pigmented products for lips and eyes.
The brand posted an Instagram story, swatching the lippies and the shadows, showing them off IRL... well, as IRL as social media can be. But that's what makes social media swatches so awesome. You get to see the products on real, live people and you can see how they pop against skin.
It's time to dive into the swatches of ColourPop's Terracotta Fall Edit Collection as though we were holding hands and taking a flying leap into a freshly raked, massive pile of leaves.
Let's do this, makeup junkies. Have a long, lingering look at these fall items.
Terracotta is so pretty and so fall.
The collection includes the Love Bug Ultra Matte lippie. The matte texture is perfectly accompanied by the cooler temps that define the fall season.
Here's another reminder of the launch day and time. Add it to your calendar.
The Terracotta Edit is all about lips and eyes, baby.
You have matte and shimmer options with the eyeshadows.
It's like fall come to life as makeup swatches. The Terracotta edit offers many colors and textures.
Mama is a perfect fall hue.
But it's not just about matte lips. You also get the satin texture.
This was the Fall Edit in the plum shades.
Based on the visual of the Terracotta swatches, you will want to shop on Thursday, Sept. 15.
Images: ColourPop Instagram Story (10)