Here's What's Left Of ColourPop's Fall Edit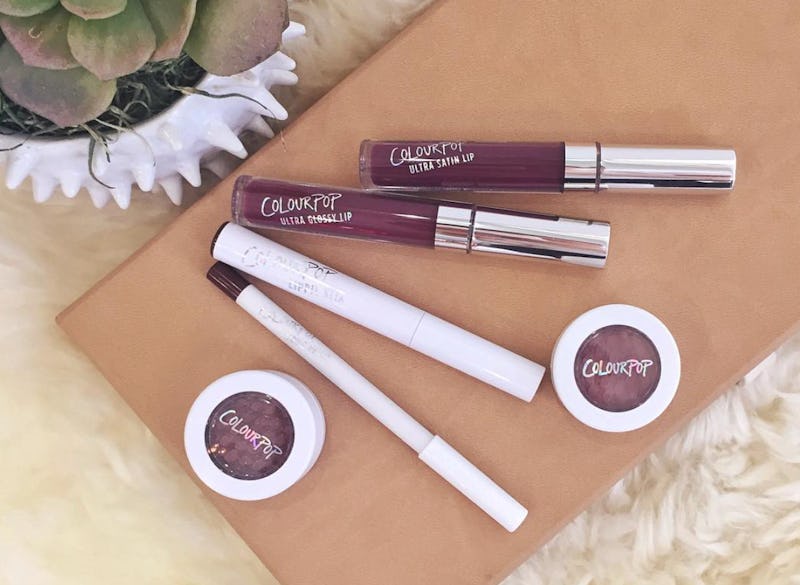 PSLs, oranges, reds, and browns aren't the only signposts of fall! Deep, richly pigmented, berry, violet, and wine-colored makeup products are also fall signatures. ColourPop Cosmetics dropped its Fall Edit collection and it's absolutely gorge, loaded with plummy shades. It's so, so beautiful. The cooler autumn temps are always best paired with richer, darker, and bolder cosmetic colors and stories. The Fall Edit includes an Ultra Satin and an Ultra Glossy lip color, as well as a matte Lippie Stix and pencil, and two Super Shock eyeshadows. The Fall Edit certainly allows for plenty of variations of a monochromatic, purple makeup look. Is the ColourPop Fall Edit Collection sold out? Are any of the products still available?
There's really good news and just a touch of bad news, ColourPop junkies! Five out of the six items in the collection are still available to shop. So that should make you happy if you were planning to hop onto the CP site and spend some dough. Only one product is sold out and it's the Super Shock eyeshadow in Stereo.
Perhaps it will be restocked. Keep those well-manicured fingers crossed that it will go back on sale since you know you want to complete this collection within your own makeup stash.
Boo! This the Stereo Super Shock Eyeshadow that's sold out. According to the ColourPop product description, Stereo is, specifically, a "blackened burgundy with copper and pink violet duo chrome glitter sprinkled on top in a metallic finish." I say it's stunning and rife with possibilities. You could use it to smoke out eyes, as an inner corner highlight, and much more... once it restocks, of course.
These are all the tools you need for a plum x berry x wine fall look. You can build and layer color for more concentrated and dramatic looks. Or you can keep it light and streamlined and still rock that fab fall style.
These swatches demonstrate all the textures and shades. Who wants to play? And there is more newness on the way. OMG, I think ColourPop loves us.
It's all about plums, burgundies, berries, wines, and bomb pigments with the ColourPop Fall Edit.
Images: ColourPop Cosmetics/Instagram (2); Courtesy of ColourPop (1)