These Pretty Ice Cubes Could Help Treat Acne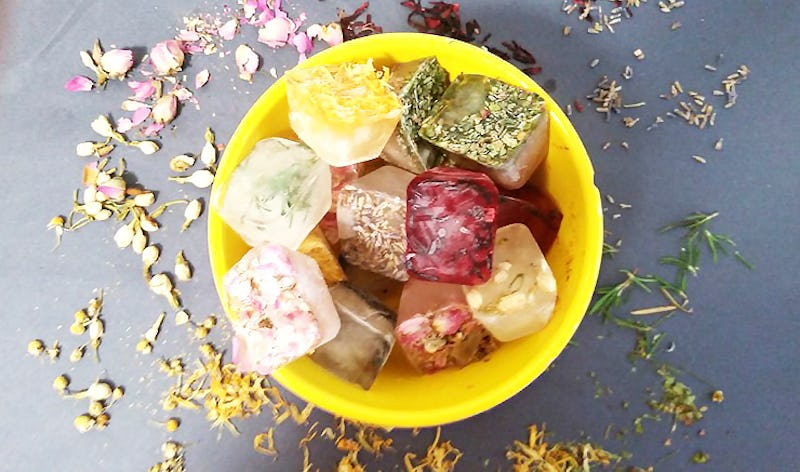 Sometimes the most effective skin treatments are simple recipes you can make at home. One of my personal favorite ways to soothe my face is with DIY flower ice cubes for acne and puffy eyes. These cubes are super pretty, easy to make, and offer a surprisingly wide range of benefits for your skin.
If you've ever had a bruise or sprained ankle, you're probably familiar with how ice can bring down inflammation and alleviate mild discomfort. Applying ice on your face works in a similar way by reducing inflammation and redness and restoring blood circulation to the area — which is particularly great for pimples and puffiness.
According to sources at Livestrong, ice alone will not shrink pores and it there is certainly some debate that it will even kill bacteria since bacteria can survive at freezing temperatures. Fortunately, dried flowers and herbs can come to the rescue in that regard. Many of the flowers we have at our disposal are antibacterial, can temporarily shrink the appearance of pores, and provide extra nourishing properties to stressed out skin. Plus, ice cubes with flowers inside of them just look prettier.
This effective home remedy even easier than running down to your local pharmacy for products. Healing oneself with a beautiful, lightly fragrant remedy always de-stresses my mind — and you know the mind can directly affect how our skin is looking and feeling on any given day. Here's my favorite way to make floral-infused ice cubes for skin care.
1. Make Your Ice In Sterile Trays
As usual, there isn't that much solid info floating around on which is holistically the best tray for this particular job, so I opted out for a BPA-free plastic ice tray for my dermal applications and everyday life. If you've got a busy freezer with lots of items floating around, I highly recommend purchasing ice trays with a lid to keep bacteria out.
2. Pick Your Flowers
If I had to pick one topic to talk about for the rest of my life, it would be flowers. There are so many beautiful plants to choose from based on personal taste and their healing properties that it can be difficult to choose which one is best for your skin.
I recommend starting with easily accessible flowers that also have reputations for healing until you're willing to spend all your free time researching scientific studies. Lavender, chamomile, rose, and calendula are great for all skin types and they all have anti-inflammatory properties. Chamomile will be the most valuable to treating acne caused by bacteria while rose will be the best choice for fine lines and wrinkles. Calendula is the business for pigmented or peeling skin and lavender is the bae of flowers. I highly encourage mixing and matching your cubes for a multi purposed treatment and buying the best quality flowers since they'll be used on your face.
3. Use Distilled Wter
I'm not scared of drinking or washing my face with tap water, but when it comes to supporting the body's natural ability to heal, I exclusively use distilled water. You can pretty much purchase distilled water at any grocery and if you want to get real DIY, you can make distilled water for your ice cubes and test the pH level. According to the CDC, boiling water for three minutes is the most effective way to reduce pathogens in water, making it totally ideal for flower ice cubes. If you're heating water, allow for it to cool slightly before pouring it into your trays.
4. Arrange Your Flowers
Like I said, making flower ice is super easy. I use between a teaspoon and a tablespoon of flowers for each of my cubes. Crumble the flowers slightly with clean hands and add them directly to the trays. Remember that the ice is going to melt when in contact with skin, so be careful about how much you crumble if you don't want a mess following you around. Since flowers vary in size, I tried to keep each filled only a third of the way up. Carefully fill up the ice tray with water without letting the water spill over.
5. Freeze Your Flower Ice
Your freeze time will depend on the temperature of your freezer; I like to make mine before I go to bed and have them ready for my morning routine.
6. Start With Steam
When I'm treating a particularly brutal blemish, I like to apply steam or heat to open my pores and then treat with ice to close them back up. For my flower ice, whether I'm treating a cyst or dark circles under my eyes, I always heat, ice, and then wash — there will likely be some flowery dander on your face.
Use your flower ice for sunburns, unwanted lines, pimples or even drink it in a glass of water for internal skin benefits. Is that not the prettiest thing you've ever seen?
Image: Kristin Collins Jackson (8)