Tom Hanks Could Win His Third Oscar For 'Sully'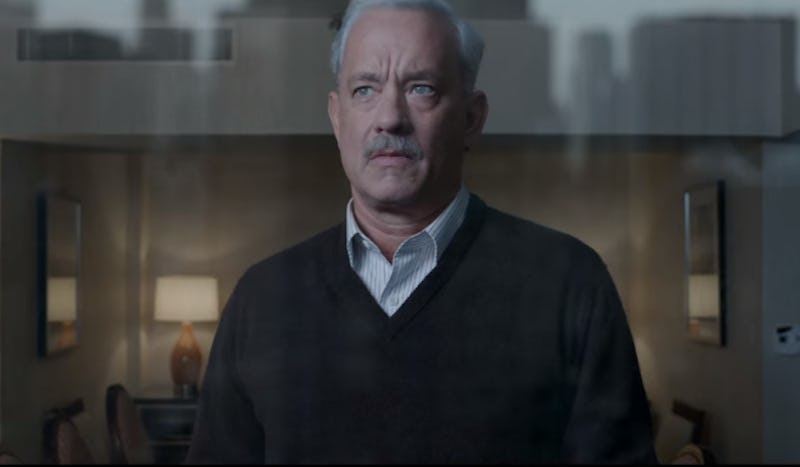 There are a few certainties in life: death, taxes, and that Tom Hanks will win another Oscar. That's just a fact of life, really. Hanks already has two Best Actor Oscars for his performances in Philadelphia and Forrest Gump. Plus, he has another three nominations for Best Actor for Big, Saving Private Ryan, and Cast Away. That's five nominations total. Five! And it doesn't look like Hanks is stopping any time soon. In his newest movie, Sully, directed by Clint Eastwood, Hanks plays the eponymous character. Chesley "Sully" Sullenberger was the pilot who landed the US Airways plane on the Hudson river in 2009 and now Hanks is bringing the Captain to the silver screen. But could Hanks win an Oscar for Sully ?
Hanks has already been getting enormous praise for his turn as Sully and critical praise usually means an actor has a good chance at getting recognition come award season. Richard Brody from The New Yorker said Hanks played the part of Sully with "terse gravity." Manohla Dargis of The New York Times said that "it's hard to imagine anyone else in the role," and then went on to praise Hanks further by saying "it takes talent to persuade a mass audience that you're decency incarnate, but Mr. Hanks goes one better by making decency into something like soul." Additionally, Christopher Orr from The Atlantic said of Hanks' as Sully:
I can only wonder how many subsequent hours elapsed before Tom Hanks's agent began fielding calls from Hollywood producers interested in casting him in the role. It's a part so perfectly tailored for Hanks — dutiful pilot, humble hero, American Everyman — that it would have seemed almost criminal to cast any other actor... If Tom Hanks did not exist, Eastwood would have had to invent him.
Review after review basically says the same thing: Hanks soars in his role as Sully. But has there been any chatter about Hanks earning an Academy Award for his performance? Since the Telluride Film Festival where the film premiered, people have been almost certain Hanks will get nominated. Indiewire predicts Hanks will earn at least a nomination for his performance in Sully. And if the reviews are any indication, a nomination seems to be a lock. Unfortunately, Hanks will have some tough competition this award season. Actors like Casey Affleck (Manchester by the Sea), Joel Edgerton (Loving), Ryan Gosling (La La Land), Dev Patel (Lion), and David Oyelowo (Queen of Katwe) are getting early praise for their performances, as well.
It's tough to say, at least this far out from nominations, if Hanks will be a shoo-in for winning the Best Actor Oscar, but it's safe to assume he'll at least get a nomination. I'd be shocked if he didn't. And even if Hanks doesn't, his talent is undeniable and there's plenty of time for him to earn another Oscar. Maybe for Sully, maybe not. Either way, one thing is certain: His performance in this Eastwood film is incredible.
Sully is currently in theaters.
Images: Warner Bros. Pictures