'Narcos' Brings Pablo Escobar's Wife To The Front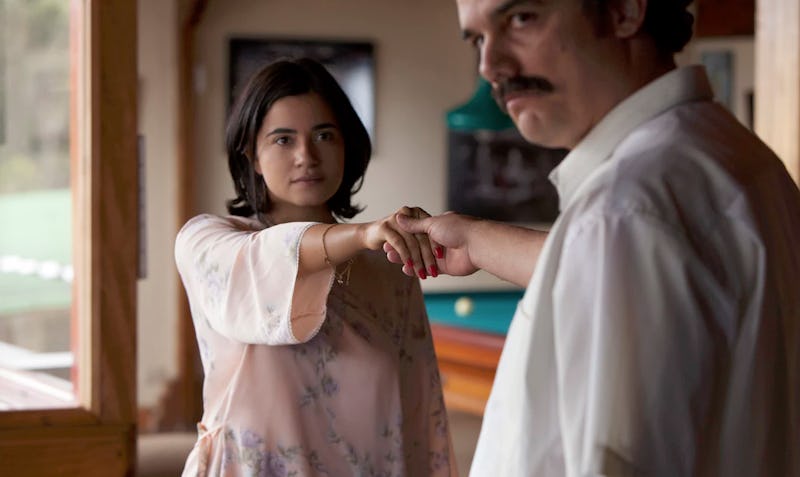 When the first season of Narcos premiered on Netflix, the show ran a campaign on Instagram introducing the characters and the duality of their everyday titles aside their role in the drug war. Pablo Escobar was teased as "Dedicated humanitarian. Ruthless drug lord." And, Steve Murphy was dubbed "DEA agent. Itchy trigger finger." Escobar and Murphy were both documented players in the DEA's quest to take down cocaine king pin Pablo Escobar. Escobar's wife Tata, however, has led a much less public existence. So, was her moniker of "Loving Wife. Shrewd Manipulator" just? Can we even know? What was Pablo's wife Tata Escobar like in real life?
First of all, Tata was a nickname for Pablo Escobar's real life wife Maria Victoria Henao. She married Escobar in 1976, when she was just 15 and Escobar was 26. The couple had their first child in 1977, Juan Pablo (who later changed his name to Sebastian Marroquin) and a daughter, Manuela, in 1984. Henao was married to Escobar until his death. After which, she and her children faced upheaval and sought sanctuary. The family first travelled to Mozambique before finding refuge in Argentina, according to the BBC.
According to the BBC, the family lived in fear of revenge attacks and Henao even changed her name to Maria Isabel Santos Caballero. In 1999, Henao and her son were arrested for suspicion of money laundering, though they were not charged. At the time, Henao gave a rare public statement, saying, "I am a prisoner in Argentina for being Colombian. They want to try the ghost of Pablo Escobar because they want to prove that Argentina is combatting drug trafficking."
It's hard to find additional statements from Henao online, photos of the widow, or even information about what she is up to now. Henao and her daughter have stayed out of the spotlight, many believe Manuela is using a pseudonym. Some information has been gleaned from Marroquin, who participated in the Argentian documentary Sins of my Father about forgiveness and seeking reconciliation with children of his father's victims. According to the film, he and his sister were still living in Argentina in 2009.
Marroquin has stayed on the radar since the documentary, publishing the book Pablo Escobar: My Father in 2014. Any glimpses of family life with Escobar have been provided by Marroquin. He told the Latin Times that Escobar was a great father. "I have thousands of letters he wrote me giving me advice ... encouraging me to get an education, be a good person, stay away from drugs," Marroquin told the outlet. Though the article doesn't hide Escobar's violent side, Marroquin was also quoted as saying, "[Escobar] even threatened to kill his employees if they so much as smoked a joint in front of me."
A National Post article also quoted Marroquin discussing family game night at the Escobar house, in which he claimed Pablo Escobar would cheat at Monopoly.
"If we had plans to play Monopoly that night, he would set everything up in advance. Either he or one of his associates would take money out of the box and hide it under the rug or under the couch in the living room. He then knew exactly where he had to sit in the living room to get the money. So then, of course, six hours later, we would all sit down and open the box for what we thought was the first time. We would start the game and hand out the money according to the rules of the game, everything was going fine until he would lose and lose and lose, but would never run out of cash."
Narcos depicts Tata as a manipulator and Escobar's "ride or die" wife. She seems sort of involved in everything. And, for that, Marroquin recently criticized the series, releasing a list to The Telegraph of 28 things he claims the show fictionalized. On the list, Marroquin defends Henao's brother as a man who was uninvolved in the drug business, claims that Virginia Vallejo and his mother did not speak after the La Catedral escape, and that his mother "never used or bought a weapon — any claims are lies." Netflix did not respond to Bustle's request for comment on Marroquin's claims, but the show has never made any qualms about admitting that portions of the drama series are fictionalized.
While these glimpses into Escobar's home life are from his son's perspective, one thing is clear: Escobar desired to keep his family life separate from his business. There were, like Netflix teased, two sides to the man. And, because of this privacy, it is impossible to know Tata's true role in her husband's professional life. It is impossible to prove what she could have participated in, and, ultimately, unfair to guess.
Image: Juan Pablo Gutierrez/Netflix