21 Pumpkin Beauty Products To Try This Fall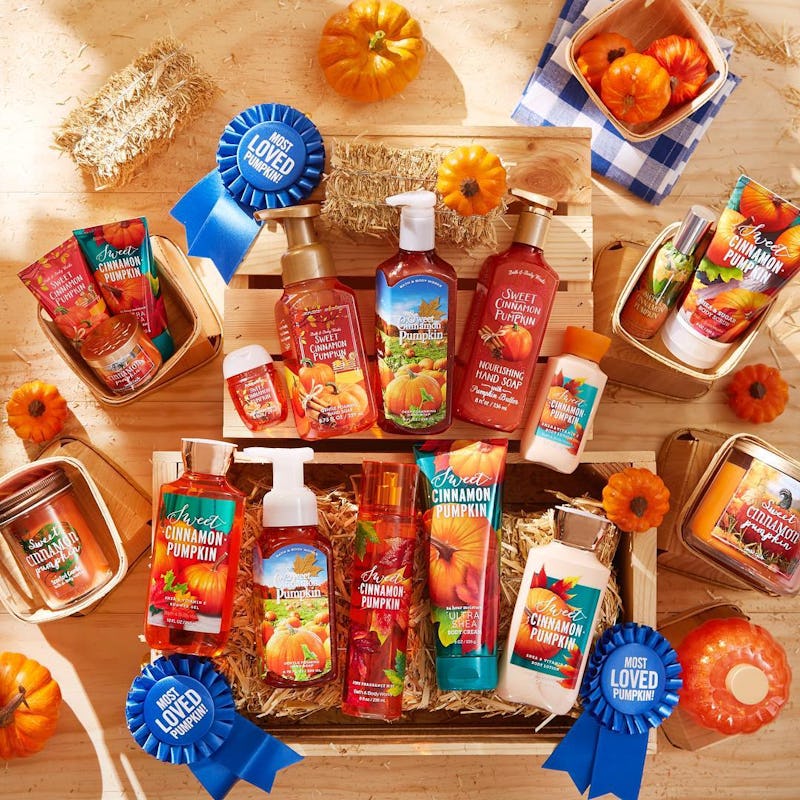 With summer over, there's nothing better than anticipating sweater weather, boots, and of course, all things pumpkin, especially pumpkin beauty products. Thanks to Starbucks' Pumpkin Spice Lattes, there's more and more items, including beauty products, that use pumpkin as an ingredient for taste or for its superfood properties. While pumpkin coffee drinks might be overloaded with sugar, using pumpkin in recipes or in product formulas can actually benefit your skin.
Pumpkin is packed with vitamins — including Vitamin A, C, and E — and essential fatty acids which help with anti-aging and moisturizing. Pumpkin is also filled with "fruit enzymes and alpha hydroxy acids (AHAs), which increase cell turnover, to brighten and smooth the skin," according to the International Dermal Institute. Because of the Vitamin C found in pumpkin, it can also be used as a spot treatment or as a brightener, which can be helpful during colder months when sun exposure is minimal, and your skin tone can seem a little dull.
Not only can pumpkin be used in overpriced drinks and Thanksgiving recipes, there are many skin enhancing benefits when it comes to pumpkin beauty products, whether it's a face mask, exfoliator, or cleanser. To fulfill your pumpkin fix this fall, I've rounded up some of the best pumpkin beauty products on the market. Unlike PSLs, you and your skin won't get tired of these.
Vitamin B Enzyme Cleansing Oil + Makeup Remover, $42, Dermstore
Nothing is better than a face cleanser that also removes your makeup. The pumpkin oil and Vitamin E in this cleansing oil will restore your skin's moisture and pH balance.
Pumpkin Renew Cream, $28, Ulta
Use this Vitamin E and shea butter-filled renewal cream two times daily after washing your face.
Pumpkin Enzyme Mask, $58, Sephora
This mask will exfoliate, peel, and polish to get your face looking radiant and younger.
Incredible Pumpkin Peel, $28, Ulta
Clear and detox pores with this peel that is packed with antioxidants.
Sweet Cinnamon Pumpkin Shower Gel, $13, Bath & Body Works
Throwback to your childhood with Bath and Body Works' collection of cinnamon pumpkin products that probably smell exactly like a PSL.
Pumpkin Nutrient-Rich Facial Mask, $34, Ulta
Rejuvenate your skin with this face mask that's filled with sugar cane and maple syrup extract.
Creamy Pumpkin Cleanser, $16, Ulta
After using this cleanser, make sure to use the MyChelle skin renewal cream and skin peel.
Fall Ginger Pumpkin Cleansing Conditioner, $40, Chazdean
The Wen Cleansing Conditioner is infamous in the beauty world for being able to wash hair without a shampoo.
Tony Moly Anti-Aging Sheet Mask, $4, Ulta
Try the sheet mask trend with an anti-aging pumpkin mask.
Pumpkin Body Lotion, $35, Arcona
Lather up with this pumpkin body lotion that includes glycolic acid to maintain elasticity.
Drunk Elephant C-Firma Day Serum, $80, Sephora
This serum will correct past sun damage thanks to its Vitamin C and ferulic acid combination.
Pumpkin Spice Hand Soap, $6, Ulta
This is now your go-to hand soap for the fall.
Demeter Pumpkin Pie Fragrance, $20, Detmeter Fragrance
Try a new fall fragrance with this cologne spray that comes in several different sizes.
Fig + Yarrow Bath + Body Oil, $48, Fig & Yarro w
Use this multi-use oil filled with floral essences on dry hair or cuticles.
Farmhouse Fresh Mud Mask, $22, Dermstore
Lather on this mud mask that guarantees to boost your skin and minimize your pores.
Dessert Essence Pumpkin Spice Hand Repair Cream, $5, Walgreens
Smell like pumpkin spice all day with this hand cream.
Pumpkin Honey Glycolic Mask, $12, Ulta
Lather your face at night with this pumpkin purée and honey mask.
Pumpkin Spice Body Lotion, $10, Ulta
For a limited time, Ulta Beauty is offering pumpkin spice lotion and shower gel.
Exfoliating Pumpkin Facial Scrub, $23, Lovely Skin
Exfoliate once a week with a facial scrub that will use the natural pumpkin properties to keep your face smooth.
Healthy Sexy Pumpkin Puree Treatment Masque, $26, Amazon
Lock in moisture with this conditioner hair mask that is pumped with aloe and pumpkin.
Burt's Bees Pumpkin Spice Lip Balm, $3, Target
The 100% natural lip balm brand now has a pumpkin spice flavor just in time for fall.
Images: BathandBodyWorks/Instagram; Courtesy of Brands (21)