NBC's 'This Is Us' Will Be A Hit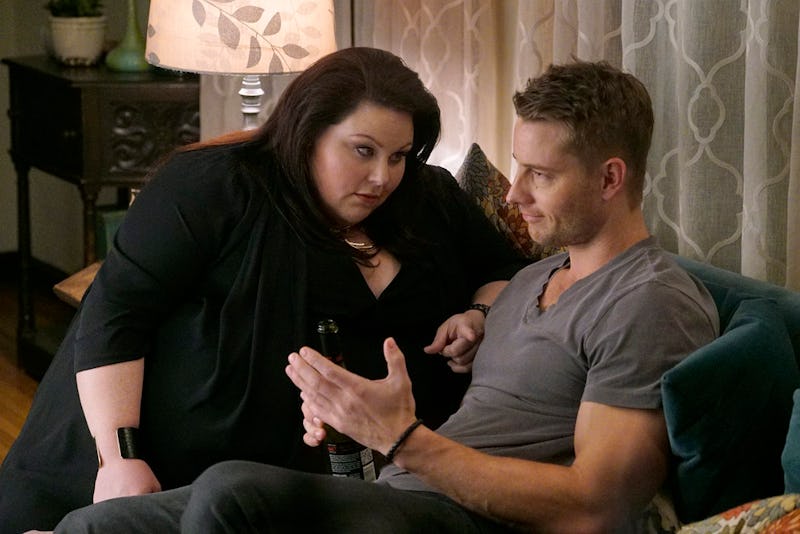 Get ready for all the feels. If you haven't seen the trailer for NBC's This is Us , you may want to get a tissue and watch it below because it looks like it could be the next Parenthood (except it stars Jess Mariano, not Lorelai Gilmore). So, what is This is Us about? The show is broken into three different main storylines and several of the characters share the same birthday. However, by the end of the first episode you will find out how everyone is connected to each other. Beyond that, it's about life, love and all of the struggles we go through on a daily basis. Basically, we're going to be crying every single episode. The show will be on NBC Tuesdays at 10 p.m. ET, and it's one of the most highly anticipated shows of the Fall. I haven't seen a screener, but I cried watching videos on NBC's website. My heart may not make it through the pilot.
The show stars Mandy Moore, Milo Ventimiglia, Chrissy Metz, Sterling K. Brown, Justin Hartley, Chris Sullivan, Ron Cephas Jones, Susan Kelechi Watson, and was developed by Dan Fogelman. He wrote Crazy, Stupid, Love and Tangled, so you know this show is going to be good. It also explains why there's multiple storylines that interweave. "When I sat down to write this show, I wanted to write about people in my life," Fogelman told Huffington Post about the script of This is Us. And, here are some of the people it features.
Rebecca & Jack
First, let's talk about how Jamie Sullivan and Jess Mariano are married and in love in this show. It's like my early 2000s dreams are coming true right before my eyes. In the pilot episode, these two are about to become parents to three babies. There are complications in the delivery room however and they lose one of their children. Their relationship seems like what people dream about finding in a significant other. It seems they will be struggling with how to be good parents throughout the season. Also, added bonus, Milo Ventimiglia is near-naked in the pilot episode.
Randall & Beth
On his 36th birthday, Randall finally gets the name of his father who abandoned him at a fire station when he was a baby. He goes to confront him and ends up inviting him to meet his grandkids. Beth and Randall have two children. It's easy enough to assume that throughout the season Randall will be focusing on how to build a relationship with his estranged father. We don't know too much about Beth yet, but she could be the connector to the rest of the characters.
Kate & Toby
Kate is struggling with her weight and single life. She ends up meeting a charming man and it seems like they're going to start things up and be completely adorable together.
Kevin
Kevin is a very attractive 36-year-old actor who quits his job on a sitcom called The Manny. He moves in and crashes on Kate's couch because their besties. Kevin represents all of the people who are unsatisfied with their careers and aren't where they thought they'd be in life. Too real.
How They're Connected
I haven't seen the show, so this is complete speculation, but here are some fun theories.
They're all siblings. Jack, Kate and Kevin are triplets, which wouldn't be that weird considering Rebecca is having triplets (isn't that a gene thing?) and Randall was adopted by their parents.
The other family angle would be the same thing, except Rebecca is the older/younger sister of twins Kevin and Kate.
It's a Sisterhood Of The Traveling Pants situation and their moms met in a mommy group.
I guess we will just have to wait and see!
Images: Paul Drinkwater/NBC; Ron Batzdorff/NBC (4)