10 Creepy Halloween Makeup Tutorials That'll Be Sure To Scare — VIDEOS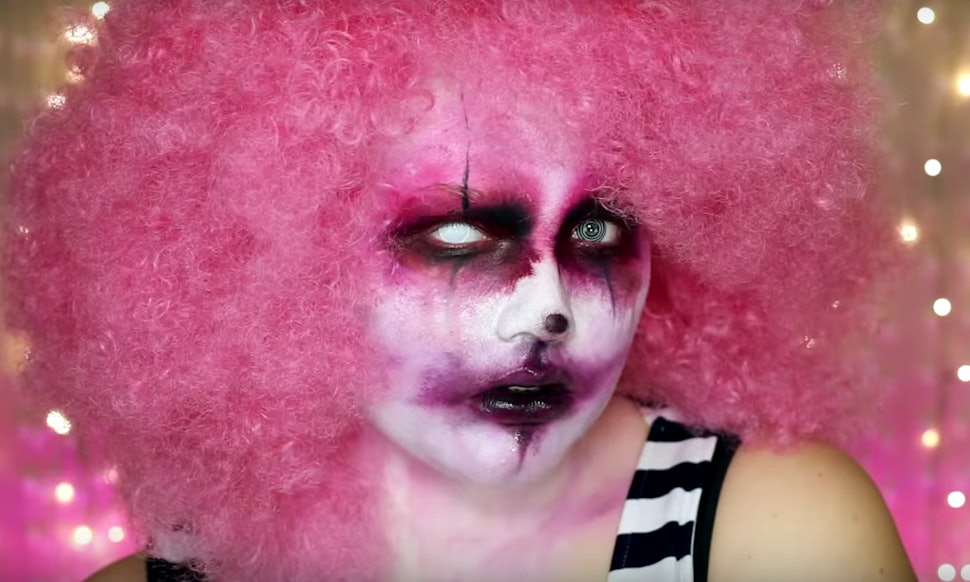 Halloween. The one time of the year where many of us actually want to look like something totally scary happened to us. So much so that it's sometimes difficult to select the best creepy Halloween makeup tutorial to replicate for ourselves. Because even though it can be pretty cool to make it look like your mouth got stitched close, you got possessed by a demon, or you're rotting from the inside-out, there's only one day per year where it's actually OK to go out in public with those effects.
But whether you spend the rest of the year practicing your makeup special effects, or just wait for October to roll around before trying your hand at some creepy makeup, there are plenty of different looks you can do that require different skill levels to achieve. So regardless if you're ready to bust out your scar wax and scab blood, or plan on using your black eyeliner and red lip gloss on areas other than your eyes and lips, here are 10 perfectly creepy makeup tutorials that will have you wishing Halloween lasted longer than just one night. Just be prepared to scare the sh*t out of your friends.
Creepy Possessed Person
Madeyewlook on YouTube
This look is surprisingly simple to recreate, and will go perfectly with any costume.
Creepy Voodoo Doll
AnchalMUA on YouTube
Although a little more time-consuming, you can make this transformation with products you probably already own.
Creepy Rotting Mouth
Glam&Gore on YouTube
Even if you're new to SFX makeup, you can probably still nail this totally creepy, rotting-mouth look.
Creepy Clown
NikkieTutorials on YouTube
Those crazy contacts really take this scary clown to the next level.
Creepy Saw Victim
Glam&Gore on YouTube
These types of effects are fun because you can still be super glam with your gore. Falsies make up for missing flesh, right?
Creepy Broken Doll
MakeUp by Annalee on YouTube
Another look that seems much more complex than it actually is— all you really need to nail it is a jet-black liquid or gel eyeliner.
Creepy Stitched Mouth
Shaaanxo on YouTube
While the stitched-mouth look is always a winner, this particular version allows you to still talk and munch on Halloween candy.
Creepy Joker
beeisforbeeauty on YouTube
You know, if you prefer your Harley Quinn look to be a little bit bloodier.
Creepy Masquerade Mask
Madeyewlook on YouTube
For when you want to be really pretty yet really creepy at the same time.
Creepy Stretched Mouth
Jordan Hanz on YouTube
No SFX required to nail this stretched-mouth look. Paint and eyeshadow are all you need to scare your neighbors.
Gotta love Halloween.
Image: NikkieTutorials/YouTube